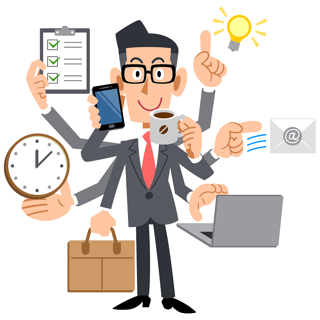 Fashion models aren't the only ones who accessorize. Your customers need accessories, too! If they have an IP phone system, peripherals are an easy way to instantly boost productivity. When putting together your next enterprise telephone system proposal, consider including some from this list, or browse our website for more ideas.
Door phone – Without a door phone, you either have to leave the door unlocked so anyone can come in, which compromises security, or leave it locked and have someone get up and go open the door every time someone comes in the office. There is a better way! A door phone lets anyone with an assigned code let themselves in. For people who only come at certain times or on certain days (cleaning crews, for example), you can program certain codes to only work on designated days or times. Those without a code can announce themselves via a speaker phone and/or video phone so their identity can be verified without having to open the door, and the door can be opened remotely, so no one has to stop what they're doing to go open it. Browse our website for door phones.
Wall mount clock – SIP clocks display the network time (using network time protocol) on the wall for all to see. Because they are connected to the data network, a clock can be installed in every company location so all the clocks stay automatically synchronized.
Headsets – Beyond the obvious comfort factor, headsets free up workers' hands so they can take notes and perform other tasks while on calls. They also give more mobility and do a better job of cancelling out ambient noise than regular handsets. To learn more about the benefits of headsets, as well as see a comparison of wireless and corded headsets, refer to our blog post, Should you get headsets for your office phones?
Handset lifter – Handset lifters are especially handy when paired with a wireless headset. They keep the handset "unhooked" so employees can answer and end calls while away from their desk. Alternatively, electronic hook switches (EHS) are available for most SIP phones and headsets. These connect to your headsets and do the same thing without the need to physically unhook your handset.
Headset Switch – In today's UC (unified communications) environment, the boundaries between computers and phones are blurred. Employees can look at emails on their phones or take audio and video calls from their computers. Headset switches allow them to use the same corded or wireless headset that is normally only compatible with their desk phone or smart phone, and connect it seamlessly with their computer. This allows them to move back and forth between the endpoints without switching headsets.
Office ringer – Does your customer have a warehouse or an area with its own extension where multiple employees work? Or a noisy area where it's difficult to hear a ringing phone? An office ringer uses an extra high-volume ring to indicate an incoming call without the need for all the phones in the area to jingle.
IP strobe – And what if the area in question is so noisy that even an office ringer isn't always audible? That's where an IP strobe light comes in. It flashes so workers can "see" the phone ring.
Conference phone – We recommend a conference phone for any office with more than one person. Of course they are an essential component of any conference room, but even for small or home offices, there are desktop conference phones that let associates have conference calls right at their desk. Getting a group of people on the same call facilitates brainstorming and faster decision-making, not to mention the time savings compared with consulting each person individually.
SIP phone expansion module – For busy offices, adding one or more expansion modules onto a phone increases efficiency by allowing users to monitor and manage the status of multiple calls simultaneously. It also adds more buttons to the phone, which means more functionality and flexibility.
EZ Cords – Have more devices than places to plug them in? Instead of running additional cables, use cheater cords from EZCORDS. With just one click you can split a 4-pair cable into multiple ports or telephone circuits. They save time, materials, costs, and headaches.
CONCLUSION
Whether you're installing a customer's first SIP phone system or implementing an upgrade, don't forget to recommend some peripherals that can make visible improvements in workplace efficiency and productivity.


Browse our website for accessories.
---
You may also like:
The benefits of integrating the IoT with your VoIP phone system
Are you still only using your IP PBX for voice communications?
How to future-proof your business telephone system