The upgraded phone line takes the stack of advanced features even higher.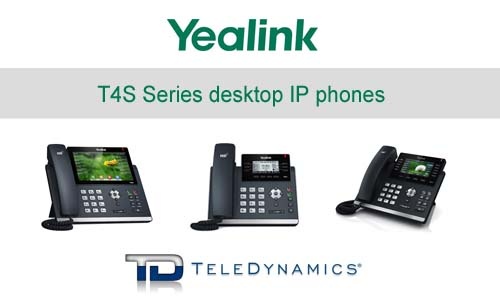 By Yingting Li, IP Phones Product Manager at Yealink
With the T4 series of IP phones, Yealink offers a well-rounded array of sophisticated calling features, state-of-the-art voice quality, easy installation, robust customization options and extensive expandability. Early in December 2016, Yealink released the upgraded T4S models based on the former T4 series in the North America region. The T4S models build on the user experience even more with a number of upgrades.


The T4S series includes the T41S and T42S entry level phones, the T46S Gigabit color phone, and the T48S color touchscreen phone.


Click here to download a complete specification table featuring the full T4 series, comparing the T4S, T4G and T4P models.
Some of the advanced features of the newly released T4S models include:
HD Audio
Yealink Optima HD Voice refers to the combination of software and hardware design as well as the implementation of wideband technology to maximize acoustic performance. Coupled with advanced acoustic clarity technology such as full duplex, echo cancellation, adaptive jitter buffer and more, Yealink Optima HD Voice creates the next best thing to a live, face-to-face experience.


Efficient Installation and Provisioning
The Yealink T4S series supports efficient provisioning and effortless mass deployment with Yealink's Redirection and Provisioning Service (RPS) to help customers enjoy Zero-Touch Provisioning without any complex manual settings, which makes the T4S series simple to deploy, and easy to maintain and upgrade.


Easy Customization and High Expandability
The T4S models all come with a built-in USB 2.0 port, which can also be used for Bluetooth, Wi-Fi and USB recording (still pending for the T42S and T41S). Additionally, the T46S and T48S both support up to six expansion modules for up to 240 additional buttons with a screen-based LCD display and LED system. Additionally, they have three pages of buttons which can also be programmed as virtual paperless DSS keys. Furthermore, any model can support EHS headset through the Yealink EHS adapter.


Certification Authority Certificates
Yealink IP phones maintain a built-in list of the most commonly used Certification Authority Certificates by default. Certificates are an important element in deploying a solution that ensures the integrity and privacy of communications involving Yealink IP phones.
Browse the range of Yealink's T4 phones on TeleDynamics' website.
---
You may also like:
Five cool tricks you can do with your SIP phone system
What platforms are compatible with your SIP phone?
Beef up your SIP phone system with these productivity-enhancing accessories