Product Review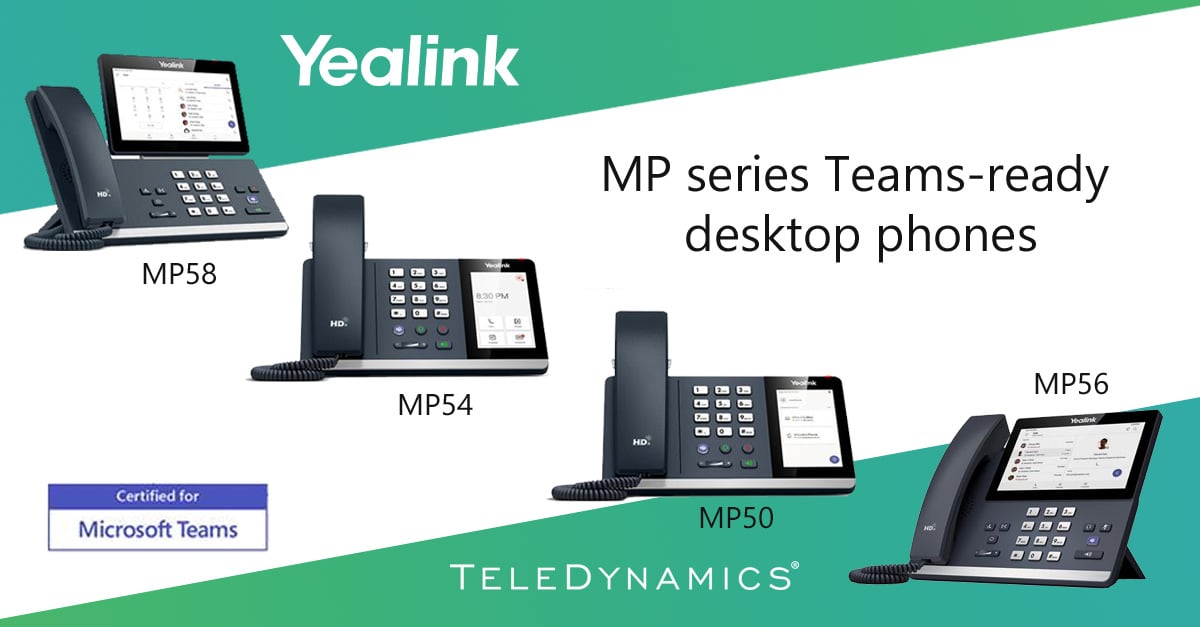 Organizations can do business only as well as they can communicate. In a world where work methods and locations are in flux, the flexibility, adaptability, and ease-of-use of companies' communications equipment are vital.
With the introduction of the Teams-certified MP series of desktop phones, Yealink successfully continues its quest to provide the best communications equipment and services for companies of all sizes.
Brief history of Yealink and Microsoft Teams
Microsoft Teams is a unified communications and collaboration platform that has evolved out of the company's Skype and Skype for Business (SFB) products. From the outset, Yealink established a partnership with Microsoft and developed desk phones with deep integration with the Teams and SFB platforms. Microsoft Teams is considered the evolutionary next step beyond SFB and is set to eventually replace it. Indeed, SFB is expected to be retired by July 31, 2021 and migration to Teams is the recommended next step for existing systems.
In typical pioneering fashion, Yealink delivered the first Microsoft Teams-certified desk phone in the market. And now, Yealink extends its leadership in this space with its MP series of advanced Teams phones.
Yealink MP series
Characterized by stylish designs, the four phones in the MP family incorporate the set of requirements that are most often needed for entry-level, mid-range, and executive-level telephony needs. These phones deliver high-quality audio using wideband codecs, have large multitouch screens, and, with the exception of the MP50 for UC workstations, are powered by the Android 9.0 operating system. They also sport a dedicated Teams button to get you collaborating at the touch of a button.
For those businesses that still have an SFB-based platform that is in the process of being migrated, the phones also support SFB.
Each of the four phones fits into a particular usage framework and is described below.
The MP50 for UC workstations is perfect for delivering the most essential communication features while maintaining a high level of quality. It includes a built-in 3-port USB hub to extend personal PC USB port usage. The phone has a 4-inch 480x800-pixel touch screen, delivers HD audio, supports Bluetooth pairing for headsets and mobile phones, and a full duplex hands-free speakerphone. This is a Microsoft Teams-only phone that functions when it is connected via USB to a PC using the Teams platform.
The cost-effective MP54 is ideal for office workers, front desks, and common areas. It sports a 4-inch 800x480-pixel touch screen, HD audio, and a magnet handset. This phone is also capable of functioning as both a Teams device and SIP endpoint, in what Yealink calls hybrid mode.
The MP56 mid-range phone delivers the same look and feel as the MP54 but with a larger 7-inch touch screen and built-in Bluetooth and Wi-Fi capabilities.
The MP58 executive-level phone sports all of the aforementioned features plus a 7-inch touch screen with a higher resolution of 1024x600 pixels and can be connected to up to three EXP50 expansion modules, adding more functionality with the addition of 20 physical keys per module.
Watch the video

Key features
MP50
Supports Microsoft Teams, SFB, and Office 365
4-inch 800x480-pixel color multitouch screen
Built-in Bluetooth
Connects to a PC running Microsoft Teams via USB
Full duplex speakerphone
MP54 - includes the same features as the MP50, unless otherwise indicated, plus:
Android 9.0 operating system
Gigabit Ethernet connectivity for connected workstation
Bluetooth support via Yealink BT41 dongle
Wi-Fi support via Yealink WF50 dongle
SILK, Opus, G.722, G.722.1, G.722.1C, G.711 (a/μ), G.723, G.726, G.729AB, iLBC audio codecs
Magnetic handset
Hybrid mode supports both Teams and SIP
Power over Ethernet 802.3af
1 USB port
Supports Microsoft/Yealink/U2 device management platforms
MP56 - includes the same features as the MP54, unless otherwise indicated, plus:
7-inch 800x400-pixel color multitouch screen
Built-in Bluetooth support
Built-in dual-band Wi-Fi support
This is a Teams-only phone
Hybrid mode, SIP, and related codecs are not supported
MP58 - has all of the features supported by the MP54 and MP56, unless otherwise indicated, plus:
7-inch 1024x600-pixel color multitouch screen
Hybrid mode supports both Teams and SIP
722, G.711(A/μ), G.729A/B, G.726, G.723.1, Ilbc, SILK audio codecs
2 USB ports
Supports up to 3 EXP50 expansion modules
Additional Teams-enabled devices
Yealink's Teams offering is not limited to these four phones, but also includes additional categories of devices such as speakerphones and conference phones. The CP700 and CP900 are two speakerphones that enhance the collaboration experience by delivering hands-free communication for Teams collaboration sessions. Using Bluetooth, they connect to the Teams endpoint — either a desk phone, smartphone, or laptop — and allow you to freely and clearly communicate. For larger rooms with multiple participants, the CP960 conference phone provides a seamless Teams collaboration experience, turning any meeting room into a collaboration hub.
For more information about Yealink's Microsoft Teams-certified portfolio of devices, refer to our previous article.
Conclusion
Yealink has consistently proven to be a reliable provider of mature and robust Microsoft-certified endpoints. The MP series of desktop phones is an exciting addition to the portfolio, with models to suit businesses of all sizes.


---
You may also like:
Skyrocket productivity with Yealink's Microsoft Teams-certified IP phones
Yealink's Microsoft-certified device portfolio
Get the most out of your virtual meetings with Yealink Meetings