(Product Review)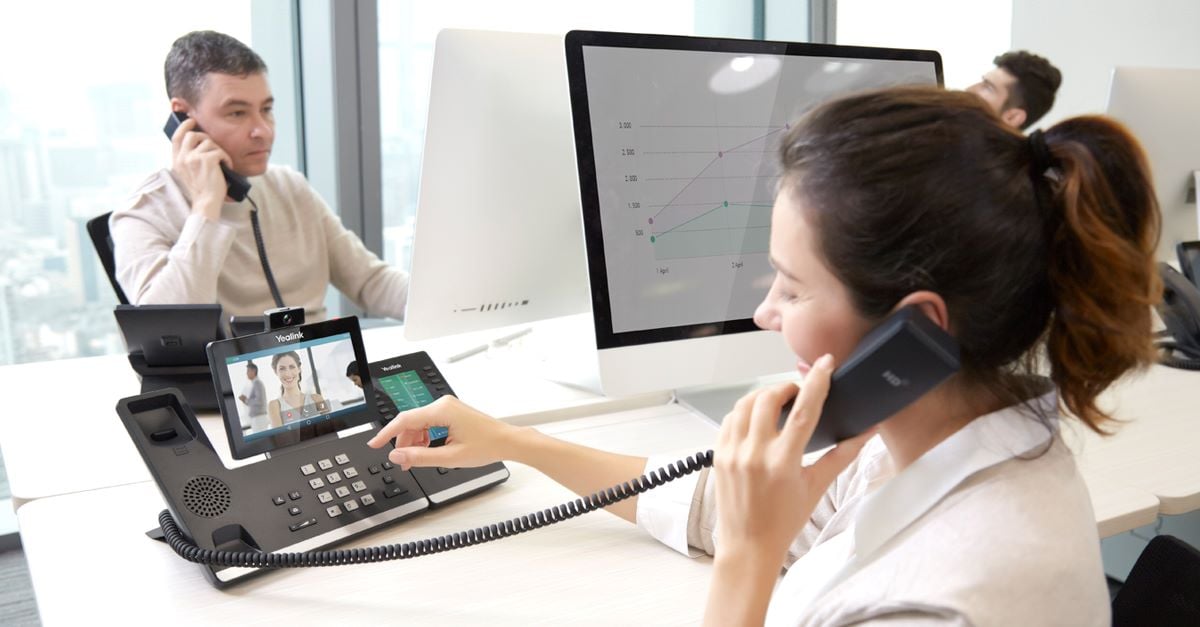 Yealink's T5 series phones have been at the forefront of innovation. These phones have successfully combined multiple mature technologies to offer products with the perfect balance between simplicity and functionality. Yealink has remained true to this legacy with the introduction of the VP59, its newest flagship smart videophone.


Incredible combination of capabilities
The VP59 employs the Android 7.1 operating system, supporting both natively bundled and third-party Android apps. Its large 8-inch touchscreen gives an almost tablet-like feel that takes full advantage of the apps running on the device.
Additional flexibility is provided with multiple options for connectivity, including wired via Ethernet and wireless via Wi-Fi. With the addition of the DD10K DECT dongle, you can also enable cordless telephony, transforming the VP59 phone into a DECT base station, capable of supporting up to four Yealink DECT handsets!
Adding to the arsenal of notable features is the USB 2.0 port for connecting external storage to record and save video conversations, as well for connecting a USB headset for a more convenient communications experience. The phone also supports using a conventional headset, up to 16 SIP accounts, 3-party videoconferencing, and the ability to host a 5-party audio-video mixed conference.


A videophone with emphasis on the video
One of the things that strikes you most when you see this phone is its large screen, which is of utmost importance for a videophone. Its size improves ease of use, as well as the level of comfort for both viewing the calling party and for operating the smartphone capabilities. You also have the option of connecting an external full HD monitor via the HDMI port to enhance your video telephony experience.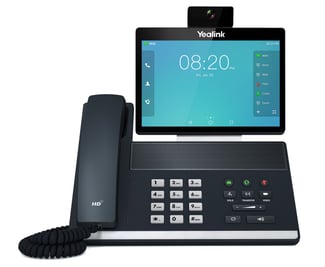 The phone sports an impressive camera capable of capturing full HD video at 30 frames per second. The camera is removable and can be connected via a USB cable to the phone's USB 3.0 port, allowing more flexibility in its placement.

Watch the video
Collaboration features
Undoubtedly, one of the most important aspects of the V59 phone is its collaboration capabilities. Not only does it deliver an excellent video telephony experience with impressive audio and video capabilities, but it is compatible with various additional technologies, making your communications even more meaningful and collaborative. These include Bluetooth technology, not only for using wireless headsets, but also for pairing with mobile devices for Bluetooth calling.
Because it operates on Android OS, any and all collaboration apps, such as Skype, Slack, Trello, and Evernote to name a few, can be integrated into the device, turning the V59 into a centralized collaboration hub. This makes it ideal for both executives and telecommuters, as it allows for multichannel collaboration to maximize efficiency.
With the latest firmware, the V59 phone has the added benefit of integrating with Yealink's VC Desktop software, empowering you to collaborate and share content directly from your PC or laptop.


Key features
The VP59 has one of the most complete feature sets you can find on the market today.
8-inch (1280 x 800) capacitive adjustable touchscreen
Full 1080p HD video at 30fps
HD voice over both the handset and speakerphone
Android 7.1 OS
Built-in Bluetooth 4.2
Built-in dual band 2.4G/5G Wi-Fi (802.11a/b/g/n/ac)
USB 2.0 port for USB headset, media, and storage applications
2 megapixel HD camera
USB 3.0 port for flexible placement of HD camera
Standard HDMI output for monitor connection
Up to 16 VoIP accounts
Up to 3-party video conferencing
Up to 5-party video/audio mixed conferencing
Power over Ethernet fully supported

Conclusion
In true Yealink tradition, the VP59 employs a multitude of cutting-edge technologies in an innovative combination, delivering a truly useful, flexible, and elegant smart desktop video phone that fulfills a wide range of business communications needs.


---
You may also like:
Yealink's Next-Gen videoconferencing solutions: The future is here
Take an inside look at Yealink's education solutions
Yealink's W41P DECT IP solution