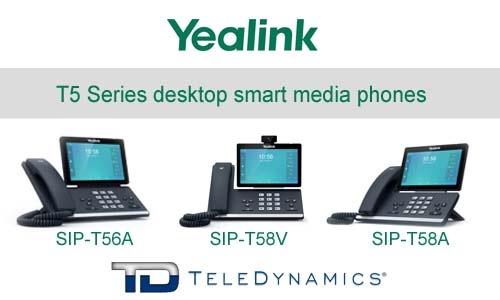 IP telephony products have been around for over a decade. There are many options to choose from and some may be wondering, what's next? What new features of an IP telephony endpoint can make it stand out above the rest? Yealink may have answered this question with its new T5 smart media phones.
The T5 smart media phone series includes the T56A, T58A and T58V models.
UPDATE: Since this article was first published, Yealink has since added additional models to the T5 series: The T53 with built-in Bluetooth and dual-port Gigabit Ethernet; the T53W with built-in Bluetooth and Wi-Fi; the T54W with full-color, adjustable display; the T57W, with its 7-inch full-color capacitive adjustable touch screen; and the VP59 flagship smart video phone. Any of these can connect up to 4 cordless DECT handsets via the Yealink DD10K DECT dongle. Click here to access our review of the new models.


Operating System
One of the smartest features of these phones is that they run a tried and tested operating system for telephony: Android 5.1.1. The Android OS has been proven to function well for hundreds of millions of mobile smartphones worldwide. It only makes sense to employ it on smart wired phones, as well.
The standard and familiar Android apps, including a web browser and calendar, are included, and additional apps can be downloaded from the Google Play Store just like on a mobile device. The OS, in conjunction with the large high-resolution touchscreen, makes the T5 series exceptionally versatile, upgradable and functional.


Connectivity
These phones provide connectivity in multiple ways. Bluetooth 4.0+ compatibility allows for the use of standard Bluetooth-compatible headsets, as well as the pairing of a personal mobile phone for auto dialing. A USB port accommodates wired or wireless headsets, as well as media storage. The phone itself is Wi-Fi compatible, so it can function over a wireless network, too. It supports standard Power over Ethernet (PoE) functionality and includes a Gigabit Ethernet port for a PC workstation, essentially cutting in half the number of necessary switch ports and their associated costs.


Key Features
Additional key features on all three models include:
A refreshingly large 7-inch color capacitive touch screen with a 1024X600 pixel resolution

Support for the majority of mainstream voice codecs, including the IETF standard Opus codec

Up to 16 SIP VoIP accounts

Support for up to three additional color-screen expansion modules for the addition of a multitude of speed dials and other function keys


Features of Specific Models
The features described above are common to all models in the series. The T58A and T58V models support video telephony, which is quickly becoming standard within corporations, especially among middle and upper management. With the addition of the 2Mpixel Yealink CAM50 camera, the T58A becomes video-telephony capable, providing 720p video at 30 frames per second.

Going one step further, the T58V comes with the detachable 2Mpixel camera, but is also capable of functioning as a hub for video conferences. It is capable of initiating video conferences with up to three video participants, as well as up to two additional audio-only participants.


Conclusion
Until recently, the "smart" in "smartphone" was exclusively used for mobile telephony devices. This is no longer the case with Yealink's T5 series smart wired IP telephones. Yealink brings the intelligence and functionality of traditional smartphones to the wired phone, delivering flexibility, ease of use and convenience to the desk.


Updates
Since this article was first published, we have written subsequent articles announcing updates to the Yealink T5 series. You can view them here (new models) and here (V40 upgrade).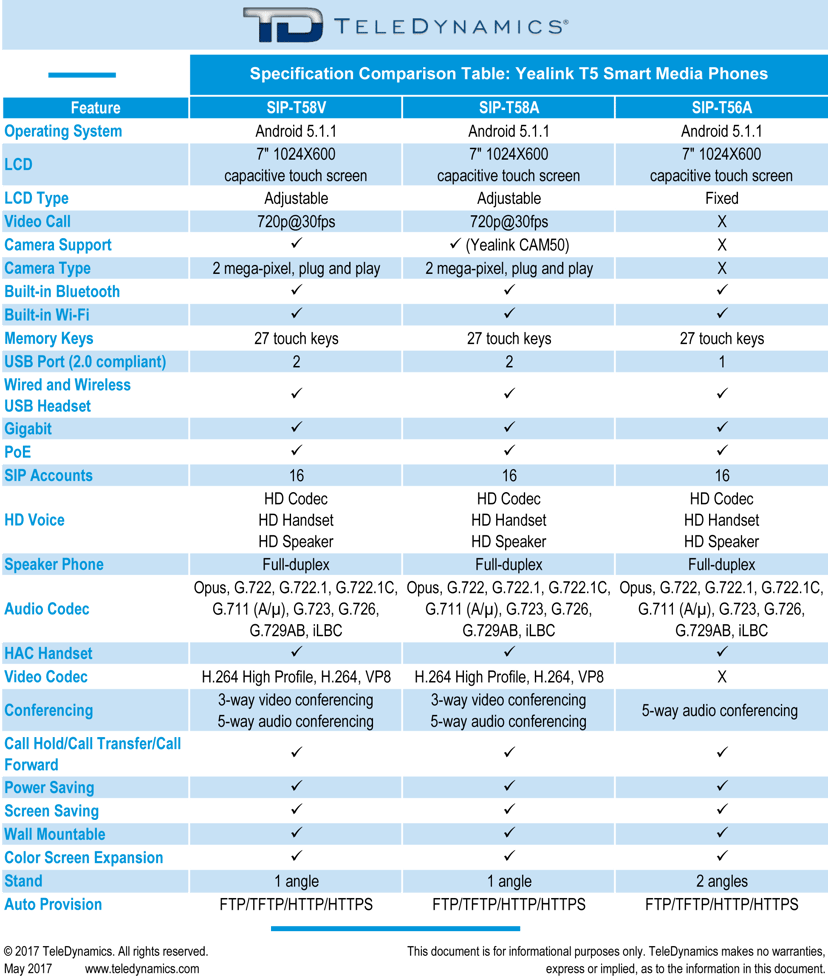 ---
You may also like:
How Android converts IP phones into productivity centers
Advanced features of Yealink's upgraded T4 Series desktop IP phones
Why you should connect your VoIP phone system to a mobile network