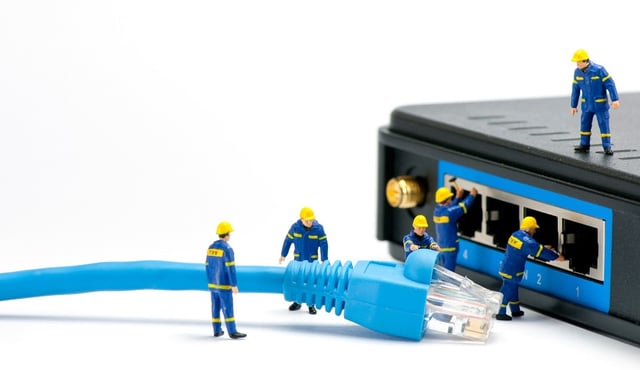 As one of the biggest expenses of any business, telecommunications solutions should be both reliable and cost-effective. One telephony network design aspect that can provide both is the direct connection of the IP phone system to a mobile network.
Here we explore two ways to do this, either of which not only achieves cost savings for the company but also enhances reliability by providing an additional redundant and overflow route.
You can connect a VoIP phone system to a mobile network either with a standalone mobile-connected gateway or an IP PBX with built-in mobile network interconnectivity. Either option, with the appropriate choice of hardware, can function with a GSM or UMTS cellular network provider. Notable examples are Yeastar's NeoGate TG series GSM/UMTS gateway or the Matrix SETU VGFX gateway, and Yeastar's S-Series VoIP PBX with a GSM module option.
All Yeastar S-Series IP PBXs support at least one cellular port (up to six depending on the model). Each cellular port can be equipped with a GSM/UMTS/CDMA module, which allows for calls to carriers using either frequency.


Yeastar's NeoGate TG gateways come with up to 16 mobile ports depending on the model, and also allow calls on either frequency.


The Matrix SET VGFX gateway has eight cellular ports and is a single-box gateway solution, offering seamless connectivity between VoIP, GSM and POTS (FXO and FXS) networks.


Click here to see a comparison of Yeastar and Matrix GSM Gateways in our Ultimate Guide to Gateways


Cost savings
There are different ways in which connecting to a mobile network can reduce telephony costs, including:
Leveraging free calling plans. Most mobile carriers provide free minutes to mobile phones either of the same or even different carriers. By examining the phone number that is dialed, Least-Cost Routing (LCR) can be employed to select calls to be routed via the mobile network in situations where it provides for a less expensive route for the call. This can represent substantial monthly savings, especially for businesses with high call volume.


Bulk deals. Many mobile carriers will provide very competitive costs for dedicated links to their networks. The larger the call volume, the cheaper their rates get. This can in some cases result in even cheaper rates than traditional T1 lines or SIP trunks.


Redundancy and Reliability
Five nines reliability (99.999%) has been the standard for telephony services for decades. For VoIP systems to live up to this high standard of just over five minutes of downtime every year, redundancy is a must. How does a connection to a cellular network provide for redundancy?
Redundant and overflow route. The connection of a VoIP system to a cellular carrier creates one more possible route to reach the PSTN. In case of a failure of the primary call route, a redundant connection will allow for outgoing calls to be completed successfully until the failure can be corrected. Additionally, if all the available channels of the primary connection to the PSTN are in use, the mobile connection can be used as an overflow route.


Data redundancy. With the appropriate hardware, such as the Pepwave MAX BR1 cellular router by Peplink, a connection to a mobile network can also provide redundancy for a data network. Mobile data plans can be on standby on the connections to the mobile network, and in case of a failure of the primary ISP, connections to the mobile network can provide an alternate route to the Internet. With a little bit of networking wizardry, the network can even be configured to load balance data communications between the primary ISP and the mobile data connections, or to use the mobile data connections as overflow data paths in case of network congestion.


Additional services
Another way you can use a mobile network connection is for SMS services for texting, as well as for providing cellular IP PBX telephony services on mobile platforms such as mobile disaster recovery vehicles or mobile medical clinics.


Adding mobile connectivity to your total voice solution
If your customer is in the market for a new voice system, you may want to propose one that has mobile connectivity capability already built in. Even if they don't need it today, they always have the option of purchasing the appropriate module in the future as their business needs grow. If they still have many years left on their current voice system, then a mobile connected gateway could be a better option. Depending on the model, it takes traditional T1 circuits or SIP trunks and translates them to GSM or WCDMA, allowing for seamless connectivity to the mobile network. Additionally, placing a GSM router at the edge of the network can provide the same redundant connectivity for data.
CONCLUSION
Whether you connect an IP phone system to a cellular network with a mobile-connected IP PBX or with a media gateway, mobile channel connectivity offers so many cost-saving and business continuity benefits that it deserves considering when designing a total voice solution.
---
You may also like:
Achieve high availability without high cost!
A simple process for transitioning to VoIP
Should your business go all-IP?