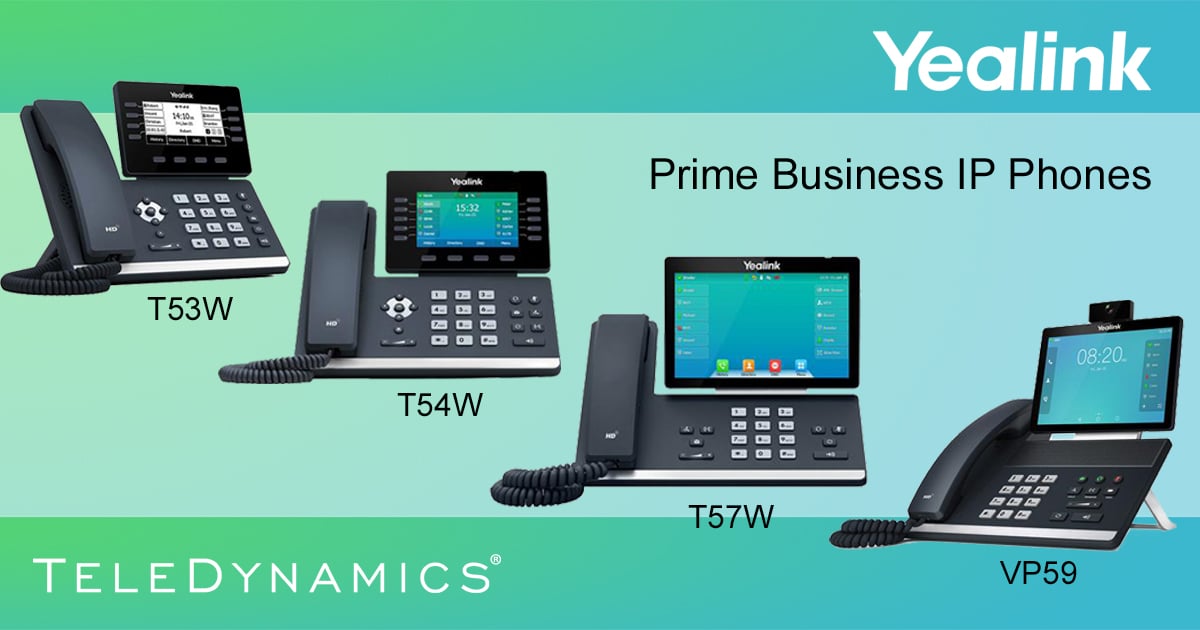 Two years after Yealink launched its T5 series of smart media phones, Yealink has updated this series to deliver even more productivity-focused features that will aid all levels of middle to upper management and high call-volume users. We take a look at the new models in this article.


Quick review of the original line
The T5 series of desktop IP phones started out with the T56A, T58A and T58V models. This line stands out for various reasons. First off, the use of the Android operating system brings flexibility and innumerable features to the wired desk phone. Using the Google Play store, there are literally millions of apps to choose from that can be downloaded and installed onto the phone, turning it into a communications and applications hub. Secondly, these phones offer connectivity to the telephony network in multiple ways. Wi-Fi and wired connectivity are both viable options, and Bluetooth is employed for both wireless headset usage and smartphone pairing. These features (and many more), along with the large full-color screens, offer a satisfying communications experience. You can access our review of the first T5 models here.

What's new
Some exciting additions to Yealink's T5 line of phones include the T53W, T54W, T57W and VP59 models. These new devices deliver larger and adjustable screens, and there is no longer any need for a USB dongle to get Bluetooth or Wi-Fi connectivity, as these are now built-in features. Furthermore, all new models sport a customized version of the Linux operating system. More and more smart electronics devices are employing Linux, which is a lightweight yet robust OS that ensures device responsiveness and high availability.
Other noteworthy features include support for the most common as well as the highest-quality codecs available, including narrowband and wideband G series codecs, Opus and iLBC. These phones can also connect up to four wireless DECT handsets using the Yealink DD10K DECT dongle.
Some specific improvements found in these models include that of the T53W, which is an entry-level phone. It has a 3.7-inch screen, which is larger than comparable models in the line. It also supports up to 12 SIP accounts. Similarly, the T57W has a newly improved touchscreen, which is more sensitive than comparable phones in the line, and supports up to 16 SIP accounts.
The VP59 model is Yealink's flagship video phone, and you can find a more complete review of the VP59 here.

Key features
Some of the most significant features of the T53W, T54W and T57W models include:
Dual Gigabit Ethernet ports for high-speed PC connectivity
Support for the EXP50 expansion module
PoE compatible
Built-in Bluetooth 4.2 support
Built-in Wi-Fi support at both 2.4 and 5GHz
722 and Opus wideband voice codecs
Common G series narrowband codecs, as well as iLBC
USB port for call recording or connecting a wired headset
HD handset and full duplex HD speaker
Connectivity for up to four DECT handsets using the DD10K DECT dongle
Model-specific features include:
T53W
T54W

4.3-inch 480x272 pixel adjustable color screen
10 line keys
27 memory keys
16 SIP accounts

T57W

7-inch 800x480 pixel color, adjustable high-sensitivity touchscreen
29 memory keys
16 SIP accounts

Downloadable spec sheets
Click on the links below to view the spec sheets for each model.
T53W Prime Business phone with 12 SIP accounts
T54W Prime Business Phone with 16 SIP accounts
T57W Prime Business phone with a 7-inch color touchscreen
VP59 flagship video phone (view our product review of this model here)
Click here for the specs on the T56A, T58A and T58V models reviewed previously.

Conclusion
Yealink's T5 series of IP phones is a smart choice for high call-volume businesses looking to boost their productivity. The advanced feature sets, the elegant and useful design, and the company's end-user support all combine to make Yealink an excellent choice for your network. Not only are Yealink products of exceptional quality, but they are also available at very competitive prices.


---
You may also like:
What's innovative about the Yealink DECT CP930W conference phone
Take an inside look at Yealink's education solutions
What's new in Yealink's W53P IP DECT phone and WF50 Wi-Fi dongle