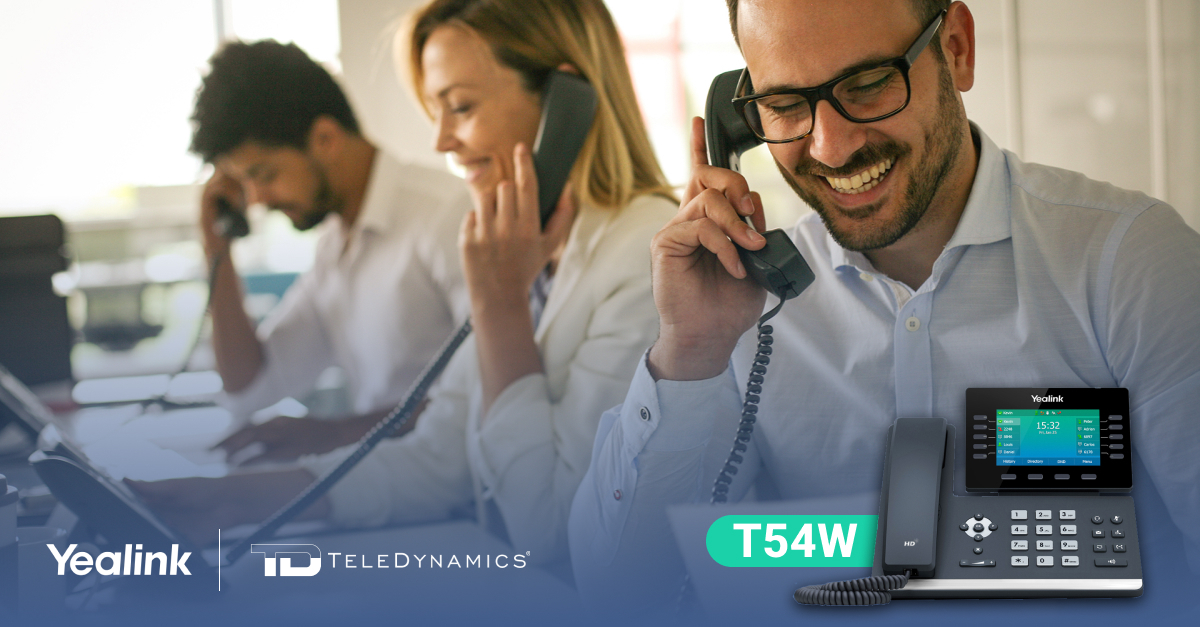 Yealink's T-Series IP phones are considered some of the best on the market, and the T54W IP phone is one of the most popular models in the series. This mid-level phone is ideal for professionals and managers with a moderate call load. It delivers a perfect mix of functions and features at an attractive price point.
This article highlights some of the most important features this model offers and various use cases. We also tell you about an attractive incentive program that will make this and other Yealink phones even easier to procure.
Yealink's GEM industry incentive program
For a limited time, government, education and medical (GEM) enterprises can enjoy even better prices on the T54W and other Yealink IP phones. This program delivers up to a 7% additional price reduction on top of the standard volume discount for IP phones and up to 8% additional discount on headsets, depending on volume. Nonprofit and retail customers are also eligible for special discounts.
To take advantage of this program, contact your TeleDynamics rep and register your deal before October 31, 2023.
Overview of the T54W
The T54W IP phone is the mid-range model in Yealink's T-Series. It sports a large, adjustable 4.3-inch 480×272 pixel display with integrated Bluetooth and Wi-Fi connectivity. It runs a customized version of the Linux operating system, a lightweight yet robust OS that many smart electronics devices use since it ensures device responsiveness and high availability.
Other noteworthy features include support for the most common and highest-quality codecs, including narrowband and wideband G-series codecs, Opus, and iLBC. A particularly innovative feature is connecting up to four wireless DECT handsets to the T54W using the Yealink DD10K DECT dongle, turning the phone into a wireless communications hub.
T54W use cases
Yealink's T-Series phones provide a wide range of models with features and capabilities that cover the whole spectrum of enterprise requirements, from the most basic lobby phone to the most advanced executive-level videophone.
The T54W falls somewhere in the middle of the spectrum, delivering an ideal balance between feature richness and cost-effectiveness; it is very versatile and can be used in a wide range of scenarios, including the following:
Advanced office desk phone:

The T54W can be used as a standard office desk phone, providing employees with high-quality audio, multiple SIP account support, and programmable keys for frequently used functions like speed dial or call transfer.



Remote work:

With built-in Wi-Fi, this phone is well suited to remote workers. It can be easily set up at home or in a remote location without the need for Ethernet cabling.



Reception / front desk:

When paired with the

EXP50 expansion module

, the T54W can be used as a receptionist's phone, providing additional programmable keys to manage multiple calls, monitor the status of other extensions, and quickly transfer calls to the appropriate departments or individuals.



Conference room:

This phone can be used in a small conference room to make and receive group calls. Its full-duplex, HD-quality speakerphone ensures that everyone in the room can hear and be heard clearly. It supports conference calls with up to 10 participants, making it an indispensable communication tool.



Hybrid office:

In a

hybrid office environment

where employees don't have assigned locations and use any available desk, the T54W can allow users to log into their own SIP accounts so they can access their contacts, call histories, and voicemails.



Executives and professionals:

This phone is ideal for executives and professionals who experience moderate call volume and require advanced features like Bluetooth headset support, USB call recording and the ability to manage multiple calls simultaneously.



Call center:

In a call center environment, the T54W can be used by agents to handle multiple callers, transfer calls, and set up conference calls. Its HD audio quality ensures clear communication between the agent and the customer.
Conclusion
The Yealink T54W IP phone is an extremely attractive option for a wide range of enterprise use cases, offering enough SIP accounts, memory keys and line keys to suit most roles within a business.
And now, with Yealink's GEM incentive program, this and other devices are more financially accessible for many businesses seeking to upgrade their telecommunications infrastructures.


---
You may also like:
Market demand for Yealink videoconferencing
Yealink MeetingBoard series: envisioning the ideal collaboration endpoint
Yealink's unwavering focus on security