Product Review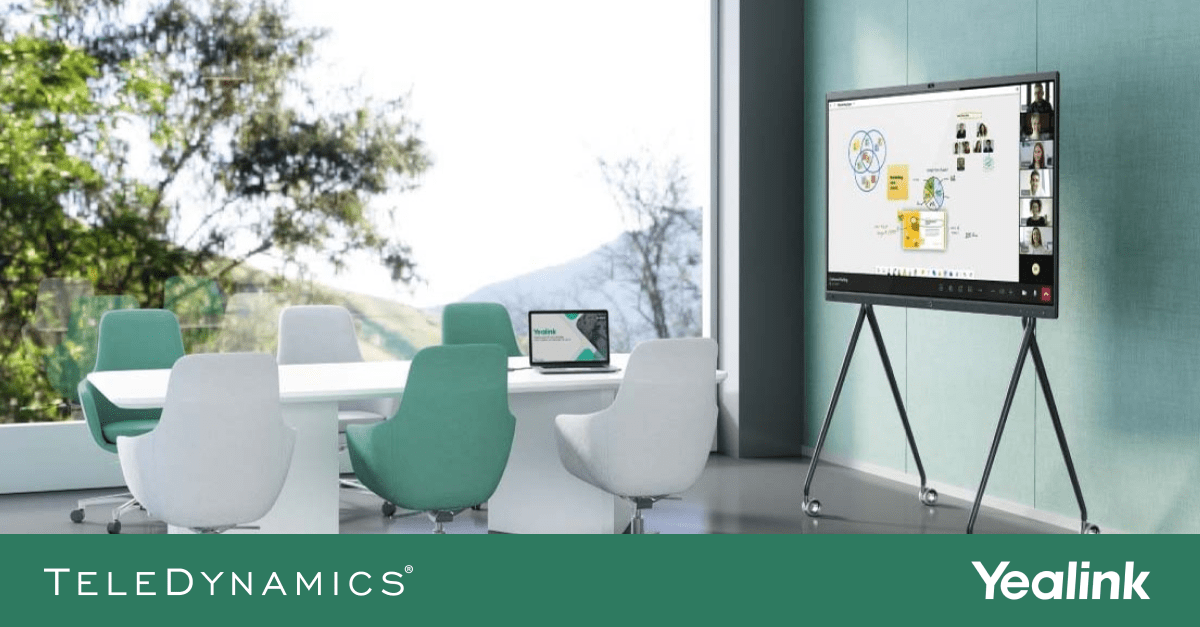 One challenge when equipping a conference room for meaningful collaboration is the tedious job of interconnecting cameras, microphones, displays and computers.
Wouldn't it be great to have a single device deliver all these functions? Yealink has achieved this goal with its MeetingBoard series, bringing even more simplicity and ease of use to the modern conference room.
Yealink's MeetingBoard Series
Imagine a large, elegant 4K flat-screen display on a mobile stand with wheels. Imagine that this display has a built-in 4K camera, 16 beamforming microphone arrays and six speakers capable of high-fidelity stereo sound.
Now picture this device with a highly sensitive touch screen that allows finger navigation, pen writing, ink-to-shape and other advanced screen manipulation features. Finally, picture all this contained within a single device that plugs into a wall socket.
This was the vision of Yealink's MeetingBoard series of products. The MeetingBoard has been designed with simplicity and elegance in mind. It is completely encased in metal, enhancing its appeal while extending its service life.
It can be placed on a movable floor stand or a wall mount, making it ideal for executive offices, huddle rooms, creative spaces, conference rooms and training spaces.
The MeetingBoard comes in two sizes and delivers the same highly specialized feature set, no matter which one you choose. The MeetingBoard65 is a large 65-inch touchscreen display for small- to medium-sized conference and collaboration rooms. For a more spacious collaboration experience, the MeetingBoard86 covers more real estate with an 86-inch touchscreen display.
MeetingBoard's video capabilities
The MeetingBoard comes with a built-in 4K camera that delivers intelligent AI features, including the following:
Auto framing: This feature recognizes the number and positions of participants, automatically and smoothly framing everyone into the most appropriate view.
Speaker tracking: The camera provides a real-time, dynamic close-up of the person speaking.
Picture in picture (PiP): Using speaker tracking, users can switch to PiP mode when starting a meeting, allowing the speaker to be shown in close-up while the rest of the participants appear in the PiP view.
The PiP feature and many other new features, such as Smart Gallery and Multi Framing, will be coming soon via a firmware upgrade.
MeetingBoard's audio specifications
The MeetingBoard has sophisticated audio capabilities made possible in part by a dedicated audio digital signal processor (DSP) enhanced with artificial intelligence capabilities. This AI DSP coordinates 16 built-in beamforming microphone arrays that can capture crystal-clear audio from participants sitting up to 25 feet away, covering an effective area of over 640 square feet.
AI dramatically improves the audio experience by delivering enhanced AI-enabled noise cancellation and reverberation suppression.
With four full-range and two tweeter stereo speakers, you'll get the best quality audio for voice and media playing locally or over the network.
The vibrant touchscreen
The MeetingBoard's bright and colorful display also provides a large surface through which to interact with applications, presentations and remote participants. This intelligent collaboration whiteboard allows users to use finger navigation, pen tip writing, and tail-end erasing while providing ink-to-shape capabilities and notetaking with four levels of digital ink recognition.
The large surface areas of both the 65-inch and 86-inch versions offer a unique experience to users with an exceptional level of freedom to share information by drawing and writing on the screen. The cloud applications allow all participants, even remote ones, to join in and add their written contributions on the same drawing surface.
Accessories
If these capabilities are still not enough to meet your collaboration needs, the MeetingBoard is fully compatible with a range of devices that further enhance its functionality. These include:
A detachable optical PTZ camera that adds physical panning and tilting as well as up to 12X optical zoom

Bluetooth wireless expansion microphones to cover audio capture distances well beyond the standard 25-foot range

Yealink's RoomPanel

and

Room Sensor

for easy conference and collaboration room management

Enhanced BYOD (bring-your-own-device) compatibility via

the WPP30 Wireless sharing pod

, letting you wirelessly connect a tablet or laptop to the MeetingBoard display
In addition, the MeetingBoard is extensible: You can combine two MeetingBoards into a single long display, allowing you to see your remote participants on one display while interacting with presentations, whiteboards, and other shared applications on the other.
Award-winning performance and design
MeetingBoard devices use the continually upgraded Android 10 operating system running on a Qualcomm Octa-core Snapdragon 845 chipset. They have been certified for use with Microsoft Teams and various other collaboration platforms.
The MeetingBoard65 was recognized for its design and comfort with a 2022 Reddot award.
MeetingBoard's key features
The most significant features of both these devices include the following:
System:

Android 10 OS
Qualcomm Snapdragon 845 chipset

Display:

D-LED backlight
4K resolution (3840×2160)
Anti-fingerprint and anti-glare surface

Built-in camera

4K resolution (3840×2160)
120° field of view
e-PTZ with 4× digital zoom
Automatic hiding privacy shutter

Audio

Built-in 16-microphone array
Four full-range and two tweeter stereo speakers
Dedicated AI Audio DSP
Acoustic echo cancellation
Reverberation suppression
Beamforming technology

Connections

1 HDMI input
1 HDMI output
External PTZ camera port
Yealink RJ-45 VCH port
3 Type A USB ports
1 Gigabit Ethernet port
Dual-band MIMO Wi-Fi support
Bluetooth 5.0
Conclusion
The Yealink MeetingBoard series of collaboration end devices delivers everything you need for even the most demanding collaboration room environments. It not only simplifies video conferencing but also delivers an immersive remote collaboration experience.
---
You may also like:
Yealink communications solutions for the financial sector
Market demand for Yealink videoconferencing
Videoconferencing and UC solutions for remote users