Product Review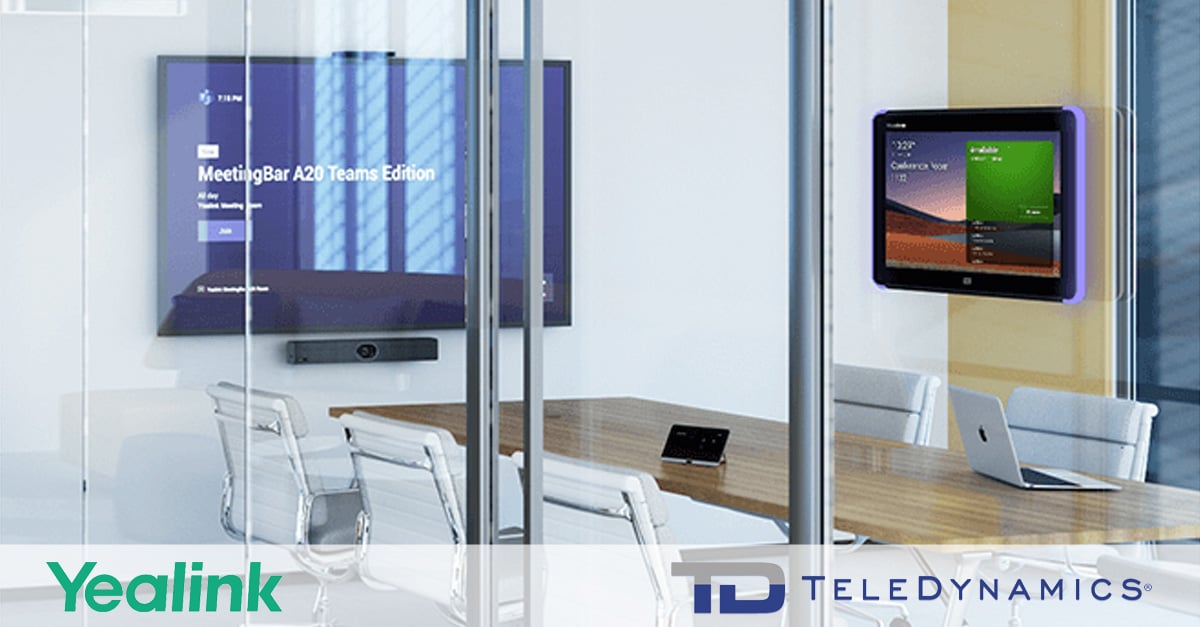 In response to the needs of today's modern office, Yealink introduced the RoomPanel, a specialized tablet that aids in managing collaboration-enabled rooms and in enhancing usage, efficiency, and the user experience of physical shared workspaces.
The ever-changing modern office
The rapid rise in collaboration and video communications has not only had an effect on the way we work today, but also on the way in which modern office space is designed and used. Increasingly, video-enabled huddle rooms, conference rooms, and even auditoriums are being set aside as indispensable communication tools that enable effective collaboration between remote teams.
As more and more in-house teams connect and collaborate with remote coworkers, partners, and customers, the usage of these rooms continues to grow. Most enterprises will use an online scheduling system that allows employees to book them for specific periods of time. Although this helps manage their use, it does not resolve the problem of informing those right outside of the room of its status.
The RoomPanel
Yealink's RoomPanel resolves this issue by acting as a rich source of information about the current status of the room and the planned usage schedule. There are two versions available: one that is interoperable with Microsoft Teams and another that is compatible with Zoom.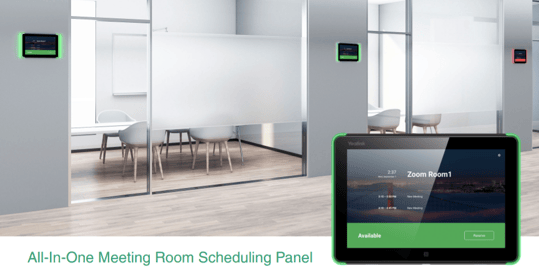 As shown in the image above, the RoomPanel has an elegant LED backlight that lights up in red when the room is occupied, and green when it's available. The information is pulled from either Teams and Outlook 365 calendars, or from Zoom's scheduling feature, depending on the platform being used. But these panels are much more than just a high-tech room status indicator.
Capabilities and operations
The panel is an interactive device that allows users not only to see the status of the room, but also to browse the upcoming usage schedule, as well as to book the room for future meetings. When meeting participants arrive, they use the panel to check in, changing the room status to occupied. Once a meeting ends, users check out, changing the status once again to available.
According to Yealink, there are plans to introduce compatibility with occupancy sensors to automatically check in users to meetings when participants enter the room and release the room to be available when all participants leave, eliminating the need to explicitly check in and out. This way, if a meeting ends early, the status will be automatically changed to available, allowing others to use the room in that otherwise "dead" time period.
The device sports embedded RFID (radio-frequency identification) and NFC (near field communication) capabilities, which enable enhanced ID authorization and meeting attendee tracking. This allows the system to detect who has checked in and who the actual participants of the meeting are. In addition, this can also be paired with the building's access control system, enabling secure entry into conference rooms.
Yealink's RoomPanel is not only a favorite for users, but for technical staff, as well. The panel runs the most current Android version 9.0 and supports Bluetooth, Wi-Fi, and Power over Ethernet. With all of these features, technical staff and administrators have the ability to easily monitor the activity within each meeting space and manage and diagnose any problems that may occur via Microsoft Teams Admin Center or Yealink Management Cloud Service.
Key features
Yealink's RoomPanel has the following innovative features:
Android 9.0 operating system
Display

8" LCD panel with 1280x800 resolution
10 points capacitive multitouch
Anti-fingerprint coating
Proximity sensor
Ambient light sensor

Connectivity

1 Fast Ethernet (10/100Mbps) port
Wi-Fi 802.11a/b/g/n/ac
Bluetooth 5.0
RFID/NFC
1 USB-C port

Audio

Two array microphones
Two 1W speakers

Power options

Power over Ethernet 802.3af
12V power adaptor

Multiple mounting options
Conclusion
Efficient usage of office space is more significant than ever, especially when managing important shared resources such as a video collaboration-enabled meeting room. Yealink's RoomPanel is just one more innovative tool that helps to maximize the usage of Yealink's products and services, ensuring that customers will get the greatest value from them.


---
You may also like:
TeleDynamics awarded Platinum partner status with Yealink for 7th time
Yealink future of work solutions
Yealink's ZVC conferencing kits for Zoom
Yealink MVC rooms systems for Microsoft Teams