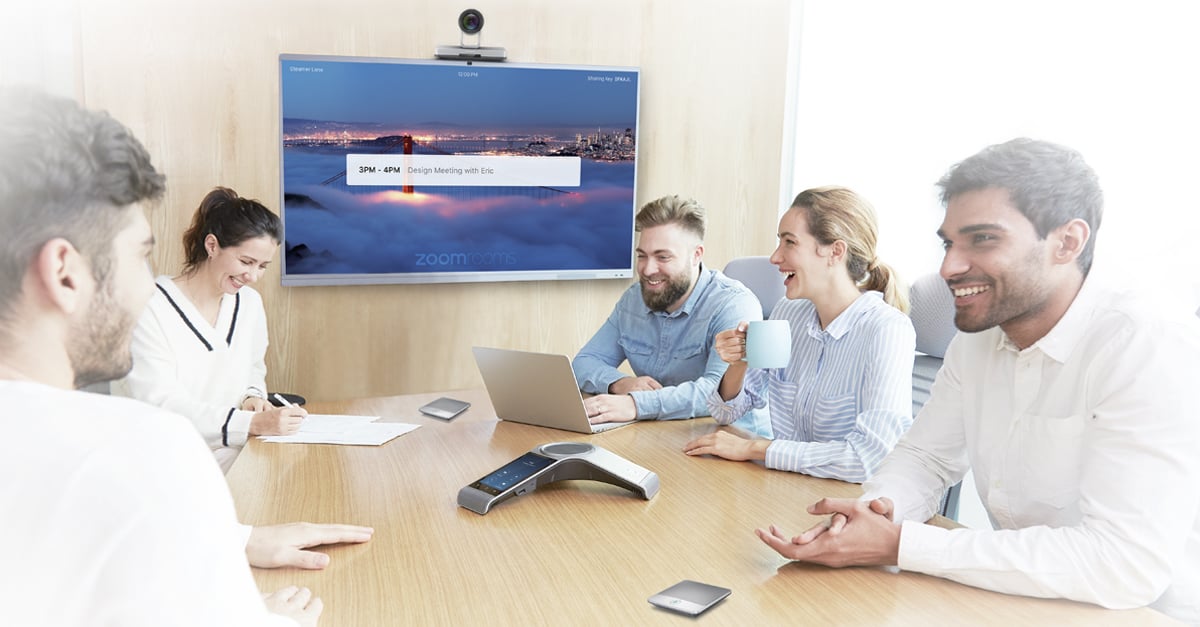 Yealink has partnered with Zoom to provide a complete conferencing solution integrated with Zoom Rooms that is sure to be a hit with customers who are looking for a robust, cost-effective video conferencing solution that is easy to use. In this article we look at Yealink's CP960-UVC50 and CP960-UVC80 Zoom Room kits for conference rooms large and small.
About Zoom Rooms
Zoom Rooms is an easy-to-use platform for creating physical meeting spaces with high quality audio and video. As a component of Zoom, the popular collaboration platform, it turns any meeting room into a teleconference workspace. These workspaces seamlessly connect with other Zoom Rooms and Zoom clients anywhere in the world. Streamlined presentation, desktop, file sharing and structured text chat are among the features that Zoom brings to its users, in addition to crystal-clear audio and video.
Yealink has partnered with Zoom to bring you Zoom Rooms kits that come fully integrated with the service and have preinstalled Zoom Rooms software. Users do need a subscription to Zoom Rooms to use the service.
Zoom Rooms features
Salient features that users can enjoy include:
High-quality video, audio, and web conferencing
Content can be presented wirelessly from a laptop or a mobile device with one-click sharing
An instant or scheduled meeting can be started using "one touch"
Integration with Office 365, Google, and Exchange calendar is supported for room booking, room status, and upcoming meeting lists
Suitable for conference, huddle and training rooms, as well as for executive offices
Zoom Rooms is extremely attractive for both network and IT administrators. Any room that has network access can be set up quickly and easily. Zoom Rooms provides a centralized conference room management system using Zoom's cloud platform, where multiple rooms can be monitored and controlled from a single interface. In addition, software updates to hardware can be easily pushed over the network to all deployed Zoom Rooms.
Benefits of Yealink's Zoom Rooms-enabled kits
Zoom Rooms can operate without the need for any specialized equipment. All you need is a connected laptop running Zoom Rooms software, a tablet, TV or other display device, speakers, microphones, and cameras. Now imagine all of these components bundled into a single, streamlined package capable of supporting all of Zoom Rooms' features without the addition of any other equipment. That's what Yealink's Zoom Rooms-enabled teleconferencing kits deliver!
Watch the video

Yealink's Zoom Rooms kits
In close partnership with Zoom, Yealink currently offers two CP960-UVC Zoom Rooms kits, the CP960-UVC50 and CP960-UVC80.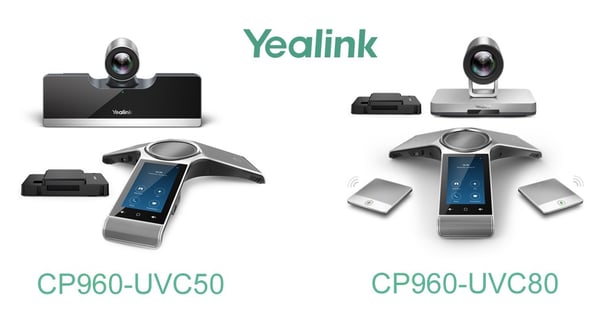 Both systems include:
Mini PC Package – This is a small but powerful specialized computer sporting an Intel Core i5 CPU with 8 GB of memory and a 128 GB SSD hard drive running Windows 10. This is the heart of both Zoom Rooms kits and has the Zoom Rooms App, Yealink plugin software, and necessary Zoom Rooms licenses all preinstalled. It has HDMI ports for up to two TVs or display devices, USB ports for a camera, mouse and keyboard, as well as an Ethernet port for connection to the local network and the internet. The package includes the Mini PC as well as a cable management box.
CP960 Conference phone – We've talked about the CP960 smart conference phone in the past and described it as an ergonomic, intuitive and exceptionally sleek device. The CP960 that comes with this kit is a Zoom Rooms-enabled device that seamlessly integrates with the Mini PC for use with Zoom Rooms. It utilizes an Android OS with an integrated Zoom Rooms controller App, and has a high-resolution 5-inch touchscreen and built-in 3-microphone array that can accurately pick up voice from up to 20 feet away. If you already have a CP960, with a simple upgrade you can Zoom Room-enable it for use with a kit.
The CP960-UVC50 kit includes:
UVC50 PTZ camera - This is a 5x optical zoom pan-tilt-zoom (PTZ) camera with a wide-angle lens, ideal for small- to medium-sized meeting rooms. It connects directly to the Mini PC using a USB connection and can be placed above any TV or other display device. This camera delivers HD video at 60 frames per second, and has a pan/tilt range of 60°/40°.
The CP960-UVC80 kit includes:
UVC80 PTZ camera - This is an upgrade to the UVC50 camera and delivers a 12x optical zoom that allows speakers to be zoomed into more closely. This is ideal for larger conference rooms with more participants. It connects directly to the Mini PC using a USB connection and can be placed above any TV or other display device. This camera delivers HD video at 60 frames per second, and has an impressive pan/tilt range of 200°/60°.
CPW90 DECT-based wireless microphones – The CP960-UVC80 Zoom Rooms kit includes two CPW90 wireless microphones that conveniently extend the range of sound capture in larger conference rooms where some participants may be farther away. These microphones are compatible with the CP960 conference phone.
Download the Yealink CP960-UVC Zoom Rooms Kits Datasheet
Download the Yealink CP960-UVC Zoom Rooms Kits Brochure
Conclusion
Yealink has added value to its solutions by following a philosophy of partnerships with companies that offer complementary services, such as Zoom. Yealink's Zoom Room kits deliver the full functionality of Zoom Rooms in an integrated, streamlined and easy-to-use package.


---
You may also like:
Skyrocket productivity with Yealink's Microsoft Teams-certified IP phones
Yealink smartens up its IP conference phone with the CP960
Take an inside look at Yealink's education solutions