Product Review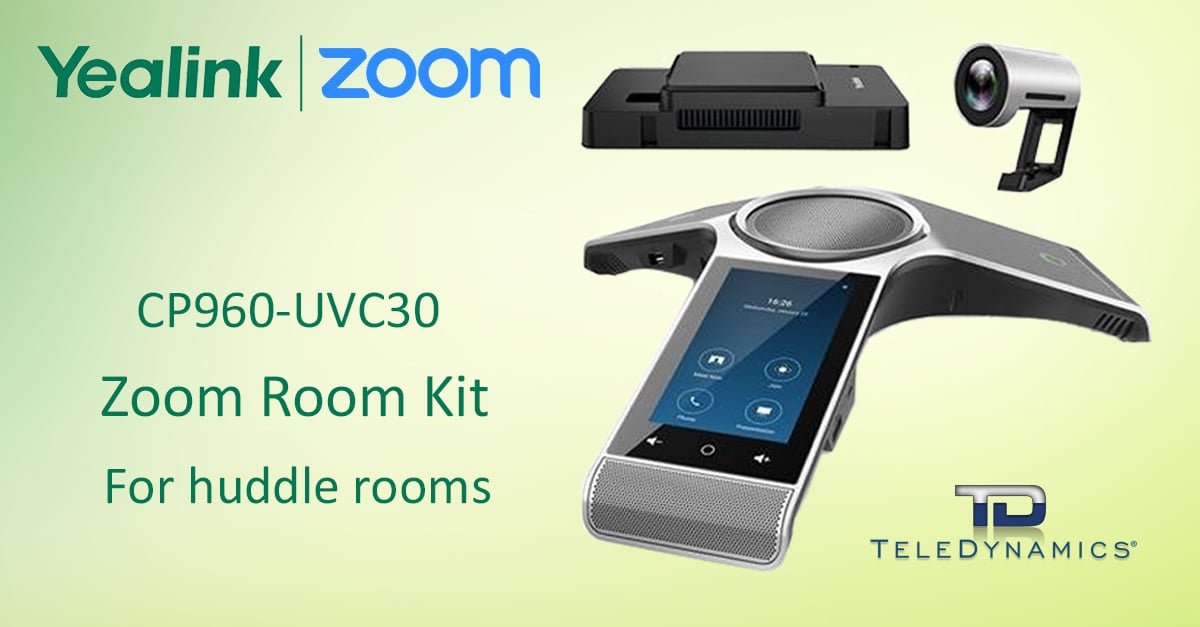 Expanding on its line of solutions for Zoom Rooms, Yealink has launched the newest model in its line of CP960-UVC Zoom Rooms Kits: The UVC30, for huddle rooms and other small meeting spaces. In this article, we review this new model and show how it fits in with the rest of the series.
Like its siblings, the CP960-UVC30 delivers a complete Zoom Rooms package containing a full hardware suite (mini-PC, camera and audio device) as well as the requisite software and license, simplifying the purchasing process and deployment while making the after-sales service experience more convenient than ever. Even though Yealink's Zoom Room kits come with the software and license, users still need to have a Zoom Rooms subscription to use the service.
Conference phone
Like the CP960-UVC80 for medium and large conference rooms, and the CP960-UVC50 for small to medium rooms, the CP960-UVC30 for small spaces and huddle rooms comes with a Zoom Rooms-enabled CP960 conference phone. This device has an Android OS with an integrated Zoom Rooms controller App, as well as a high-resolution 5-inch touchscreen and built-in 3-microphone array that can accurately pick up voice from up to 20 feet away. If you already have a CP960, with a simple upgrade you can Zoom Room-enable it for use with a kit. For more details about the CP960 conference phone, refer to our product review.
Mini-PC
This kit also comes with a specialized mini-PC, a small but powerful computer sporting an Intel Core i5 CPU with 8 GB of memory and a 128 GB SSD hard drive running Windows 10. This is the heart of both Zoom Rooms kits and has the Zoom Rooms App, Yealink plugin software, and necessary Zoom Rooms licenses all preinstalled. It has HDMI ports for up to two TVs or display devices, USB ports for a camera, mouse and keyboard, as well as an Ethernet port for connection to the local network and the internet. The package includes the mini-PC and a cable management box.
4K ePTZ camera
The difference with the UVC30 lies in its camera. It has an ultra high-definition (4K) camera, which allows it to use digital zoom. Its siblings record in full HD (1080 pixels) and use optical zoom. The pan and tilt function is also different with the UVC30. Because it has a wider field of view (120º), it uses ePTZ, otherwise known as digital PTZ, which allows users to focus on different places in the field of view, but doesn't move the camera.
To learn more about the Yealink family of Zoom Room solutions, check out the video below or refer to our recent review of the series.
Watch the video

Click here for a side-by-side comparison of each Zoom Room kit model.
Conclusion
Yealink's CP960-UVC30 Zoom Room kit is a robust solution that contains everything you need to set up a high-quality video conference with ultra HD video and premium audio using Zoom Rooms software, in small meeting spaces and huddle rooms.


---
You may also like:
Make productivity zoom with Yealink Zoom Room kits
Yealink smartens up its IP conference phone with the CP960
Yealink's Microsoft-certified device portfolio