Product Review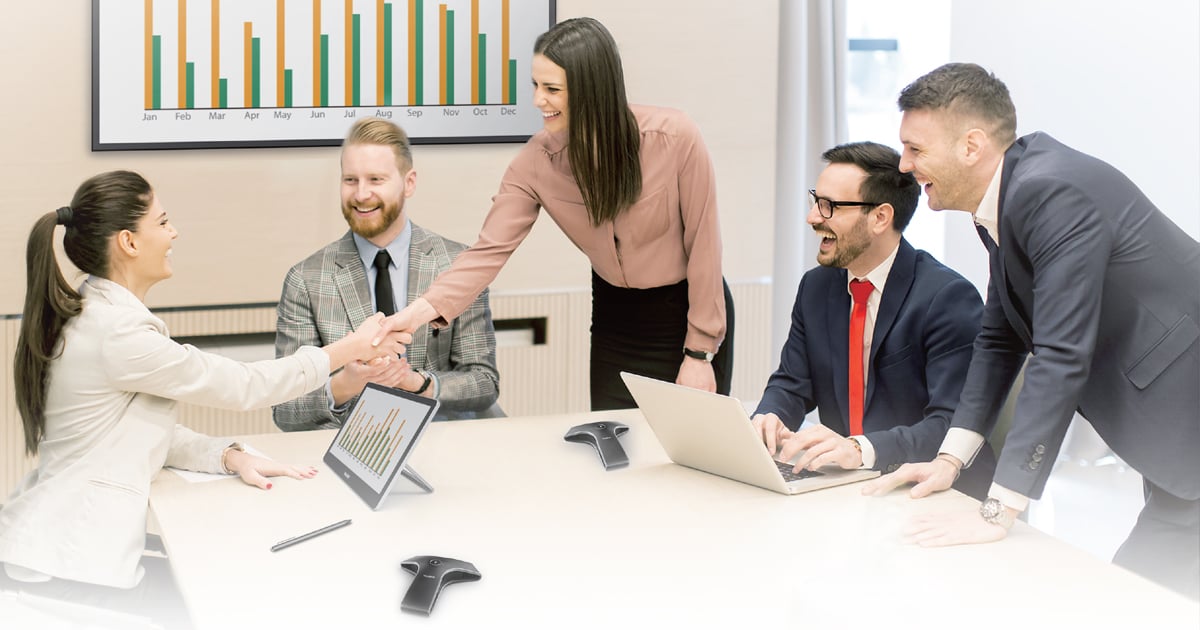 If any of your customers have partnered with Microsoft for their communication and collaboration needs, or are considering doing so, then this article will be of special interest to you. Yealink has expanded its portfolio of Microsoft-certified devices that are integrated with Skype for Business as well as Microsoft Teams, meaning that these powerful collaboration tools are now accessible via Yealink's physical communications devices.
In this article, we examine the advantages that businesses can gain through the integration of Microsoft Teams and Skype for Business with Yealink's solutions.


What is Skype for Business and Microsoft Teams?
Skype is a communications platform that was purchased by Microsoft in 2011 and turned into an enterprise communication and collaboration service with the launching of Skype for Business. The primary services provided by this software are instant messaging, voice calls, and video calls between Skype users. Microsoft continued its development by integrating it into other Microsoft software, such as Microsoft Outlook contact lists, exchange of information concerning collective editing of Microsoft Word documents, and powerful collaboration tools like whiteboard, desktop sharing, and PowerPoint presentation sharing.
Microsoft Teams, on the other hand, can be considered Skype for Business on steroids. It is a unified communications platform that combines workplace chat, video meetings, file storage and sharing, and application integration. Microsoft Teams is considered more of a service than a software package, and it integrates with the company's Office 365 subscription-based office productivity suite and features extensions that can integrate with non-Microsoft products.
Microsoft Teams is a competitor with services such as Slack and is considered the evolutionary next step beyond Skype for Business. It is set to eventually replace Skype for Business, but this is not due to take place any time soon.


Yealink's Microsoft-certified solutions
Whereas Microsoft's communication and collaboration services exist in the realm of software, applications, and the internet, Yealink brings these services into the physical world. The company's products that integrate with Microsoft services allow you to use these services with devices that you hold in your hand, hold to your ear, and view with your eyes.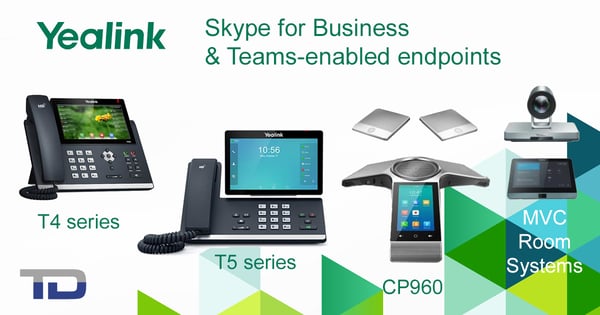 Yealink provides a broad range of communications devices that can leverage Skype for Business (SFB) and Microsoft Teams (Teams). Yealink's TS4 entry-level to mid-range IP phones support SFB as do the T5 series and the CP960 conference phone. Both the T5 and the CP960 are now also available as products certified for use with Teams. If you already have Skype-enabled phones in these two series, you have the option of upgrading them to function with Teams, as well. Finally, Yealink's MVC room videoconferencing kits are ready to go with Teams pre-integrated.
Note: When ordering Yealink endpoints for SFB or Teams, be sure to specify this integration capability to your TeleDynamics rep, since not all models in these series are enabled for SFB or Teams.


Watch the video
What this means for your customer
With such a broad range of devices supporting SFB and Teams, Yealink can bring these services to every member of the organization for an exceptionally competitive price. This means your customer can enjoy the employee productivity enhancement that these tools provide across the board. In addition, the learning curve for using these tools is quite low because of their consistent user interface and workflow. Anyone using the service on one platform or device will be able to easily adjust to using the service on any other platform.


Specific advantages
The SFB integration available in the IP phones allow users to integrate their Outlook contact list with the phone itself. Users can make Skype calls to Skype users around the world directly from their phone. Screen sharing, instant messaging, and video capabilities can be added to these voice conversations using integrated software and connected web cameras on the user's PC.
The Teams integration available on the higher-end phones and the conference station allows users to take advantage of the more sophisticated features of Teams.
Finally, the MVC500 and the MVC800 room videoconferencing kits, which are both Teams-certified, provide the highest level of collaborative capabilities to multiple users, whether they be in the conference room or connected remotely, allowing the sharing of files, presentations, and desktops on multiple screens, all during an active teleconference.


Conclusion
Yealink has added the physical dimension to the cloud-based collaboration services that Microsoft offers through Skype for Business and Teams. This allows end users to use these collaborative services as simply as making a phone call. This powerful combination of Yealink's innovative hardware and Microsoft's cloud collaboration services will enhance the productivity of almost any business.


---
You may also like:
Updates to Yealink's T5 smart IP phones
Yealink smartens up its IP conference phone with the CP960
Advanced features of Yealink's upgraded T4S Series desktop IP phones