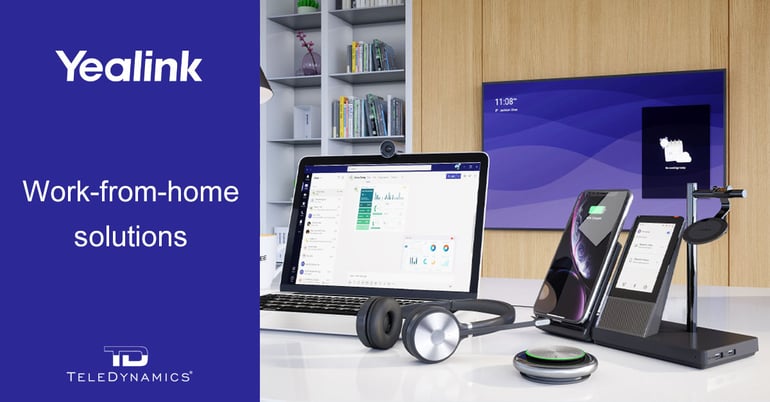 The COVID-19 pandemic has irreversibly affected remote working and teleworking trends. Yealink has responded to the needs of this paradigm shift with a wide range of work-from-home solutions for dispersed professionals.
In addition to its collaboration equipment, Yealink has launched a new program for companies that have a Microsoft Teams license with 100 or more seats, whereby they can get 50% off the MSRP on eligible products (expires June 30, 2021). Even if you don't have customers that are eligible to participate in the discount offer, read on to learn about Yealink's wide range of work-from-home solutions.
Yealink's work-from-home solutions
Yealink has teamed up with Microsoft Teams to deliver a broad portfolio of voice and video devices to support rich communications among a distributed workforce. The goal is to bring a seamless collaboration platform to dedicated home offices and remote workspaces. Using Yealink devices that support Microsoft Teams, you can create an efficient and effective remote collaboration ecosystem.
Yealink and Microsoft partnership
Yealink's partnership with Microsoft in the development of equipment that leverages the Teams platform has a long history and began with its Skype For Business-based endpoints. Microsoft Teams is a unified communications and collaboration platform that has evolved out of Skype for Business (SFB) and is considered the evolutionary next step beyond SFB.
Yealink and Microsoft continue their partnership with an extensive lineup of phones and equipment that are Microsoft Teams certified. This ensures a deep integration between the equipment and the collaboration platform, supplying valuable collaboration features and capabilities between employees working from home.
Equipping the personal workspace at home
People need to be more productive when at home. Everyone is different, and workspaces at home must be configured for the tasks that each person performs. People who stay at home may be employees, students, teachers, medical professionals administering telehealth services, or patients receiving such services. Yealink has offerings to suit all such cases.
Home collaboration workspaces may include Yealink headsets, cameras, and speakerphones that can be integrated with a laptop or desktop. These are all Teams enabled and certified, delivering a rich collaboration experience to any home workspace.
Executive workspaces at home
For people needing to upgrade the home office with a better Teams experience, like executives and professors, Yealink provides various video and voice device solutions for Microsoft Teams, turning your home office into a dedicated and more collaboratively functional workspace.
This can be achieved with Yealink equipment, including sophisticated desk phones, headphones, high-quality cameras, and meeting kits, all of which are Teams-enabled and certified. In combination with a laptop or desktop computer, as well as one or more large screen monitors, they can enhance a workspace even more.
Yealink's work-from-home discount offer
In response to the growing need to sufficiently equip the distributed workforce with sophisticated collaboration and communications systems, Yealink is offering an immediate 50% off the manufacturer suggested retail price (MSRP) until June 30, 2021 for its Teams-certified and associated devices and hardware. Customers that are eligible to take part in the program are those that have a Microsoft Teams license for at least 100 seats and have not yet applied to Yealink's Work From Home program.
More details about eligibility and purchase amounts can be found at Yealink's related site.
Eligible devices and hardware
The Yealink devices included in this offering are:
Conclusion
The distributed workforce is increasingly becoming the norm across many business sectors. Worker, teacher, student, and telehealth needs are continually expanding. More and more professionals require highly specialized collaboration endpoints. Yealink and Microsoft are responding to these needs, delivering sophisticated collaboration systems that are financially accessible to businesses of all sizes.


---
You may also like:
Yealink UC Workstation and DECT wireless headset (product review)
Get the most out of your virtual meetings with Yealink Meetings
Yealink ranks No. 1 in SIP phone market share for third year in a row