Product Review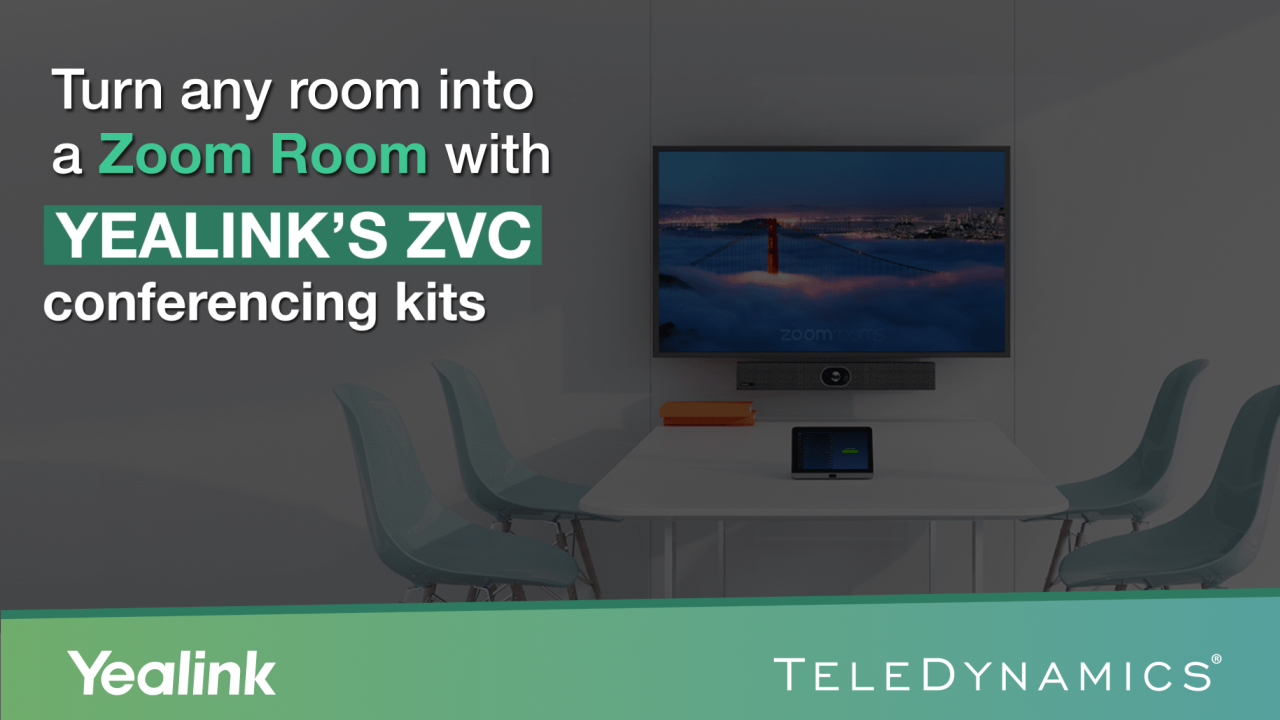 Yealink continues its excellence as a provider of high-quality and exceptionally relevant products that respond to today's challenging business communications needs. Among its offerings is Yealink's line of Zoom Rooms videoconferencing kits that turn any sized room into a Zoom Room.
What these kits include
Yealink offers four different kits to suit rooms of all sizes. All kits include a camera, one or more specialized conference phones with audio speakers and microphones, and a centralized mini-PC. Higher-end kits include wireless microphones, more advanced speaker systems, and even a touchscreen interface. We will talk more about these options in detail.
At the center of each kit is the MCore Mini-PC, with an 8th generation Intel QUAD-CORE i5 processor, 8GB of RAM, and a 128GB SSD drive. Sporting two HDMI ports, four USB 3.0 ports, and one GigabitEthernet port for high-speed network connectivity, this mini-PC is anything but small in its capabilities. It is ready right out of the box, as it comes preloaded with a licensed Windows 10 IoT Enterprise OS, the Zoom Rooms app, and the Yealink plugin.
These four packages scale up, not only in room size, but also in device capabilities and accessories.
Watch the video
Yealink's Zoom Rooms offerings
Yealink offers four ZVC Zoom Rooms kits to choose from.
ZVC300 – This is Yealink's entry-level Zoom Rooms kit, suitable for small conference rooms. Other than the MCore Mini-PC, it includes a UVC30 Zoom Room-enabled camera with 4K resolution, a field of view of 120°, and an auto framing feature. It also has a CP960 Zoom edition conference phone running the Android operating system, with a large touchscreen, a three-microphone array enabling 360° speech pickup, and high-definition audio.
ZVC400 – A step up from the previous kit, this package, ideal for small to medium-sized conference rooms, delivers the same MCore Mini-PC and innovative conference phone, but introduces the easily deployable UVC40 USB video bar. With an all-in-one design, this video bar incorporates a 20-megapixel HD camera with 8x ePTZ capabilities and a 133° field of view, as well as intelligent features including face detection, auto framing, and speaker tracking. It sports eight MEMS microphone arrays for crystal-clear audio and HD sound. Mounted on top of a television display, it ensures a more natural experience when facing and talking to the remote parties. In addition, the MTouch II touchscreen device is also provided for a direct interface to control the whole system.
ZVC640 – This kit delivers the same MCore Mini-PC and conference phone of the entry-level kit, but introduces the innovative UVC84 camera. This high-quality camera delivers 4K Ultra HD video, 12x optical plus 3x digital zoom, a focused 80° field of view, and intelligent features such as auto framing. With mechanical PTZ options, as well as multiple installation options, including ceiling and wall mounting or on a tripod atop a TV or monitor, this camera delivers versatility and flexibility to any video conference room.
ZVC840 – Finally, at the top of the line, this kit is ideal for the largest conference rooms, and even for small auditoriums, where a large number of people are expected to participate in a Zoom conference. This package has the UVC84 camera, the MCore Mini-PC, and the MTouch II touchscreen control panel. Added to this is the Yealink MSpeaker II soundbar to hear your remote participants clearly, delivering high-quality audio, along with three VCM34 wireless microphone arrays that can be strategically placed for optimium audio pickup. Each array has a 20-foot 360° voice pickup range, significantly increasing the audio pickup coverage area in even the largest of conference spaces.
Key features
The main features of the devices included in these kits can be seen below:
ZVC300 for small rooms
MCore Mini-PC

8th generation Intel QUAD-CORE i5
Memory: 8GB (2 x 4GB)
Storage: 128 GB SSD
2 x HDMI video outputs, CEC supported
Bluetooth and Wi-Fi
4 x USB 3.0 Type-A ports
1 x GigabitEthernet

UVC30 Room Camera

4K/30FPS, 1080p/60FPS, 720p/60FPS
Auto framing
Wide 120° field of view
Digital PTZ
USB 2.0 connectivity
Multiple mounting options

CP960 conference phone

5" 720x1280 touch screen
1 x FastEthernet port
Power over Ethernet support (IEEE 802.3af)
2 x wired microphone ports
2 x USB 2.0 ports
1 x 3.5 mm audio-out port
1 x USB 2.0 micro-B device port
ZVC400 for small to medium-sized rooms
MCore Mini-PC
UVC40 USB video bar

20 MP Camera
8x digital zoom ePTZ
133° field of view
Auto framing and speaker tracking
8 MEMS microphone arrays
Built-in Wi-Fi
USB connectivity

MTouch II

8" 1280 x 800 touchscreen interface
ZVC640 for medium-sized to large rooms
MCore Mini-PC
CP960 conference phone
UVC84 PTZ Camera

4K/30FPS
Mechanical PTZ
12x optical zoom plus 3x digital zoom
80° diagonal field of view
Auto framing
Multiple mounting options
ZVC840 for large to extra-large rooms
MCore Mini-PC
MTouch II
UVC84 PTZ camera
Yealink MSpeaker II soundbar
3 x VCM34 array microphones

Built-in three microphone array
20-foot 360° voice pickup range
Power over Ethernet
Up to four units can be cascaded
Conclusion
With Yealink's Zoom-enabled ZVC videoconferencing kits, any-sized room and easily be turned into a high-performance Zoom Room.
---

You may also like:
Yealink MVC rooms systems for Microsoft Teams
Yealink work-from-home solutions
Yealink's bring-your-own-device (BYOD) solutions