Product Review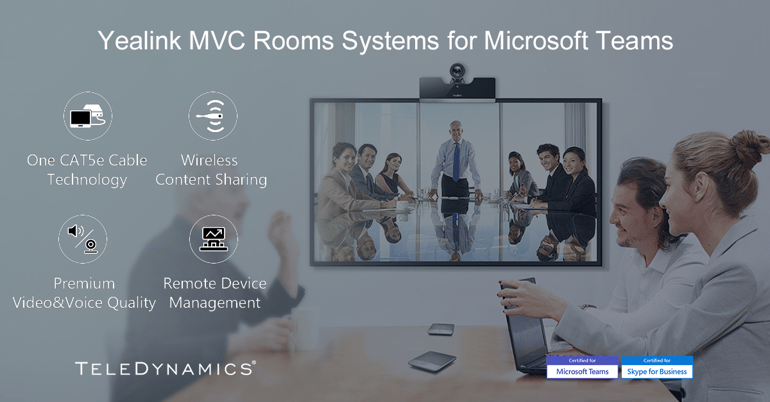 Microsoft Teams has become among the most extensively deployed collaboration platforms in the world. As such, Yealink has teamed up with Microsoft to deliver hardware that is not only compatible with the Teams platform, but also Microsoft certified. This guarantees an extensive level of compatibility with all of Microsoft's innovative features.
In this article, we review Yealink's MVC series of kits, known as Microsoft Teams Room Systems, that are designed to take full advantage of Teams collaboration features for meeting rooms, ranging from small focus rooms to extra-large conference rooms.
MVC series overview
All Yealink MVC series bundles deliver deep integration with the Microsoft Teams collaboration platform and include a Mini-PC device at their core, as well as various camera, audio, and presentation options. There are five primary bundles that offer various capabilities, with their differences primarily focused on room size. Kits range from serving small focus rooms with two or three participants all the way up to extra-large conference rooms with dozens of participants. Each larger kit incorporates additional capacities that enable communication with an ever-increasing number of local participants.
Yealink M-Core and MTouch II
The Yealink M-Core is the Mini-PC at the center of all the bundles. It sports an 8th generation Intel QuadCore i5 processor, 8 GB of RAM, and 128 GB of storage space. It runs the specialized Microsoft Windows 10 IoT Enterprise operating system, the Microsoft Teams Rooms app, and Yealink's RoomConnect, plus the Device Management agent for seamless interoperation with Yealink's Device Management Cloud platform. It comprises two HDMI interfaces for connection to video displays of all types, four USB 3.0 ports, and wired and wireless network connectivity options.
The M-Core connects to the MTouch II, an innovative touchscreen interface for the system. This interface is common to all bundles and sports an eight-inch screen with a resolution of 1280x800. It can also be used for content sharing, delivering HD video to external displays, using either USB or HDMI connectivity. The MTouch II also supports wireless connectivity for use with Yealink's WPP20 wireless presentation pod, also included in some of the bundles.
MVC series audio and video capabilities
The camera and speakerphone differ among the various MVC bundles. The MVC320 entry-level bundle, suitable for focus rooms, includes the UVC30 camera which delivers 4K video at 30 frames per second (FPS), 3x digital zoom and electronic pan, tilt, and zoom (PTZ). It also incorporates the MSpeech tabletop speakerphone, which provides high-quality sound using a 4W speaker, and sports a built-in 3-microphone array that can capture speech from a radius of up to twenty feet.
The MVC400 kit, suitable for small meeting rooms, comes with the UVC40 all-in-one video bar, which includes a camera, microphones, and speakers. Its camera delivers 4K video at 30 FPS, with 8x digital zoom and electronic PTZ, with a large 133° field of view. It also has speaker tracking features, locking onto the person talking. Its audio features include speakers that can reproduce high-quality voice, and an 8-microphone array that leverages audio beamforming for crystal-clear audio pickup.
The MVC640 bundle, suitable for medium-sized meeting rooms, consists of the UVC84 camera with a 12x optical zoom (as opposed to the digital zoom delivered by the previous two cameras), with a more focused 80° field of view. This camera has the capability of a pan and tilt range of 200°/130°. This bundle comes with the same innovative MSpeech tabletop speakerphone provided with the MVC320 kit.
For larger meeting rooms, the MVC840 kit includes the same camera as that of the MVC640 bundle, but improves upon its audio capabilities with the use of two or three VCM34 microphone arrays and one or two Yealink MSpeaker soundbars, depending upon the options you choose. This results in a much more flexible arrangement, where you can disperse up to six wireless microphone arrays throughout the room, where each one has a pickup range of 20 feet. In addition, up to four soundbars can be placed in various areas ensuring the best sound reaches the furthest corners of the room.
Finally, for extra-large conference rooms, the MVC940 bundle comes with two UVC84 cameras and two WPP20 wireless presentation pods. What is unique about this particular kit is the addition of a camera hub, a device that allows you to connect up to nine UVC84 cameras and which also has RCA in and out connectors for connecting to an external sound system. This kit is also capable of leveraging up to six VCM34 microphone arrays and a maximum of four Yealink Mspeaker soundbars, which are sold separately and can be added as required. With the appropriate microphones and sound system enhancements, this system can potentially serve a venue with well over 100 participants.
Key features
The fundamental features of each of these systems are summarized below.
Conclusion
No matter what the size of your meeting or conference room, Yealink has a Microsoft-Teams-enabled MVC room system bundle that will fit your requirements.


---
You may also like:
Yealink's MP series of Teams-certified desktop phones
Yealink work-from-home solutions
Yealink's line of high-quality headsets