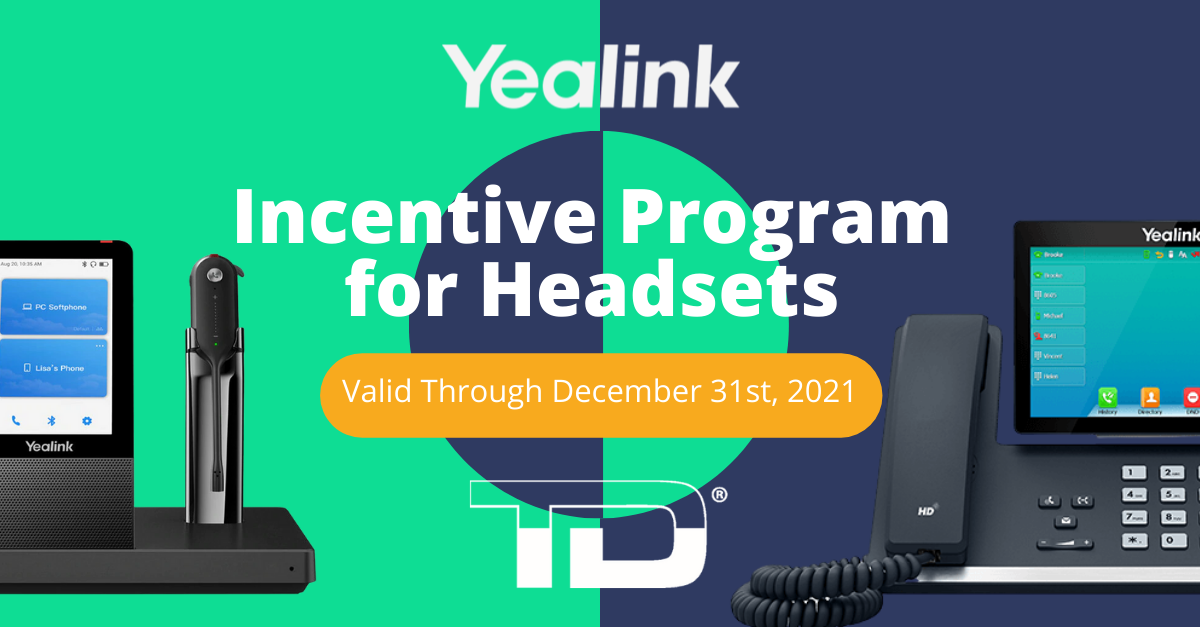 Now that many workers have had to adapt to working remotely since the pandemic, headsets have become increasingly popular because they free up users' hands (and shoulders) for a more comfortable and flexible communications experience.
Yealink has developed numerous headsets with a wide range of features and functionalities to fit almost all communication requirements. Not only that, but Yealink has also introduced a full-line incentive program for its headsets, good through the end of 2021.
The best headsets are light, comfortable, deliver high-quality sound, sport an excellent microphone, and are highly compatible with multiple vendor devices, software, and services. These are the kinds of advantages Yealink's series of headsets offer. And now, with the introduction of its incentive program, these headsets have become all the more accessible, especially in large numbers.
Three specific series of Yealink headsets are of particular interest as they each fulfill a certain range of user needs and compatibility requirements. These are detailed below:
WH60 series
The WH60 series consists of the WH62, WH63, WH66, and WH67. These headsets are all wireless and sport charging base stations. They are ideal for office environments and roles that use the telephone extensively. This series' features include:
Mono and dual earpiece options
Base stations function as chargers, and some include a USB hub and touchscreen functionality
Busy light indicating an active call
Between 8 and 14 hours of talk time
Wireless range from 100 to 160 meters
UH30 series
The UH30 series has the UH33, UH34, and UH36. These are all wired headsets with USB or 3.5mm connectivity. All models have both mono and dual earpiece options and are ideal for connectivity with both Yealink phones and third-party devices. Features within this range include:
5mm wired headsets
USB connectivity with included adaptor
Mono and dual earpiece options for almost all models
Bendable and rotatable boom microphone arm
Wideband audio compatibility
YHS30 series
YHS 30 series of headsets comprises the YHS33, YHS34, and YHS36. These headsets are wired and ideal for more traditional telephone sets since they have RJ9 connectors: those connectors that are found on conventional telephone cables, but are somewhat narrower. The various features included in these headsets are:
Mono and dual earpiece options for each model
RJ9 connectivity
HD voice supported by both the microphone and the speaker
Noise cancellation
Bendable and rotatable boom arm
Beyond these series, Yealink has more headsets that satisfy an even wider range of requirements and compatibilities. Check out the full line of Yealink headsets on our website.
Incentive program
Yealink's full-line incentive program is for existing dealers who have purchased Yealink T5 or T4 series phones and are willing to sell Yealink headsets. In particular, you have two options on how to take advantage of the program.
The first option allows you to purchase at least two UH-series headsets and two WH-series headsets. This gives you the opportunity to apply for a discount. Alternatively, you can register a headset project, which will allow you to enjoy up to 15% off bulk purchases of over 500 units. For more information, contact your TeleDynamics representative. Not a TeleDynamics dealer? Not a problem! Click here to apply and get in on the savings.
Conclusion
The shift in the way of doing business over the past few years has made the headset an indispensable piece of equipment to ensure a cohesive and efficient workforce. The versatile range of headsets that Yealink offers, as well as its incentive program that is running until the end of 2021, will play a major role in making high-quality headsets available and accessible to more people than ever before.


---
You may also like:
Yealink UC workstation and DECT wireless headset
Helpful VoIP integrations for managing remote teams