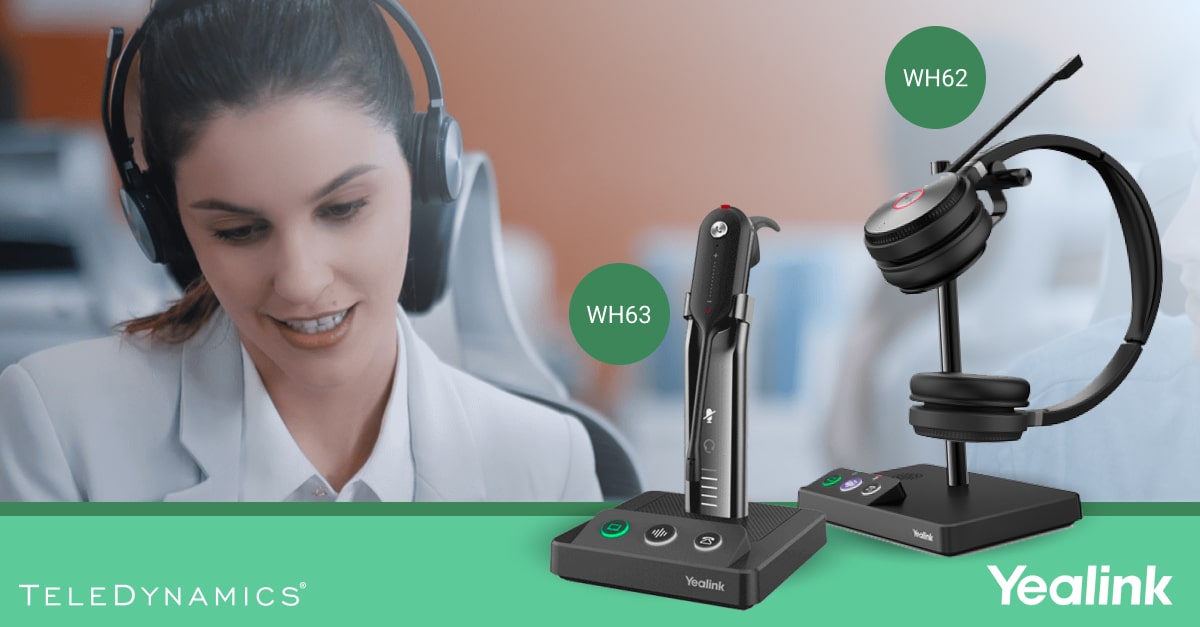 Yealink's headsets can be powerful additions to any enterprise's arsenal of telecom tools. The WH62 and WH63 headset models are perfectly tailored to enhance productivity, comfort and user-friendliness in any corporate environment. The use of digital enhanced cordless telecommunications (DECT) as wireless communications technology further augments the usability and flexibility of these headsets.
You don't need a Yealink phone to enjoy the benefits of these headsets, since they offer broad compatibility with third-party phones using specially designed electronic hook switch (EHS) adapters. In this article, we explore this feature and the methods used to achieve compatibility.
WH series DECT headsets
The WH62 Mono, WH62 Dual and WH63 are all DECT-based wireless headsets that deliver all-day comfort, sleek design, ease of use and high-quality sound for both parties on a call. These headsets are ideal for open offices, call centers, hybrid working environments and fully remote workers, helping mitigate background noise and interruptions while enabling instant communications and great freedom of movement.
With multiple options, including both monaural and binaural designs for the WH62 and a minimalistic lightweight construction for the WH63, the series caters to the widely varying needs of today's enterprises and businesses.
These headsets can simply connect to Yealink phones or PC- or laptop-based clients via USB. However, what if you want to connect the headset to a third-party phone? Yealink has you covered!
EHS adapters
The key to the broad compatibility offered by the WH62 and WH63 headsets is Yealink's series of innovative EHS adapters. These adapters enable varying levels of compatibility and interoperability for a whole series of third-party phone models, including those manufactured by Poly, Avaya, Snom, Grandstream, Cisco, and Mitel.
The EHS35 adapter provides plug-and-play compatibility with third-party phones but does not enable any remote-control features or capabilities. This means you won't be able to answer a connected ringing phone by using a built-in button on your headset, hang up, or change the volume settings. All of these must be controlled from the telephone device directly.
This adapter has a traditional telephony RJ-9 clip on one end to connect to the phone and a micro-B USB plug on the other end to connect to the base station of the headset. Only the Yealink T3 series phones can use the EHS35 adapter with remote control capabilities.
For greater control capabilities, Yealink offers the EHS60 and EHS61 adapters, which allow you to use the buttons on the headset to control various aspects of the telephone call, including initiating calls, hanging up, and adjusting the volume.
The two adapters look identical but are designed to be compatible with specific ranges of third-party devices; you'll need to choose the right adapter based on which make and model of phone you have.
The following table shows the devices that each adapter supports and the compatibility level it offers.
Adapter
Phone manufacturer
Compatible phone model
Compatibility
EHS35
Yealink
T30, T31, T33
Remote control
Poly
VVX, CCX, Edge, and SoundPoint series
No remote control
Avaya
96XX, 16XX, and J1XX series
Snom
D3, D7, and D8 series
Grandstream
GRP, GXP, and GXV series
Fanvil
X, XU, and V series
EHS60
Cisco
6945/7821/7841/7861/7942G/7945G/7962G/
7965G/7975G/8811/8841/8845/8851/8861/E865
Remote control
Poly
SoundPoint IP335/320/330/331/430/450/
670/650/560/550
Avaya
96XX, 16XX, and J1XX series
Grandstream
GRP, GXP, and GXV series
Fanvil
X3 series
EHS61
Mitel
5380/5370/5370ip/5380ip/6771/773/6775/6735i/
6737i/6739i/6753i/6755i/6757i/6757iCT/6773ip/
6775ip/6865i/6867i/6869i/6867/6869/6920/
6930/7434ip/7444ip
Remote control
Unify
OpenScape IP35G/55G, OpenStage 30/40/60/80/410/420/500/600, CP400 SIP, CP600 SIP, CP700 SIP, CP600E SIP, CP700X SIP, CP110, CP210, CP400T, CP200T
Yealink
T27G, T29G, T40P, T40G, T41P, T42G, T46G, T48G, T49G
A long-term investment
The ability to use Yealink's DECT headsets with a variety of phones from different manufacturers offers numerous benefits. This compatibility ensures flexibility, enabling enterprises to integrate these headsets into their telecom systems regardless of the phone brands they already use.
The use of these headsets enables significant productivity improvements and cost savings. Users can employ their preferred communications tools without being restricted to one specific phone brand, while businesses can avoid unnecessary upgrades or replacements of existing phone hardware.
Headsets can be used with multiple phones at various locations. For example, an employee might work from a laptop one day, in the office with Yealink phones the next, and from a rented workspace that uses a third-party phone model the day after that. This individual can connect a DECT headset to whatever telephony device is available with little to no hassle.
Conclusion
The high compatibility of Yealink's DECT headsets with a multitude of phone brands makes them versatile and efficient communications tools for modern businesses. By harnessing the power of EHS adapters, these headsets seamlessly integrate with existing telephony infrastructure, promoting enhanced productivity, cost-efficiency, and user satisfaction.
The inclusion of remote-control features enriches the user experience, offering a streamlined communications process and making Yealink's DECT headsets a leading choice for enterprises seeking effective, adaptable, and user-friendly telecom solutions.


---
You may also like:
Discover Yealink's feature-rich enterprise meeting solutions
Yealink BH vs. WH headsets: which to choose?
Yealink WH DECT headsets product line review