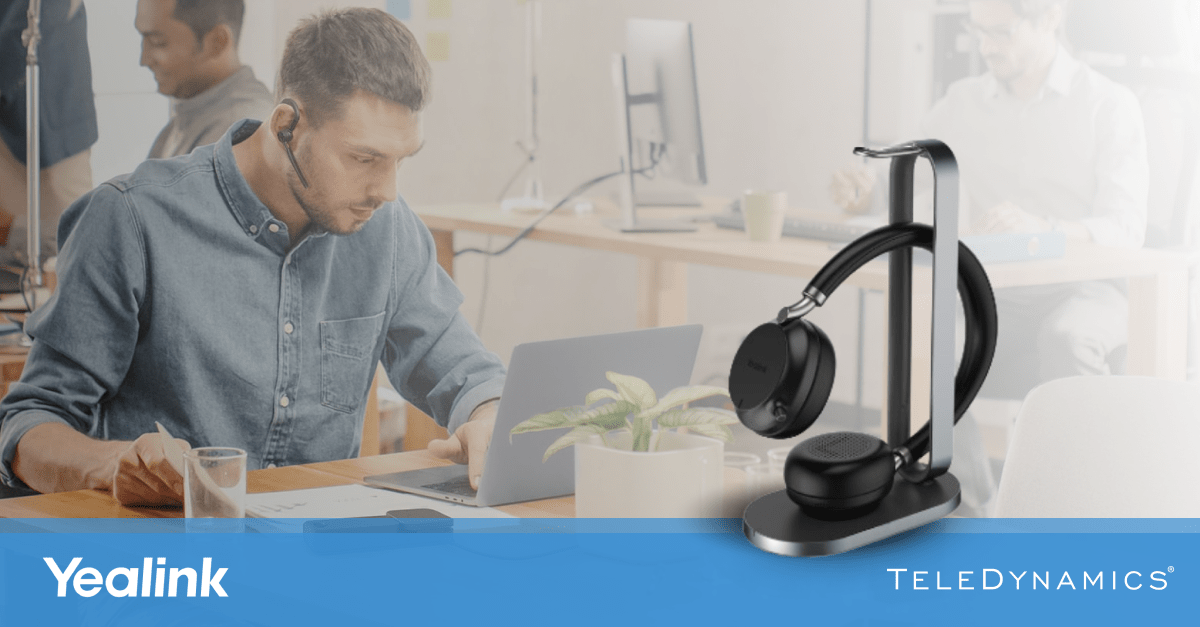 Yealink offers a broad range of headsets utilizing different technologies to cater to virtually any organization's unique voice and video communications needs. We've showcased both the BH and WH series in previous articles.
In this article, we explore common application scenarios that show how each series can be used to its fullest.
Yealink BH and WH series headsets
The main difference between the two series is the wireless technology used to connect the headset. You can pair the BH series Bluetooth headsets with any Bluetooth-enabled device. The WH series of headsets leverages Digital Enhanced Cordless Telecommunications (DECT) wireless technology, connecting to DECT-enabled IP phones or devices with a USB DECT dongle.
Bluetooth vs. DECT
Bluetooth is a widely used wireless communications method for linking personal area network (PAN) devices like headsets. The BH device series is ideal for applications requiring the connection of headsets to a diverse array of devices, such as smartphones, tablets, laptops, desktop PCs (equipped with a Bluetooth USB dongle), or Bluetooth-compatible IP phones.
When Bluetooth's wireless range proves inadequate, employing DECT wireless technology is an ideal alternative. Although not as widely used for headset connectivity as Bluetooth, when connected with suitable equipment, DECT provides wireless ranges approximately ten times those of Bluetooth.
BH series use cases
The BH series of headsets includes a monaural option reminiscent of a cellular hands-free Bluetooth device and two binaural options. The BH71 Mono is ideal for situations where users must communicate on the phone while maintaining awareness of their surroundings or interacting with their colleagues. That includes scenarios such as these:
Contact center agents needing to consult with supervisors or colleagues to resolve issues

Office environments where workers need to make phone calls or participate in video conferences while maintaining awareness of their environments
Alternatively, the binaural options include the BH72 and BH76 Bluetooth headsets. Both have speakers for both ears, providing more noise isolation, making them best suited for users who require more focus and fewer distractions. Practical scenarios for these devices include the following:
Employees who work in noisy environments or require greater concentration

Workers who want to communicate on the phone or over a videoconference and listen to various forms of multimedia (music or videos) or participate in gaming
The BH76 model is well suited for those in exceptionally noisy situations due to its improved active noise cancellation that you can adjust to fit the environment. This device also supports Qualcomm's aptX digital audio algorithm, allowing the headset to deliver a mix of high-definition professional audio and optimized music playback.
The one limitation with the BH series is inherent to Bluetooth, which typically delivers a range of about 30 feet. This may be too restrictive for exceptionally mobile employees. Let's look at the WH series of headsets for those requiring more room to maneuver.
WH series use cases
Like the BH series, the WH series offers both monaural and binaural headset options, with the same benefits and characteristics. However, as mentioned, the WH series uses DECT, offering a range of up to 300 feet.
Because of their increased wireless range, the monaural options are ideal for situations such as these:
Workers must maintain safety protocols while communicating and staying aware of their surroundings in warehouse or factory floor scenarios.

Outdoor scenarios where workers may be moving from place to place and must be mindful of conditions.
Likewise, the binaural headsets deliver similar benefits to their Bluetooth counterparts while being used within larger environments, such as hospitals, hotels, and campuses, where users may need to move while staying connected.
DECT headsets require a DECT-enabled device to connect to, which can be either a DECT USB dongle or a device that natively supports DECT, such as a DECT-enabled IP phone. Most other devices, such as laptops, smartphones, and tablets, do not inherently support DECT connectivity.
For this reason, DECT headsets are usually purchased as part of a broader strategy to employ DECT as a technology within an enterprise's communications system. You may also purchase them along with DECT-enabled equipment to achieve the broader coverage they enable.
The choice is yours
Yealink's BH and WH series headsets have established themselves as game-changers in the world of wireless communications technology. By harnessing the power of Bluetooth and DECT, each series caters to various use cases, meeting the diverse needs of users across different industries.
The BH series leverages Bluetooth connectivity to provide seamless integration with a wide range of devices, ensuring broad compatibility and ease of use for users on the go. The WH series employs DECT technology to deliver exceptional wireless range, making it a perfect choice for environments that demand longer-distance communications without compromising audio quality.
Both series deliver additional options, including base stations, phone chargers, USB hubs, touchscreens, and versions certified for Microsoft Teams and unified communications (UC).
Conclusion
Yealink's commitment to innovation is evident in the design and performance of its headsets, offering both monaural and binaural options tailored to different user requirements. By continually pushing the boundaries of wireless communication, Yealink has set up its BH and WH series headsets as the go-to choice for professionals and casual users alike.


---
You may also like:
Yealink Android meeting solutions
Yealink desktop video solutions