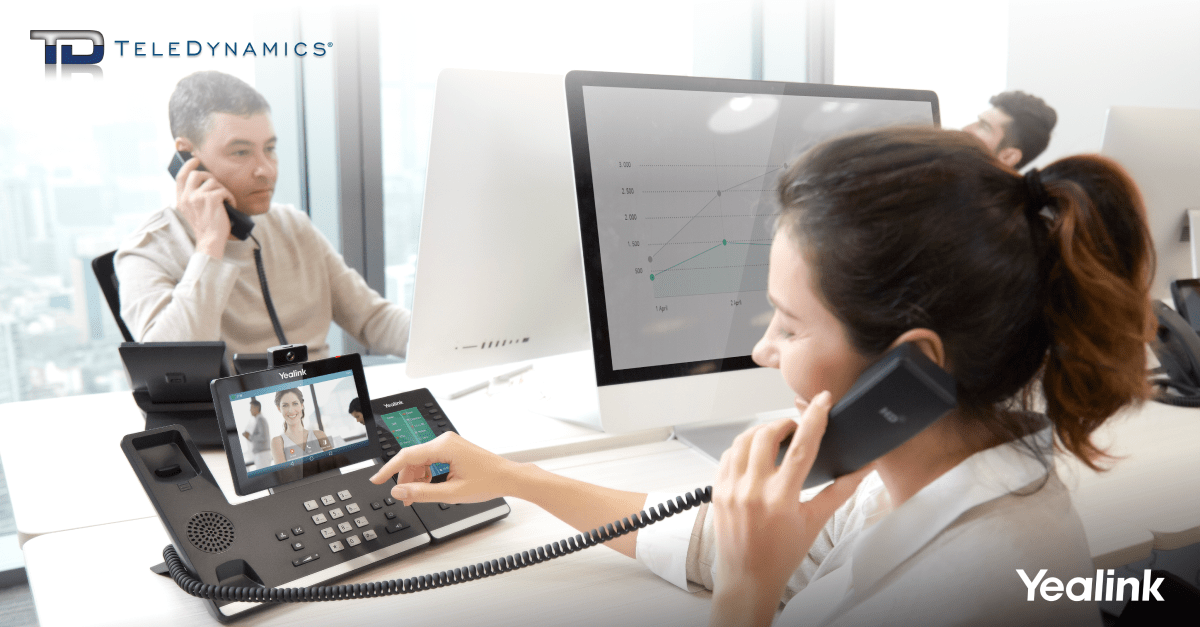 In today's business environment, video is no longer a luxury—it's a necessity. Video helps make business communications more effective by giving remote meeting participants the ability to express gestures, facial expressions, and other types of body language.
For this reason, Yealink remains committed to delivering a wide range of devices, applications and services that leverage video. This article highlights some of Yealink's offerings in this area.
The importance of video
Video is undoubtedly one of the most significant additions to the arsenal of business communications within the last few years. It has considerably enhanced business interaction across all sectors.
In addition to conveying body language, video can also help participants stay engaged and focused on the conversation, increasing productivity and reducing misunderstanding. All of these factors can lead to better collaboration and more effective decision-making.
Simplicity is key
In the past, setting up a videoconference was cumbersome, time-consuming and prone to errors. It also required specialized technical staff. Video was relatively low in quality yet high in cost, allowing only limited remote participation. Despite these limitations, however, businesses invested in such systems because they realized the value in the video component.
Today, the complexity of video communications has all but disappeared, making video communications with a remote partner, employee or customer as simple as making a phone call.
Participation in large-scale videoconferences with dozens or even hundreds of users can be achieved easily from a video-enabled phone or using software installed on a desktop, laptop, tablet or mobile phone.
Yealink's desktop video offerings
Yealink has remained a world leader in delivering video-enabled products and services. Some of the most noteworthy include a various desktop video phones and videoconferencing apps and software.
VP59 desktop video phone
The Yealink VP59 desktop video phone is considered one of Yealink's flagship products, delivering a state-of-the-art video telephony experience. The device comes in a unified communications version suitable for use with any SIP-based IP PBX or cloud-based telephony service.
Two other versions are available, one that is Zoom-certified and another that is Microsoft Teams certified. Certification means that these companies have rigorously tested the devices to ensure they operate flawlessly while enjoying deep integration with their communications systems.
The video phone is designed for both executives and teleworkers. It ensures a superior communications experience thanks to its high-quality 8" 1280×800 pixel touchscreen and high-definition audio support with Yealink's Noise Proof technology.
It natively supports five-way mixed audio/video conferencing and many connectivity options, including built-in Wi-Fi, Gigabit Ethernet, and Bluetooth. Based on Android 7.1, it comes with all of the built-in Android apps and supports extensive functionality augmentation through third-party apps.
T58W Pro phone with camera
Yealink's T58W desk phone with a camera is a high-end video phone designed to deliver ease of use while providing a series of advanced features. Sporting a 7" 1024×600-pixel touchscreen, it can deliver 720p30 HD video and HD sound.
The device has built-in Bluetooth and Wi-Fi and even offers a Bluetooth-enabled handset to completely free yourself of pesky cords in your workspace. Based on the Android 9.0 operating system, it can employ any apps made available to all Android devices via the Google Play store.
VC Desktop software
Yealink's VC Desktop software is a high-quality, cost-effective video collaboration solution that turns any desktop or laptop into a videoconferencing station. The software delivers full HD 1080p video quality and highly functional content sharing, making remote collaboration a breeze.
Through its integration with Yealink's Meeting Server, its rich feature set includes conference scheduling and reminders, one-touch conference access, conference control, and many others. It includes broad interoperability, with H.323 and SIP dual-protocol support, allowing interaction with third-party communications systems.
Along with the VC Mobile app for Android and iOS, the VC Desktop software completes Yealink's comprehensive videoconferencing ecosystem.
Conclusion
Yealink's video desktop solutions offer many features and benefits that make them a valuable addition to any workplace. With their user-friendly interfaces, high-quality audio and video, and seamless integration with popular video conferencing platforms, Yealink's solutions enable teams to collaborate and communicate effectively anywhere.


---
You may also like:
Yealink BH series Bluetooth headsets review
Yealink's MeetingBoard series: envisioning the ideal collaboration endpoint
Market demand for Yealink videoconferencing