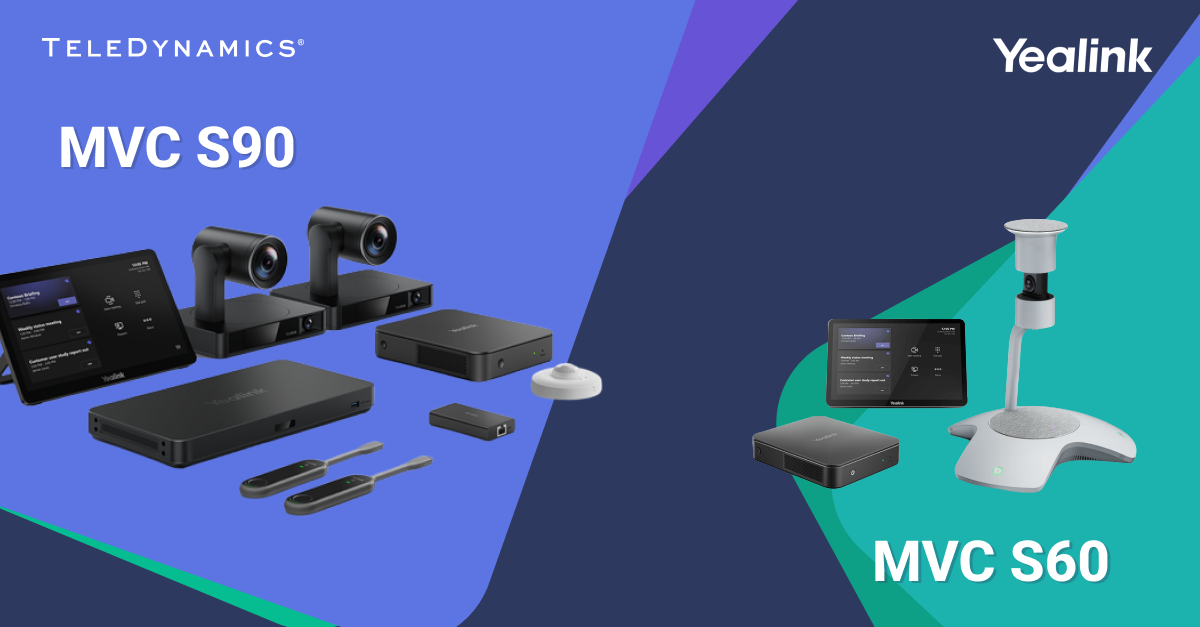 Yealink's MVC S60 and MVC S90 are ideal room videoconferencing systems for mid-sized and large rooms, respectively. Both incorporate cutting-edge technologies and extensively leverage the latest artificial intelligence capabilities. In this article, we focus on two particularly useful AI-related features and capabilities as we highlight the future of videoconferencing.
Yealink MVC S60 and MVC S90 overview
These products are kits containing multiple devices that work together to turn rooms of various sizes into advanced, innovative teleconferencing hubs.
The MVC S60 kit is ideal for transforming medium-sized meeting areas into Microsoft Teams collaboration rooms. It allows participants sitting around a conference table of any shape to be seen and heard. This kit includes the following:
The state-of-the-art

SmartVision 60

all-in-one audio and video device features a 360° 10K panoramic wide-angle camera, built-in HD speaker, and high-quality microphones

The

MTouch Plus

touch console, from which the whole system can be monitored and controlled

The

MCore Pro Mini-PC

, the brains of the operation, delivers processing power as well as the USB, HDMI, and network interfaces to connect all related devices
Similarly, the MVC S90 kit is perfect for converting large spaces into professional AV rooms based on the Microsoft Teams collaboration platform. The system conforms to any seating arrangement, including a single large rectangular table, a curved panel-like table, or a classroom-style layout with rows of tables and chairs. This kit includes these devices:
Two

UVC86

4K automatic PTZ cameras with multiple AI features; more cameras can be added as needed

The

AVHub

, a meeting audio and video processor used in large and extra-large conference rooms to consolidate the control of multiple cameras, microphones, and speakers with audio and video processing capabilities

The

RoomSensor

meeting room sensor

Two

WPP30

4K wireless presentation pods

The MTouchPlus and MCore Pro Mini-PC (described above)
Intelligent features
The MVC S60 and MVC S90 incorporate some of the most cutting-edge and innovative AI-based features and capabilities available on the market. This makes them especially ideal for high-usage collaboration spaces that require high-quality interactive capabilities between remote sites.
Two particular features of interest for these kits are the Intelliframe feature and the incorporation of Microsoft's newest AI assistant, Copilot. Let's take a closer look at them.
Intelliframe feature
Whether using the 360° camera of the MVC S60 or the two or more automatic PTZ cameras of the MVC S90, the Intelliframe feature enables the system to intelligently track multiple speakers by zooming in and framing them within the center of the frame of view.
Like a smart director, this feature makes remote participants feel closer to the action and gives them a more pleasant viewing experience. Highlighting the person speaking means that all non-verbal communication, such as body language, facial expressions, and gestures, is properly relayed.
Microsoft Copilot
Both kits are certified for Microsoft Teams, delivering deep integration with all Teams platform capabilities. This includes Microsoft's newest addition to its AI arsenal, the Microsoft Copilot assistant. Copilot is the successor to Cortana and is based on OpenAI's Advanced GPT-4 large language models, which tools such as ChatGPT utilize. Using Copilot, you can perform virtually all collaboration tasks by simply speaking to Copilot using natural language.
Copilot's official name is "Microsoft 365 Copilot," which reinforces the notion that it is part of Microsoft's 365 ecosystem. As stated by Jared Spataro, who leads Microsoft 365, Copilot leverages Microsoft Graph, an API that assesses the context and accessible user data within Microsoft 365 before making adjustments and responding to the user's prompt.
Once Copilot responds, Microsoft Graph carries out further context-specific processing before transmitting the result to Microsoft 365 applications.
For example, suppose you simply say: "Copilot, join my next meeting." This prompt has little detail, which will cause the system to determine what meeting you probably mean by evaluating various data items within Microsoft 365 applications, such as your calendar entries, data about past meeting participants, and even the specific purpose of the meeting.
As time passes, its integration is expected to become deeper and enable even more natural interactions between the system and its users using conversational language.
Conclusion
Integrating intelligent features that harness the power of advanced AI technologies will shape the evolution of room collaboration and teleconferencing systems. Microsoft Copilot integration and Intelliframe are two noteworthy examples of this transformative trend and are offered with these Microsoft Teams kits.
These innovations exemplify the cutting-edge capabilities offered by Yealink and provide a glimpse into the exciting future of collaborative technology. As we progress, advancements such as these will continue redefining and elevating our expectations for seamless and intelligent communications solutions.


---
You may also like:
The science behind Yealink's BH71 noise-cancellation headphones
Yealink T54W IP phone: where versatility meets affordabili
Beyond the screen: How videoconferencing is changing business