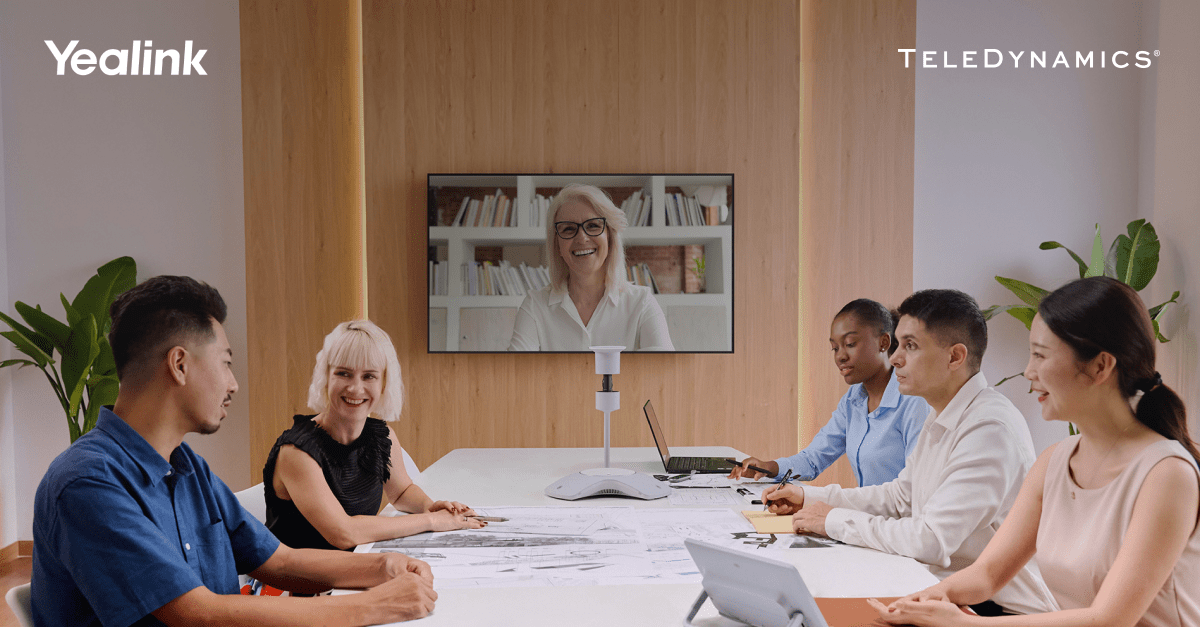 On October 26, Yealink created a fantastic video webinar focusing on the MVC S60 and MVC S90 Microsoft Teams Rooms systems. These kits leverage some of the most cutting-edge technologies to enhance your videoconferencing and remote collaboration experience.
In this article, we review the webinar and discuss some of the highlights showcased in these two intelligent products.
Introduction to Yealink
The webinar video began with a general overview of the company, including part of the main headquarters in Xiamen. These impressive facilities include a multitude of state-of-the-art huddle, videoconference and remote collaboration rooms throughout, all sporting many of the flagship products of the company.
The facilities tour included several areas of focus that highlight a specific series of products. This includes a video meeting experience area with various setups, a full-scenario collaboration area, an industry solutions area and a desktop product display area.
Microsoft Teams integration
Yealink emphasized the deep integration that its products enjoy with Microsoft Teams. The marriage of these two hardware and software giants is creating a videoconferencing ecosystem that is quickly becoming among the most prominent in the world.
These devices' AI-empowered features were showcased. These include Intelliframe, presenter tracking, and copilot integration for single- and multi-camera setups.
The webinar continued with an impressive demo of some of these features. One thing that really impressed webinar participants was the speed with which the system responds to the changing environment. As people enter or exit the room and as they talk, the cameras rapidly adjust to ensure that those speaking can be both seen and heard.
MVC S90
The MVC S90 was further highlighted in the webinar, showing the devices and equipment included in the kit. The MVC S90 is a comprehensive system designed for Microsoft Teams Rooms and specifically tailored for extra-large spaces such as large conference rooms, training facilities and classrooms.
Yealink designed it to deliver a fully immersive meeting experience for both remote and on-site participants in very large spaces​. It can support a multi-camera arrangement featuring the UVC86 4K mechanical PTZ camera that provides auto-framing, speaker tracking and presenter tracking to enhance communication​.
Merging systems
One particular feature of interest is that the system can cater to more complicated room requirements and layouts and can even adapt to changing space conditions, such as dividing or merging rooms​.
Up to four large rooms can be merged into a single super-large room, potentially serving up to 100 people. This is especially useful for conference spaces and universities that have multi-purpose spaces that can be separated or merged using movable dividers.
MVC S90 components
In addition to the innovative camera, the MVC S90 kit contains an MTouch Plus console, an extra-large 11.6" touchscreen device from which you can control all system operations. The AV-Hub is another integral component of the system, enabling the connection of up to nine cameras, eight VCM36 microphones, and four M Speaker 2 speaker systems.
You can also extend the systems' features and capabilities by adding various devices, including the MVC BYOD Extender, VCM38 ceiling microphone and room sensors.
At the core of the S90 system is the MCore Pro Mini-PC, a small yet powerful mini PC with the power of an Intel i5 quad-core CPU.
The S90 is also compatible with a wide range of popular audio systems, including those manufactured by Shure, Yamaha, Biamp, and Extron, to name a few. You can easily integrate these sound systems into the S90 for high-quality sound transmission.
Star of the show: SmartVision 60 as part of the MVC S60 kit
Yealink's MVC S60 is another groundbreaking kit offered by Yealink. It's ideal for medium-sized meeting rooms with conference tables and up to 12 local participants and delivers a more realistic meeting experience for both local and remote participants.
The MVC S60 kit includes the same MTouch Plus console and the MCore Pro Mini-PC offered by the S90 kit but also has what the presenter referred to as "today's star"!
This star is the SmartVision 60, a revolutionary, all-in-one audio and video device that has a 360° field of view, a speaker, six voice pickup microphones, one AI microphone (for voice commands) and a whole slew of AI capabilities.
It features a multi-stream people feed, translation, transcription and an automatic privacy cover to make sure you only stream video when it is intended.
The deep integration this device enjoys with Microsoft Teams means that it can leverage Microsoft's newest addition to its AI arsenal: Copilot. Copilot is an AI assistant that is designed for Microsoft 365 applications and services and is the successor to Cortana.
Using natural language, you can give voice commands to the SmartVision device to tell it what you want to do. Copilot can also provide a summary of every meeting, review and prepare content that's most relevant to each individual participant, and translate meeting captions.
The device sports four Intel Movidius vision processing units (VPUs) and a single Nvidia 128-core GPU, delivering an estimated AI computing power of 17 trillion operations per second (TOPS).
The demonstration of this kit was truly eye-opening: It is rare that we see in practice something so novel and original. It's definitely worth checking out!
How the MVC S60 and S90 fit into Yealink's product portfolio
The MVC S60 and S90 are integral components of Yealink's comprehensive video solution portfolio. Of course, they are not the only devices offered by Yealink.
The webinar displayed the wide range of products in Yealink's portfolio that underscore the company's commitment to providing versatile, all-encompassing videoconferencing solutions that meet the diverse requirements of various organizations and meeting types.
Conclusion
Yealink's October 26, 2023 webinar provided a comprehensive presentation of the company's innovative features and technical aptitude. Kicking off with a brief introduction to Yealink, the event offered demonstrations of two specific MVC kits and a detailed exposition of Yealink's entire product and service suite.
This event showcased exemplary products for those seeking advanced video solutions for their workspaces. It offered clear insights into Yealink's offerings, the solutions available, and the tools that can meet specific needs.


---
You may also like:
Explore the power of AI in Yealink MVC S90 and S60 conference systems
The science behind Yealink's BH71 noise-cancellation headphones
Beyond the screen: How videoconferencing is changing business