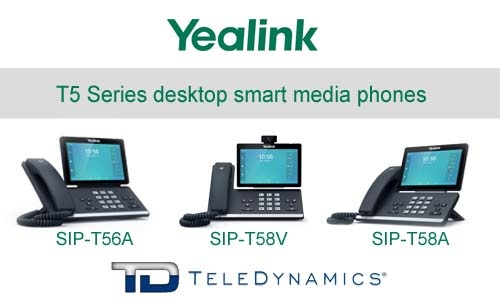 Back in May we reviewed Yealink's innovative T5 smart media phones. Now, Yealink has introduced the Version 40 firmware upgrade for these phones, adding to an already impressive arsenal of features and functionalities.
In our initial product review, we looked at the T5 series' use of the Android 5.1.1 operating system, providing for a familiar and intuitive user experience and the ability to use the thousands of apps on Google Play store. We examined their large, high-resolution touchscreens, their multiple connectivity options and the key features that made them stand out above other available VoIP phones in their class.


What's New
New features available with the V40 (58.80.0.40) upgrade include:
Deep integration with IP video intercom systems including:

Advanced features provided with these systems include:

Visitor preview – view video of the visitor so you know who you will be talking to when you pick up the phone

One-touch door open – open the door for the visitor with or without speaking to them over the phone

Easy monitoring – connect via the video intercom or the video surveillance system; this is especially useful for warehouses and logistics centers

Support for Yealink's state-of-the-art noise proofing technology


Support for Yealink's Software Development Kit
This new firmware also adds support for Yealink's Software Development Kit (SDK). This allows service providers to operate in closer partnership with Yealink as the SDK enables a more comprehensive integration of service provider and Yealink components. The SDK provides a framework for the creation of jointly developed and provider-specific apps and features that can add value to any offered telecommunications services.


View the Yealink T5 Smart Media Phones Version 58.80.0.40 firmware release notes.


Review of some key features of all T5 series phones
A refreshingly large 7-inch color capacitive touch screen with a 1024 X 600 pixel resolution

Support for the majority of main stream voice codecs, including the IETF standard Opus codec

Up to 16 SIP VoIP accounts

Support for up to three additional color-screen expansion modules adding a multitude of speed dials and other function keys


Model-specific features
The features described above are common to all models in the series. However, the T58A and T58V models support video telephony, which is quickly becoming standard within corporations, especially among middle and upper management. With the addition of the 2Mpixel Yealink YEA-CAM50 camera, the T58A becomes a video phone, providing 720p video at 30 frames per second.
Going one step further, the T58V comes with the detachable 2Mpixel camera, but is also capable of functioning as a hub for video conferences. It is capable of initiating video conferences with up to three video participants, as well as up to two additional audio-only participants.


CONCLUSION
Until recently, the "smart" in "smartphone" was exclusively used for mobile telephony devices. This is no longer the case with Yealink's T5 series smart wired IP telephones. Yealink has gone even further with the V40 firmware upgrade by providing additional video integration options as well as the introduction of Yealink SDK support. Now more than ever, they bring all the intelligence and functionality of traditional smartphones to the wired phone, delivering flexibility, ease of use and convenience to the desk.
---
You may also like:
How Android converts IP phones to productivity centers
Video phones: Grandstream vs. Yealink
How VoIP can boost your business productivity