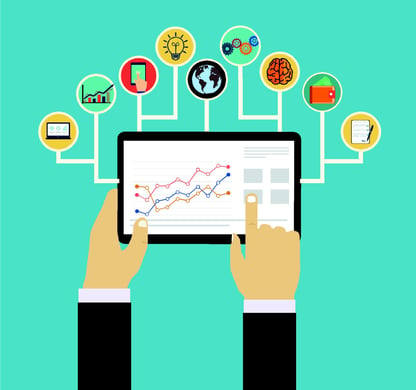 Most people understand that VOIP allows you to make calls over the Internet, thus saving lots of money in long-distance calls. But VOIP can also be a powerful productivity booster, even for businesses that don't make a lot of long distance calls. Because IP telephony moves seamlessly between voice and data on the same network, it allows functionality that is not possible when voice is transmitted separately. Here we look at a dozen cool examples of this.
Collaboration tools – The possibilities here are endless. There are countless video conferencing programs, audio conference bridges and content-sharing applications that work on SIP (Session Initiated Protocol, the most widely used protocol for VOIP). Conduct a large-scale, high-definition video conference, host a free global conference call, or stage a web conference and share whiteboards, video, photos, reports, computer screens and a plethora of other content. There are a number of free platforms available where all you pay for is the Internet connection. There are also premium (paid) platforms for when you need to include larger groups of participants or add more bells and whistles.


Voicemail to email – There are different methods for sending voicemails to users' email inboxes. Some applications convert the voicemail to an MP3 file and email the file to the user. Others transcribe the voicemail and send the text transcription to the recipient's email. Either way, voicemails can be retrieved without dialing into the company's phone system.


Fax over IP – Fax over IP (FoIP) allows you to send faxes over the Internet via email or another interface. Solutions available range from free services that allow you to send a few faxes per month, to fee-based services that support more sophisticated features like digital signatures and encryption.


Follow me (aka find me) – The follow-me feature lets a single phone number reach you everywhere. No longer do you need to put three different phone numbers on your business cards or in your email signatures: one number can be routed to wherever you are and ring at the office, on your mobile, at home or wherever you choose.


Instant messaging and presence technology – Presence technology allows users to notify others of their availability. They can decide when to receive communications from others, and others can see if they are available for being contacted. This technology often accompanies instant messaging platforms, which deliver messages according to the user's self-determined windows of availability and allow both synchronous and asynchronous communication between parties.


Hot desking – This nifty feature allows employees to log into any phone at any desk and make it their extension for the day. So, extensions are not in a fixed location like they are with legacy PBXs.



Click to dia

l – Click-to-dial functionality enables a simple click on a phone number displayed on your computer screen to dial that number out through your phone system.


SIP trunking – SIP trunks are to VOIP what POTS trunk lines are to legacy PBXs. Because SIP trunks send calls over the cloud, they allow you to choose phone numbers from any country or area code. This can make it easier for customers in other locations to contact you. SIP trunks also allow least-cost call routing to help save money on long-distance calls. For example, if you're making a long-distance call to a phone connected to the PSTN (public switched telephone network) near one of your company's remote offices, the VOIP server would route the call first to the remote office (via the cloud), then out to the call recipient (via the PSTN), resulting in a local call rather than a long-distance one.


Ease of management – Legacy PBX-based phone systems are notoriously laborious to manage. VOIP on the other hand has HTML-based programming, so you no longer require specific software to log in and manage routine changes to the system. You also have more centralized and more granular control over things like phone directories, voice message prompts and music on hold.


Ease of integration – As mentioned at the beginning of this article, transmitting voice and data on the same LAN allows all of the components connected to the network to more easily integrate with each other. Your business communications can integrate with your company's CRM, call registry, project management platforms, accounting software, and much more.


Ease of use – IP phone systems let users have a lot more control over their personal settings. They can customize their settings for voicemail, DND (do not disturb), forwarding or presence (availability) and can even access administrative modes like listen-in (silently listening in on another's live call), barge-in (the user can join someone else's call and speak with all parties on the call), or whisper (this is where a user can listen in on a call and be heard only by their colleague, not by the other party. This tends to be used in mentoring or training scenarios).


Mobile apps – Mobility in general is one of the most appealing aspects of VoIP. Previous points have touched upon this in features like follow me, voicemail to email, and hot-desking. Taking mobility even further, apps on your mobile devices allow you to take the rich functionality of your business phone system with you wherever you go.

CONCLUSION
In today's competitive, fast-changing environment, the increased agility, mobility and efficiency offered by VOIP phone systems can lend a game-changing productivity boost to any business.
---
You may also like:
Beef up your SIP phone system with these productivity-enhancing accessories
Do more with less thanks to SIP
Are you still only using your IP PBX for voice communications?