Are you hearing both sides?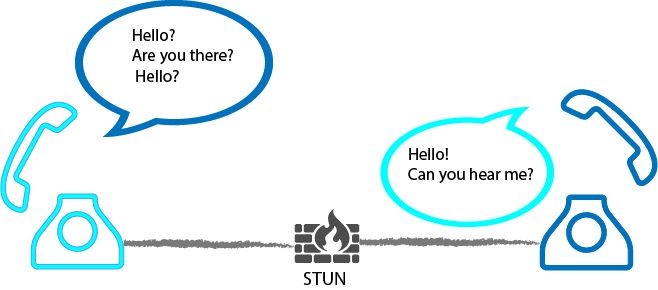 By Kate Clavet, Marketing Specialist, Grandstream Networks


The very technology that makes VoIP so efficient can also indirectly cause one-way audio issues.


VoIP stands for Voice over Internet Protocol (VoIP), indicating that the communication travels over the internet in little packets using RTP (Real-Time Transport Protocol). Since the packets are traveling through the internet, they must pass through firewalls and network address translation (NAT). Due to the tricky nature of firewalls, a common complaint of customers and installers alike is that either the caller or callee cannot hear the other party. Although this is a common inquiry and topic for support tickets, it is also rather easy to fix.


First, here is a little background. For communication to flow freely in both directions between parties, the RTP packets need to be able to travel from one side to the other, through the firewall/NAT. The firewall is in place to protect your connection and keep it secure, but without the right setup it may also be blocking intended traffic, namely, audio. Let's discuss the common ways to solve these pesky audio issues.


How can I fix it?
On a call, one-way audio will occur when the RTP packets cannot reach the endpoint (your phone) or when an endpoint cannot process the received RTP stream. The NAT and/or firewall in place are likely blocking the processing of this stream and preventing the audio from making it through.


ALG
When using SIP, an Application Layer Gateway (ALG) will usually fix this blocking issue. ALG is a gateway for specific protocols, including SIP, to traverse the NAT and firewall, allowing for the communication to succeed. Since specific criteria must be met for the ALG to work, security is maintained.


STUN
Using protocols that can pass through the NAT and are supported by endpoints will allow the audio to flow both ways. Grandstream endpoints and UCM IP PBXs support STUN (Session Traversal Utilities for NAT). STUN helps to find the call or call recipient's IP address when it is hiding behind a firewall/NAT and allows the audio to pass through.


Other things to check
(1) Make sure that on the media proxy server (belonging to your VoIP provider), the outbound proxy setting next to NAT traversal is set to "yes."
(2) Make sure that your firewall/router has ports opened for SIP, RTP etc.
(3) As a best practice, always make sure that your endpoints and router are updated to the firmware version, and that they are properly configured.
CONCLUSION
While one-way audio is a fairly common issue with VoIP, it is fairly easy to fix. Hopefully these tips help you avoid opening a support ticket when one-way audio issues arise.
Browse Grandstream products on TeleDynamics' website
---
You may also like:
How to troubleshoot one-way and no-way audio on VoIP calls
Hello? Hello? …Why some VoIP calls get dropped
Let Grandstream's UCM series enhance your internal communications