---
Part 2 of 2 in a series on video conferencing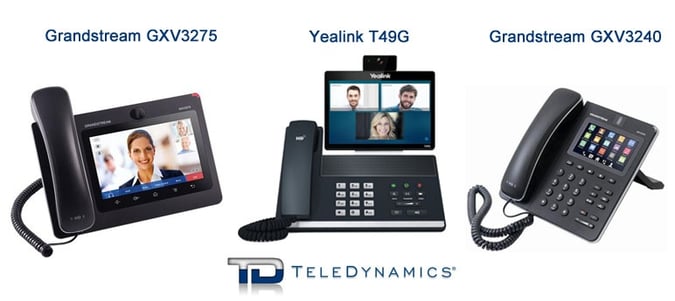 Last week, we looked at room-installed video conferencing systems. In this article, we look at video phones – and we're not referring to a Beyoncé song, but rather SIP (session initiation protocol) endpoints that give users video-conferencing capability from their desktop. Here we offer a comparison between the Grandstream GXV3240 and GXV3275, and the Yealink T49G.
Note: Yealink and Grandstream have introduced additional video phones since this article was published. To read about the latest products, click on Yealink or Grandstream in the Topic list to the right.
---
There are a lot of productivity-boosting features of video phones that give them an edge over audio-only endpoints.
Reading body language: The most obvious feature, of course, is that interlocutors can see each other. Being able to perceive facial expressions and body language can be a significant advantage. The oft-cited Mehrabian and Ferris study determined that 55% of communication is body language. When you are dealing with a sensitive subject or are involved in a high-stakes negotiation, that extra 55% can put the odds measurably more in your favor. But even for routine conversations, having the benefit of body language will help the parties understand each other faster and better, saving time and avoiding potentially costly misinterpretations. It can also minimize travel costs; for example when screening candidates, you can do a lot of the evaluations without an in-person meeting, allowing you to bring in fewer finalists.
Real-time feedback on samples or prototypes: Being able to see and evaluate a product without having it shipped to you or having to travel to see it saves a lot of time, not to mention travel and shipping expenses.
Relationship building: Since such a big portion of human communication relies on body language, when workers can see their customers or when colleagues can see each other, the exchange is more rewarding and rapport-building, resulting in more effective relationships.
Greater engagement: When participants can see each other, they are less likely to get distracted and multi-task while on a call. They are more likely to stay alert and engaged.
In comparing the Yealink T49G with Grandstream's GXV3240 and GXV3275 video phones, all three models are excellent products that offer 3-way video conferencing, 1 gigabit network interface, touch screen, integrated Wi-Fi and Bluetooth, SIP compliance, and HD (wide-band) audio.
What we like about Yealink:
2 mega pixel camera

dual-band (2.4 & 5 GHz, 802.11 a/b/g/n) Wi-Fi

29 one-touch DSS (direct dial station) keys

10-point multi-touch surface on graphic display
What we like about Grandstream:
tiltable mega pixel camera

Android 4.2 OS (operating system), allowing full access to the Google Play store, including thousands of business productivity apps

adjustable stand

PoE (power over Ethernet) – no need for a wall plug
Among the Grandstream models, the main differences between the GXV3240 and the GXV3275 are the size of the touchscreen (4.3" vs. 8", respectively) and the number of function keys (11 vs. 2).
For more details, consult the comparison table below or ask your TeleDynamics rep.
CONCLUSION
The investment in desktop video phones can help make companies more productive and competitive, in addition to saving costs. They are worth keeping in mind when putting together communications solutions for your customers.
SPECIFICATION COMPARISON CHART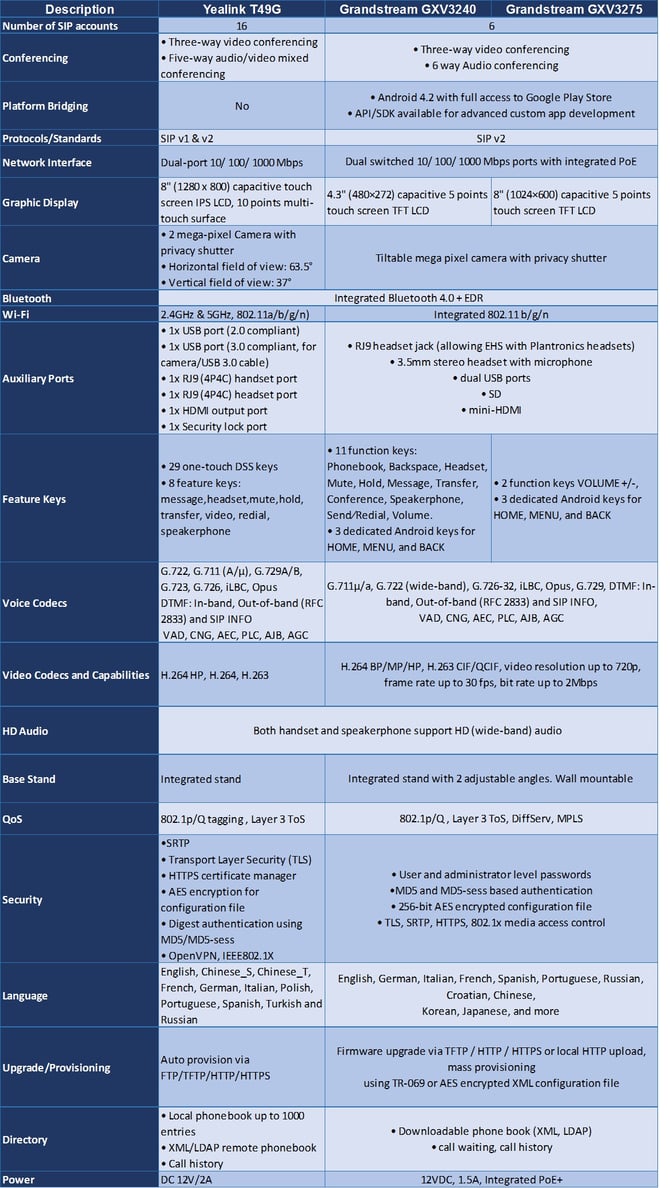 ---