---
Part 1 of 2: Room Systems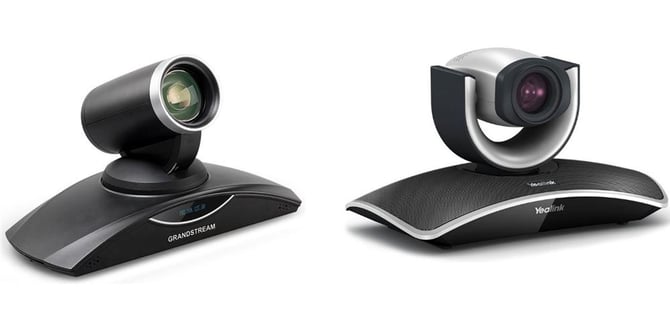 If it's been a while since you've looked into videoconferencing equipment, now might be a good time to take a fresh look. Over the past five years, the pricing has come down to an easily accessible level, and the systems are now more interoperable with other hardware and apps than ever before.
---
Videoconferencing functionality can be a valuable addition to the telephone systems you propose to your customers. Most forecasts estimate that the global videoconferencing market will experience a robust 9.5% compound annual growth rate until at least 2020. On-premise platforms including room conferencing systems and video phones still account for the vast majority (more than 70%) of the market share, according to Transparency Market Research.
While cost savings on travel is the most oft-cited driver of videoconferencing adoption, a survey conducted by Quocirca found that more than 90% of videoconferencing users also point to better teamwork, greater user productivity, and faster decision-making as key benefits. The same survey found that almost 60% of users were either satisfied or very satisfied with the return on investment of their videoconferencing systems, while less than 10% were dissatisfied.
There are two main types of on-premise videoconferencing systems: room systems and video phones. This post covers systems installed in conference rooms. Next week's post will cover video phones.
The room systems we'll look at today are the Grandstream GVC3200 and GVC3202, and the Yealink VC400. These are stand-alone, point-to-point systems so you do not need an IP PBX in order to use them – they will work regardless of the phone system the company uses (they do, however, require an Internet connection since they transmit voice and video over the cloud).
All three systems allow high-definition (HD) video, SIP (session initiation protocol) voice transmission, content sharing, and video recording and playback. At the same time, there are some differences in the features and functionality that are worth taking into account to ensure a good fit with your customer's needs. Below we highlight a few of them. For more details, consult the table at the bottom of this post or ask your TeleDynamics rep.
Communications Protocol: The Yealink VC400 and the Grandstream GVC3200 support both H.323 and SIP, so they will be interoperable with most other VOIP hardware and platforms. Grandstream GVC3202 only supports SIP, which is the most popular protocol and used by most manufacturers these days.
Wireless device connection: The Grandstream GVC3202 allows you to share content from your laptop, tablet, smartphone or other devices wirelessly using Bluetooth, and the Grandstream GVC3200 allows both Bluetooth and Wi-Fi connections. The Yealink product is compatible with these devices, but they must be plugged into the system.
Number of participants: The number of participants generally depends on how high of a video resolution you want. With full HD (FHD) video (1080 pixels), both the Yealink VC400 and the Grandstream GVC3200 can conference in 4 separate locations, while the GVC3202 links up to 2 locations. Going down to 720 pixels (HD), the Yealink system can connect up to 8 locations asymmetrically (i.e., not all of the participants can communicate or be seen simultaneously), the Grandstream GVC3200 can support 5 locations symmetrically (all participants can see and communicate with all the others) and the GVC3202 supports 3-way symmetric conferencing. With a VGA connection (640x480) the GVC3200 can support a 9-way conference and the GVC3202, 3-way.
Microphone: The Yealink VC400 comes with a 360⁰ voice pick-up microphone, with a capture range of up to 10 feet. You can also get optional expansion microphones to extend this range to 16 feet. The Grandstream models have a built-in MIC, or you could use the Grandstream GAC2500 conference phone (connected via Bluetooth) to expand the microphone/speaker connectivity and control the answering and ending of calls from the conference phone.
Platform bridging: Since the Grandstream systems are based on Android 4.4 OS (operating system), all of the video conferencing apps in Google Play store can be used on this system (think Skype®, Google+ Hangouts®, etc.).
Required Bandwidth: The Grandstream models can provide FHD (full high definition, or 1080p) resolution from a relatively low bandwidth starting at 512 Kbps. The Yealink model can provide HD (720p) at this bandwidth, or FHD at 1 gigabit (1000 Kbps).
Displays: You can connect up to 2 displays/monitors with the Yealink VC400 or the Grandstream GVC3202, or up to 3 different displays with the GVC3200.
CONCLUSION
For a few thousand dollars (retail), your customers can get rich functionality and impressive productivity-boosting tools that can pay back their investment many times over through videoconferencing. It's worth considering as part of your total voice solution proposals.
SPECIFICATION COMPARISON TABLE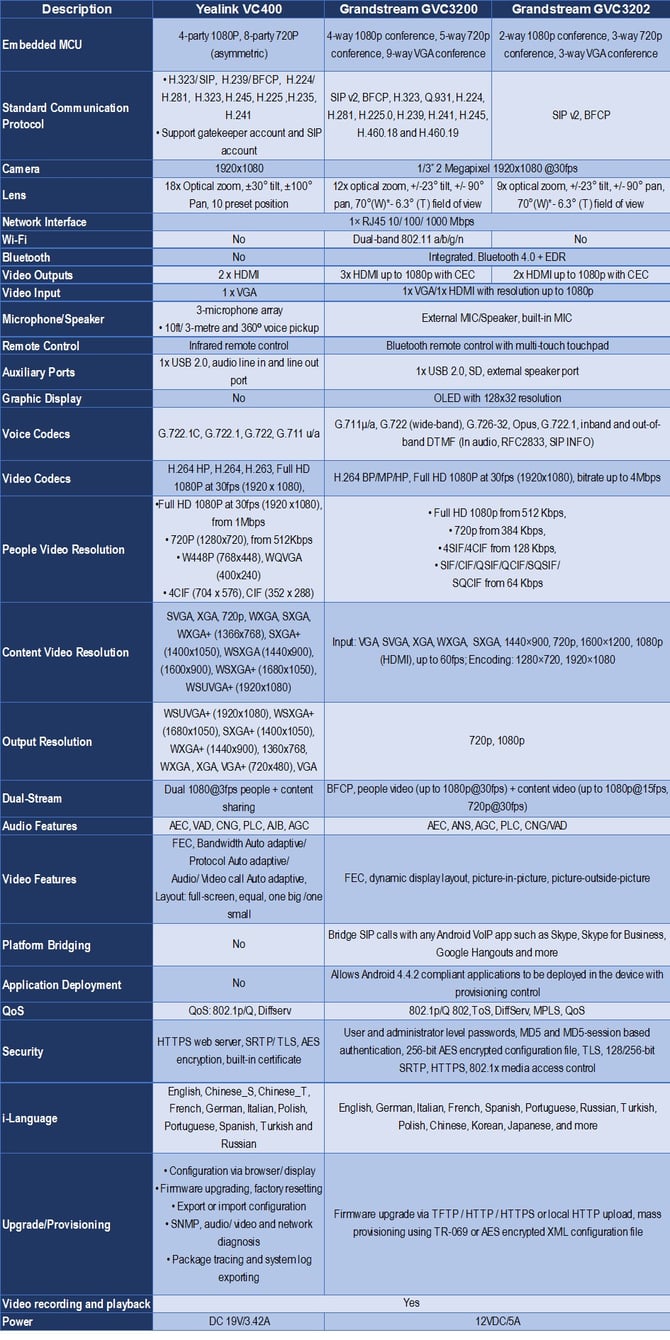 ---