Product Review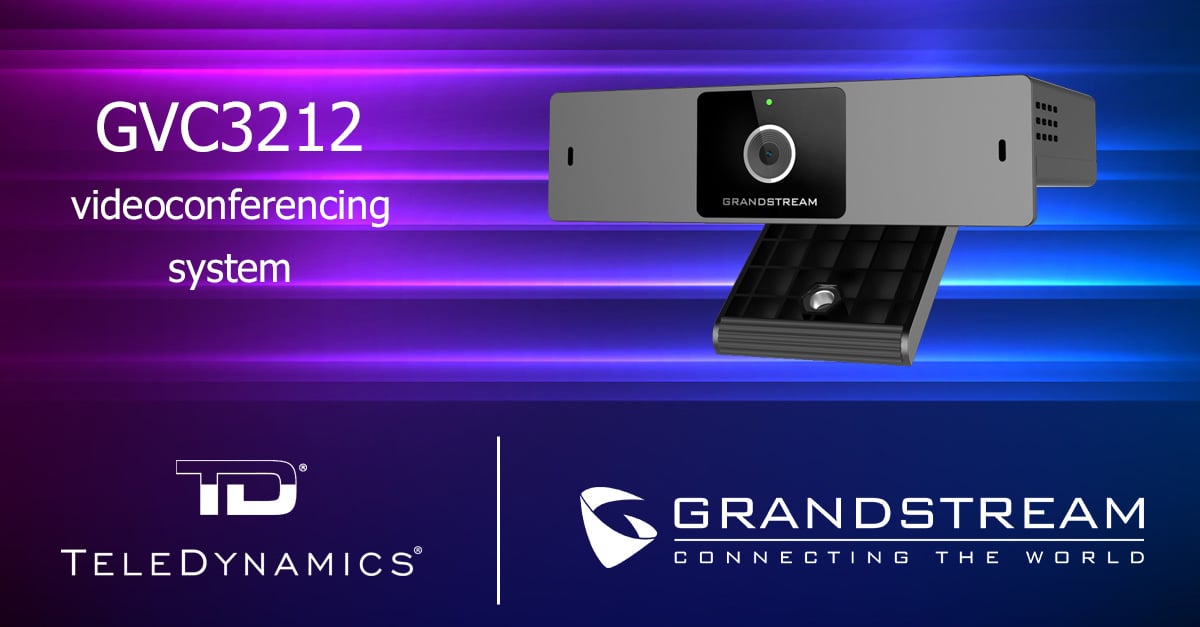 The GVC3212 HD video conferencing endpoint is the newest addition to Grandstream's GVC32xx series of videoconferencing systems. Built with today's communications needs in mind, the GVC3212 is a compact and affordable solution for remote workers and small conference rooms. Keep reading to learn more about what makes this device particularly useful for working from just about anywhere.
Designed not only to be simple to deploy and to use, the GVC3212 incorporates high-quality audiovisual components that enable you to transmit even the most subtle elements of your virtual meeting. It sports a camera with a megapixel CMOS sensor, delivering crystal-clear 720p video at 30 frames per second with a field-of-view angle of 60°, and can display video of up to 1080p on the connected display device. In addition, it has integrated omnidirectional and cardioid dual-microphones that support a 48KHz full-band voice sampling rate and 3-meter voice pickup distance with advanced acoustic echo cancellation.


Key features
The GVC3212 is easy to set up and mount on top of virtually any television or monitor. Connectivity can be conveniently achieved using a wired Ethernet connection or employing the latest 802.11 a/b/g/n/ac Wi-Fi standards. The device also has two USB ports that can connect input devices such as a mouse, keyboard, or even external storage.
This device is designed to use Grandstream's IPVideoTalk service, a web meeting and collaboration platform that empowers organizations to host online meetings, classes, and collaboration sessions. IPVideoTalk can interconnect the GVC3212 with other Grandstream endpoints or with remote users of PCs, Macs, and iOS and Android devices. It is free to use by downloading the IPVideoTalk app. This makes it straightforward to quickly and simply initiate an online videoconference for multiple participants, all from the interface of the GVC3212 itself.
The GVC3212 also supports Miracast, a Wi-Fi Alliance standard used for wireless content screen sharing, allowing meeting participants to share presentations, videos, or other content directly from their connected PCs, laptops or non-Apple smart devices. For those using Apple devices, support for content sharing is available using Apple's proprietary Airplay technology.
Additional features include:
Megapixel CMOS camera for transmitting video at 720p@30fps with a field of view of 60°
One HDMI 1.4 port supporting up to 1080p video displays
An IR remote control
Network connectivity using either integrated dual-band Wi-Fi 802.11 a/b/g/n/ac or 10/100 Mbps Ethernet
Two USB ports
Dual integrated omnidirectional and cardioid microphones supporting 48KHz voice sampling
A port for an external microphone
Multiple conference functions including mute, call record, call waiting, auto answer, flexible dial plan, personalized ringtones, and music on hold
Supports wireless screen projection
Built-in adjustable stand for TV-top mounting
Industry standard Quality of Service features for both Layer 2 and Layer 3
Comprehensive security features for both system access and voice and video encryption
Support for the most popular and advanced audio and video codecs including full-band Opus, G series codecs, and H.264, to name a few

Where the GVC3212 fits into the Grandstream GVC family
The GVC3212 is the newest edition of the GVC32XX family of HD videoconferencing endpoints. Keeping in mind the need for accessibility, affordability, and maintaining a high standard of quality and features, Grandstream introduced the GVC3212 to fulfill the need for an entry-level or "lite"-edition endpoint. This edition establishes a high-quality baseline for the GVC32XX series.
For remote users or small conference rooms where pan/tilt/zoom features are overkill, where only one display will ever be used, and where Bluetooth is unnecessary, the GVC3212 is the most fitting and cost-effective choice.
For a more comprehensive view of the GVC3212 and how it compares with its siblings, take a look at our downloadable comparison chart showing side-by-side specs of the GVC3200, GVC3202, GVC3210 and GVC3212.
Watch the video comparing the different GVC32XX models
Conclusion
In today's work environment, videoconferencing is becoming more and more of a necessity. The GVC3212 extends Grandstream's line of GVC32XX HD videoconferencing solutions and is an excellent device that combines ease of use, portability, performance and cost-effectiveness.
View or download a handy chart comparing Grandstream GVC videoconferencing systems with solutions from BlueJeans, Logitech, Yealink, Polycom, Aver and Cisco.


---
You may also like:
Thought videoconferencing was not for SMBs? Think again
Videoconferencing systems: Grandstream vs. Yealink
Get to know your MCU for optimal videoconferencing
👉 See a list of other videoconferencing-related articles on our Think Tank