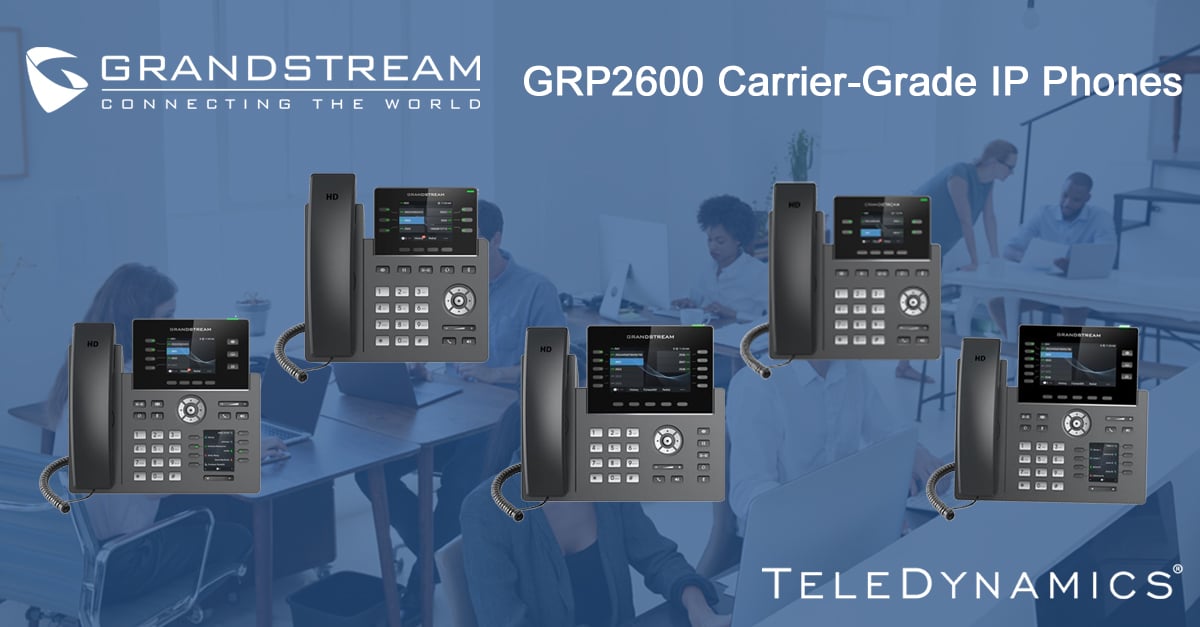 Grandstream's GRP2600 series of carrier-grade IP desk phones offers a range of reliable, high-performance IP endpoints to cover virtually any business telephone need, from entry-level phones all the way up to devices for high-call-volume users. In this article we review the five models in the series.


Carrier-grade
Carrier-grade refers to infrastructure that is of sufficiently high reliability for use on a carrier's or a provider's network. Carrier-grade is often associated with "five-nines reliability," which defines a level of reliability where the system is expected to be in a functioning state at least 99.999% of the time. This translates to just over five minutes of downtime per year.
When it comes to IP phones, carrier-grade means that the materials, methods, and manufacturing processes that went into the design and production of these phones has resulted in products that are of high reliability, quality, performance, and efficiency. In short, these phones are expected to function with an extremely small occurrence of faults or failures. This translates into an excellent ROI, an exceptional user experience, and a longevity of both materials and services.


Specifically designed for mass deployments
Conventionally, most of the intelligence or functionality of IP phones is found within the IP PBX, rather than in the endpoints. In contrast, the Grandstream GRP2600 series has been specifically designed with ITSP mass deployments in mind. What this means is that most of the intelligence involved in the telephony features is built into the devices themselves, in their unified firmware. As a result, many of their telephony features, such as three-way conference, internal phone book and call log of up to 2000 records, and personalized music-on-hold and ringtones, are capabilities of the phones themselves, regardless of what brand of IP PBX is used.


Watch the video
Key features on all devices
The entire line of GRP2600 IP phones boasts a sturdy and sleek design with large, high-quality color screens. They provide a newly designed user interface that maximizes efficiency, and all support the low-bandwidth Opus voice codec. In addition, the GRP2600 series was designed to make mass deployment easy, efficient, and quick through unified firmware. Each model supports virtually all SIP-based IP PBXs for call control, as well as Grandstream's cloud-based Device Management System (GDMS).


Features by model


The base model comes in three flavors. The GRP2612 provides basic telephony services at the lowest cost. The GRP2612P adds the capability of Power over Ethernet (PoE), while the GRP2612W sports an integrated wireless adaptor, enabling it to connect to the network without cables. All three models support two SIP accounts.
GRP2613 – Basic to Mid-Range IP Phone
For networks requiring higher speeds, the GRP2613 introduces GigabitEthernet speeds for connecting the local workstation at 1000 Mbps. A larger screen, additional multipurpose line buttons, and standard PoE are some additional advantages of this model. This model supports up to three SIP accounts.
The GRP2614 adds to its arsenal standard integrated Wi-Fi connectivity, Bluetooth for synching contacts and making calls via smartphones, as well as an auxiliary RJ9 headset jack for wired hands-free headsets. This model has a second color screen for indicating the functionality of eight additional softkeys for speed dials or busy line fields (BLFs). Add to this the capability of up to four SIP accounts and call logs of up to 2000 records.
This phone has a larger 4.3-inch color display with ten line keys and up to five SIP accounts. The GRP2615 also has the capability of adding up to four daisy-chained expansion modules, increasing the number of line keys by up to 160. This is an ideal phone for the telephony nerve center of your corporation and for the highest call volume users.
For executives and managers requiring an efficient and easy-to-use interface that is also very powerful, the GRP2616 is ideal. With a large 4.3-inch color display, six line keys, up to six SIP accounts and a secondary screen indicating the functionality of eight additional softkeys, this is the most versatile of the series.


Additional features shared by all devices
Some important features shared by all devices include:
Support for the most common and useful protocols including SIP, STUN, LDAP, and IPv6
Support for the most advanced voice codecs including G.711, G.729, G.722 (wideband), as well as iLBC and OPUS
High quality sound produced by HD handset and speakerphone
Layer 2 and Layer 3 QoS mechanisms including 802.1Q and DiffServ
Exceptional security features including:

MD5 authentication
256-bit AES encryption
TLS
1x Port Security

Upgrading and provisioning achieved via:

FTP/TFTP
HTTP/HTTPS
GDMS/TR069
AES Encrypted XML config files
A more comprehensive comparison chart of Grandstream's GRP 2600 series phones can be viewed or downloaded here.

Conclusion
With the GRP2600 series of carrier-grade IP phones, Grandstream brings the network robustness of the ITSP all the way to the desktop. Whether in an ITSP or a corporate enterprise network environment, these phones will allow you to future-proof your network and enjoy efficient and effective telephony solutions for many years to come.


---
You may also like:
Review of Grandstream's GXV3610 IP surveillance cameras
Grandstream's GXP1700 IP phones are both functional and cost-effective
What's so great about the Grandstream GWN7610