Product Review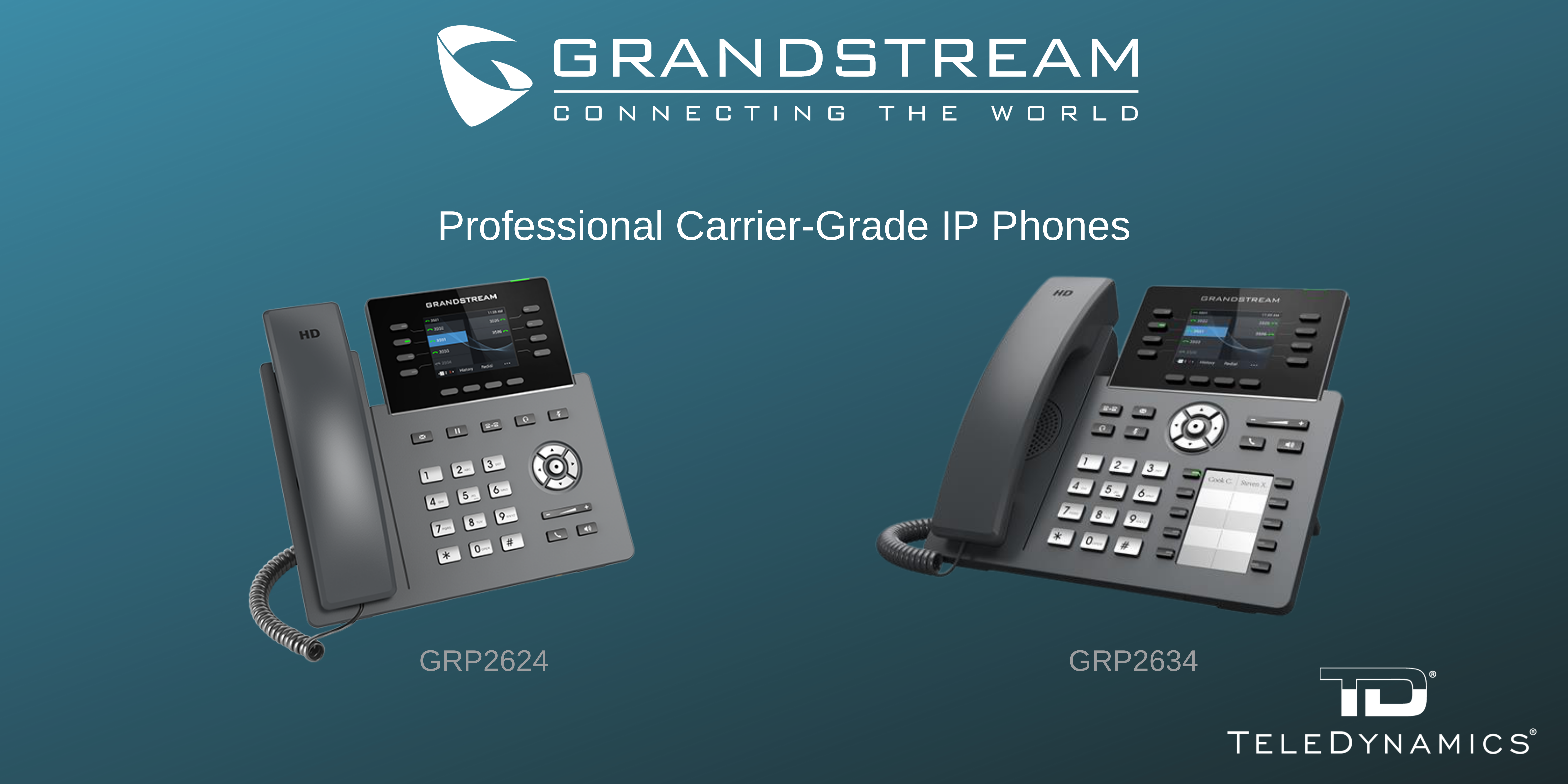 Some of the most important roles within a company require employees to spend a lot of time communicating via telephone. Clear and comfortable communication is vital, and this can only be achieved with the right set of tools, equipment, and services.
Grandstream's GRP series of carrier-grade IP phones are ideal for employees with high call-volume roles. In this article, we review the two newest additions to the series.
Carrier-grade IP telephones
The word "carrier" in a telecommunications context has traditionally referred to telephone companies that "carry" services and deliver them to end users regionally or nationwide. It is a term that has gradually fallen out of use due to the preferred term "service provider," which tends to include services such as internet connectivity and television, in addition to telephony.
"Carrier grade," however, is a term that has remained in use, describing something as higher in quality, more robust, and more feature-rich than other more common "consumer grade" or "commercial grade" devices or equipment. Thus, it is the perfect term to accurately describe the GRP series of Grandstream IP phones.
In a previous article, we examined the series and looked at the advantages and features of each IP phone. Grandstream has now added two more IP phones to this lineup, which we review below.
GRP2624 & GRP2634
Grandstream has added the GRP2624 and the GRP2634 phones to its carrier-grade series. They take their place beside the robust GRP2616, delivering a more diverse and complementary set of features. Both new phones offer support for many of the most advanced network and security protocols, including SIP, STUN, 802.1x, TLS, SRTP, IPv6, as well as Layer 2 and Layer 3 QoS protocols, to name a few. Both sport a 2.8-inch 320x240 pixel color LCD display and enable Gigabit Ethernet speeds to connected workstations. Bluetooth and Wi-Fi are integrated into the devices, as is support for a multitude of popular and advanced telephony features.
Where these two devices differ is in features that assist users in especially high call-volume scenarios. Whereas the GRP2624 has four XML programmable context-sensitive soft keys, the GRP2634 has ten built-in multi-purpose keys (MPKs) that can be programmed as speed dials or provide other functions. That said, you can also add more speed dial keys to the GRP2624 by connecting up to four GBX20 expansion modules, which include 40 contact speed dials per module for up to 160 contacts.
Key features
The most important features shared by both phones include:
8-inch 320x240 pixel color LCD screen
Dual Gigabit Ethernet ports with integrated PoE
Integrated dual-band Wi-Fi (802.11 a/b/g/n/ac) for wireless connectivity to the network
Integrated Bluetooth for headset and mobile device integration
8 line keys
Up to four SIP accounts
5 navigation menu keys
9 dedicated function keys
RJ11 aux port compatible with Plantronics EHS headsets
Support for USB headsets
Support for the most popular and advanced codecs, including G711, G729, iLBC, and Opus
HD audio on both handset and speakerphone
Layer 2 QoS (802.1Q, 802.1P) and Layer 3 QoS (ToS, DiffServ, MPLS) mechanisms
Military-grade security features, including 256-bit AES encrypted configuration file, SRTP, TLS, 802.1x media access control
Additionally, the GRP2624 supports:
Up to four daisy-chained GBX20 expansion modules, which add speed dials for up to 160 contacts
4 XML context-sensitive programmable soft keys
The GRP2634 also includes:
10 MPK extension keys with paper slots
Usage guidelines
As mentioned before, the feature set of these phones is more complementary to the series rather than excelling beyond the existing phones. For example, the GRP2616 supports six SIP accounts, has a larger 4.3-inch screen, but only has six line keys and doesn't support expansion modules.
In this sense, the GRP2634 is ideal for high call-volume employees whose job isn't expected to require a future increase in features, as this phone already has built-in contact keys. However, for a position that is expected to grow in telephony traffic, the GRP2624 may be more suitable since it is expandable using one or more GBX20 modules.
Conclusion
Grandstream has always been known to manufacture products with enough flexibility to fulfill the full range of corporate telecommunications needs. The addition of the GRP2624 and GRP2634 to the carrier-grade IP phone lineup reinforces this robust offering.


---
You may also like:
Pivot quickly with Grandstream's UCM6300 solutions
Grandstream facility management solutions
Grandstream GUV3050 BT headset: high performance plus all-day comfort