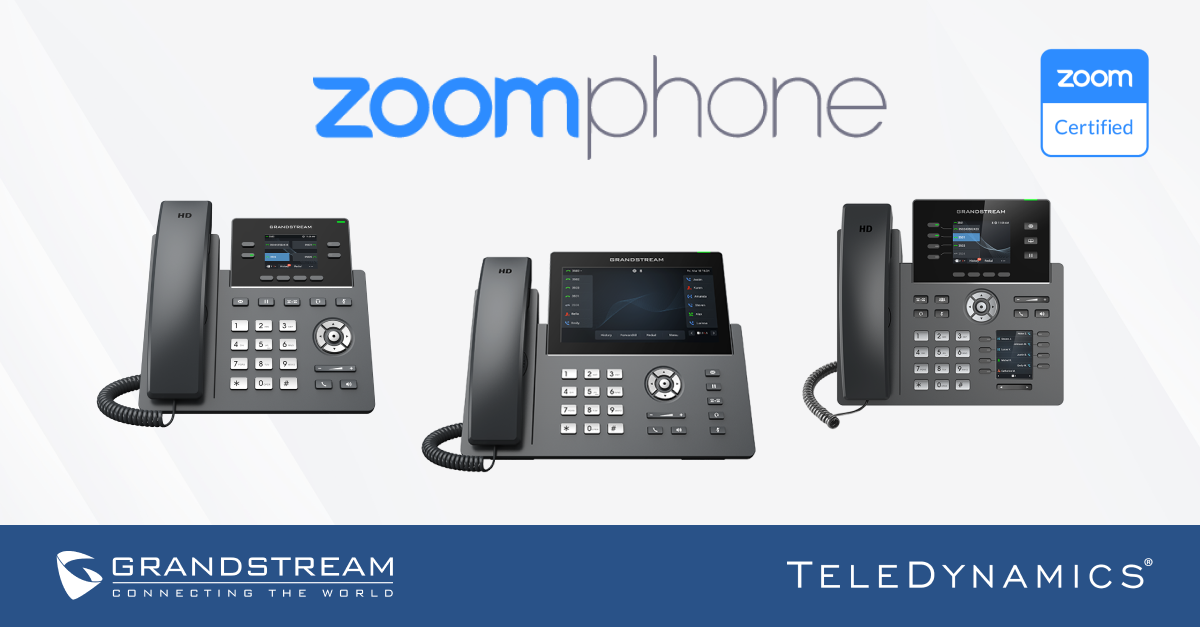 A while back, we reported on the then-newest additions to Grandstream's professional carrier-grade telephones, which are part of the company's GRP series of IP phones. This series of devices continues to deliver premium, easy-to-use features to high-call-volume users.
In this article, we are pleased to announce the addition of the new GRP2670 model to the lineup, as well as the news that the entire series is now certified for Zoom Phone.
GRP series of IP Phones
The term "carrier-grade" instills confidence — especially in the telecom industry — implying robustness, reliability, and long-lasting durability. The term applies well here because these phones possess all these characteristics and more.
We first introduced this series a couple of years ago, bringing with it all its advantages and innovations, and today the series is still going strong.
The entire line of GRP2600 IP phones boasts a sleek yet sturdy design, with large, high-quality color screens. These devices provide a newly designed user interface that maximizes efficiency, and support the low-bandwidth Opus voice codec.
In addition, the GRP2600 series was designed to make mass deployment easy, efficient and quick through unified firmware. Each model supports virtually all SIP-based IP PBXs for call control, as well as Grandstream's cloud-based Device Management System (GDMS).
The new GRP2670
In March, Grandstream introduced the GRP2670, which sits at the top of the line of the GRP series. Dubbed an executive-quality model, it surpasses the other devices in the series, with a massive 7-inch, 1024x600-pixel color screen, support for 12 lines and six SIP accounts, integrated Bluetooth and Wi-Fi, not to mention a streamlined and stunning design. Its feature set includes the following:
7-inch, 1024x600-pixel, capacitive touch screen
12 lines
6 SIP accounts
Dual 10/100/1000 Mbps (Gigabit) Ethernet ports with integrated PoE
Integrated Bluetooth support
Integrated dual-band Wi-Fi 802.11 a/b/g/n/ac (2.4 GHz and 5 GHz)
Full-duplex speakerphone with HD audio to maximize audio quality and clarity
Support for GDMS, a centralized service to provision, manage, and monitor Grandstream devices
Equipped with noise shield technology to minimize background noise
Swappable faceplate to allow for easy logo customization
Zoom Phone certification
As Zoom becomes more of a household name for remote work, videoconferencing and online collaboration, its IP phone service, called Zoom Phone, is also increasing in popularity. Integrating easily with all of Zoom's suite of products and services, Zoom Phone is an attractive solution for businesses that have already invested in Zoom's other services.
One of the great advantages of Grandstream IP phones is their compatibility with virtually any SIP-based IP PBX. Whether cloud-based, on-premises or software-based, these phones can register with any appropriately provisioned voice server.
Compatibility is one thing, but certification is a whole different level. Zoom has certified all of Grandstream's GRP phones for use with its Zoom Phone service.
This doesn't just mean that the phones simply work on the service — they have also been extensively tested in a lab setting to ensure that all features made available by the Zoom Phone service are reliably and correctly delivered.
Conclusion
The GRP series of phones has been a staple of high-end, high-quality, executive-level voice products for some time. Now, with the new GRP2670 top-of-the-line phone and Zoom Phone certification, the GRP series has solidified its position at the top of its class within the telecommunications market of today and tomorrow.


---
You may also like:
Comparison of Grandstream GXP and GRP series of IP phones
Grandstream's newest GRP carrier-grade IP phones
Grandstream UCM6300 Audio IP PBX for voice-only communication