Product Review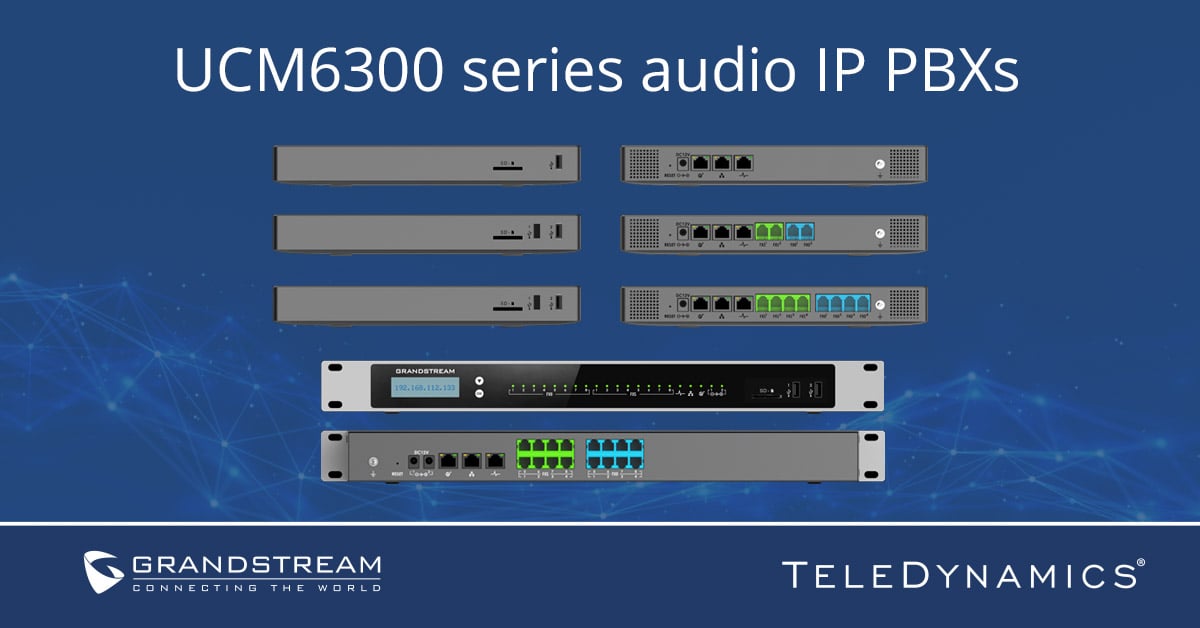 Grandstream has introduced its audio-only series of IP PBXs for companies that rely heavily on high-quality, feature-rich voice communication and don't need other types of collaboration platforms like videoconferencing. Keep reading to see why the UCM6300 audio-only series of IP PBXs is a perfect choice for this type of business.
The Grandstream UCM6300 ecosystem
A while back, we highlighted Grandstream's UCM6300 ecosystem, composed of a product line of IP PBXs designed to deliver cloud-like collaboration services with an on-premises architecture. This series includes the entry-level UCM6301 for up to 500 users, 75 concurrent voice calls, and four videoconference rooms with up to 20 participants, all the way up to the high-end UCM6308 model for up to 3000 users, 450 concurrent voice calls, and 10 videoconference rooms with up to 80 participants. This ecosystem, as it is so aptly called, is ideal for most small businesses all the way up to large corporations with thousands of employees.
This highly innovative series of devices has a whole range of features from traditional telephony features to advanced call routing options, from collaboration capabilities to advanced videoconferencing capacities. But what if your business relies solely on high-end voice communication and features, and doesn't require any of the extensive collaboration and video capabilities?
It's always great to have a lot of advanced features, but sometimes having features that are not used can add an unnecessary level of complexity. For those enterprises that interact with their customers and partners exclusively using voice communication, Grandstream has launched its new audio-only series of IP PBXs within the UCM6300 framework of products.
Overview of the UCM6300 audio series
The UCM6300 audio series of IP PBXs retains all of the high-quality advanced features of the regular UCM6300 models, but does away with the video features. These IP PBXs are specially designed for businesses that rely exclusively on traditional telephony communications to reach out to their customers and to collaborate with their partners.
But don't think for a minute that this makes the audio series any less worthwhile. Every IP PBX in the series retains all of the advanced state-of-the-art features and functionalities that you have come to expect from Grandstream's series of devices.
Watch the video

UCM6300 audio series features
Much like their video counterparts, the audio-only UCM6300 series of IP PBXs come in four different models, each delivering services for a particular business size. All of the models incorporate advanced voice features that include:
All of the most innovative and popular telephony call features including call park, call forward, call transfer, call waiting, call record, call history, IVR, music on hold, direct inward dial, call back, and speed dials, to name a few
Support for the most popular and advanced voice codecs
Call center features such as call queues, automatic call distribution, skills-based call distribution, plus in-queue announcements
Multiple audio conference bridges
Support for Grandstream's Wave App software application compatible with Windows, Mac, usage via web browsers, and Android and iOS apps for mobile devices
Customizable auto attendant with up to five layers of IVR
Support for network protocols and services including:
Other than these features, the four models progressively deliver the following additional capabilities:
Up to 250 users
Up to 50 concurrent calls using the G.711 codec
3 concurrent conference bridges with up to 50 participants
2 RJ11 FXS and two RJ11 FXO ports
Up to 500 users
Up to 75 concurrent calls using the G.711 codec
5 concurrent conference bridges with up to 75 participants
4 RJ11 FXS and four RJ11 FXO ports
Up to 1000 users
Up to 150 concurrent calls using the G.711 codec
7 concurrent conference bridges with up to 120 participants
8 RJ11 FXS and eight RJ11 FXO ports
Up to 1500 users
Up to 200 concurrent calls using the G.711 codec
Up to 7 concurrent conference bridges with up to 150 participants
Dual power supplies for redundancy
Rack mountable
Benefits
By focusing on voice services and features, Grandstream benefits its "voice-only" customers in multiple ways:
Cost – By removing services and capabilities that are unused, such as the resource-intensive services required for videoconferencing, the procured system, including hardware and software, is by definition less complex and more economical.
Focused – By removing features that some enterprises don't need, it is possible to deliver a system that is more appropriately focused on voice-specific requirements and needs, reducing complexity, and therefore increasing simplicity of use and efficiency.
Keep in mind, however, that even though the video component in this series of IP PBXs has been removed, they still retain the rest of their innovative features, including:
The use of UCM RemoteConnect, which enables remote and hybrid (both in-office and on the go) users
The Wave App allows for the sending and receiving of calls from anywhere
Easy setup with the Grandstream Device Management System (GDMS)
Conclusion
The UCM6300 Ecosystem can be a powerful asset to any organization, whatever its size, that allows for employee flexibility and secure connectivity across all aspects of your business. With the audio series of IP PBXs, voice-only enterprises can enjoy these benefits in a more streamlined and economical manner.


---
You may also like:
Pivot quickly with Grandstream's UCM6300 solutions
Panasonic is exiting UC: Here's what's next
How (and why) to integrate your VoIP system with web & mobile apps