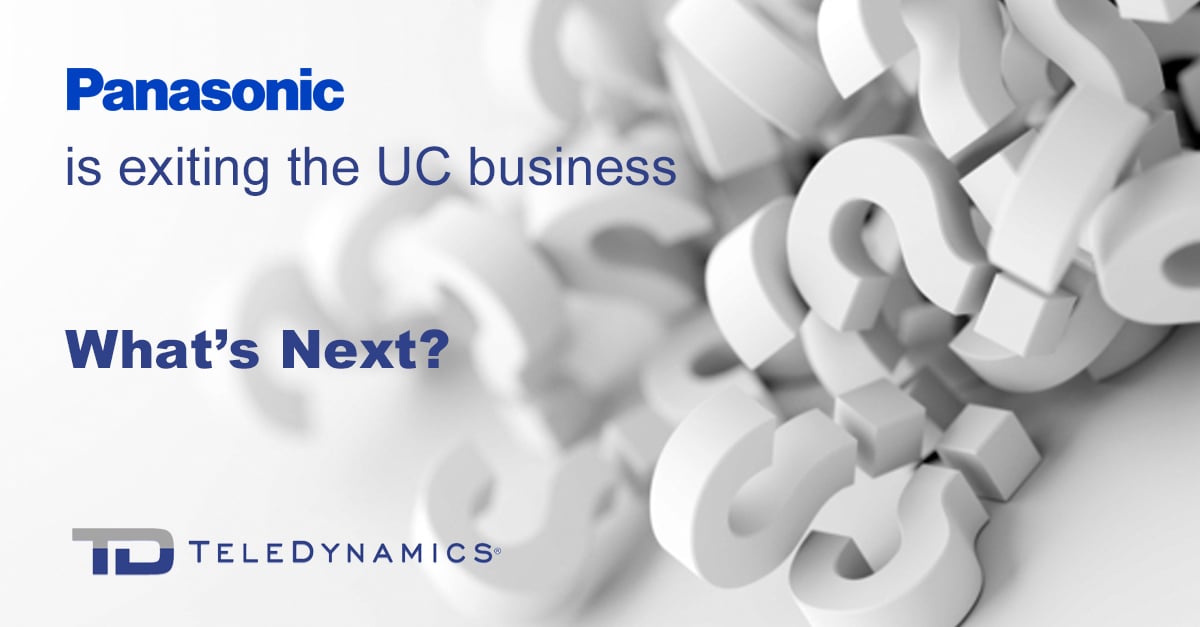 In December 2020, Panasonic announced to its partners that it will be closing its business communications division over the next two years. If you have recently invested in a Panasonic communications system, not to worry. In this article, we present some alternatives to help you develop a suitable and cost-effective transition strategy. For more details, watch the replay of our recent webinar where representatives from Grandstream, Yeastar and NEC describe alternative solutions.
Over the past few years, more and more businesses have been migrating from on-premise to cloud-hosted communications systems. This, in addition to the steady increase in use of collaboration platforms such as Teams and Zoom, has led to a steady decrease in the demand for standalone on-premise UC systems that Panasonic has been so successful in delivering.


What this means for Panasonic customers
This announcement should not incite panic to owners of Panasonic communication equipment to unnecessarily spend inordinate amounts of money to quickly replace their system. For the immediate future, it is business as usual. Manufacturing will continue at least until January of 2023, while spares and support for current systems are expected to be available until at least 2029. So even those who have recently purchased equipment can expect that it will be supported and maintained for almost a decade.
That being said, this does not mean that we should be complacent. A plan must be put in place to ensure that any existing Panasonic communication equipment is transitioned appropriately.

Tips for Transitioning
Because Panasonic systems are proprietary, their endpoints aren't compatible with other systems. So, we recommend following a staged migration process similar to our recommended process for transitioning from a legacy system to VoIP.
If you have a multisite VoIP deployment using multiple Panasonic PBXs, we suggest formulating a migration schedule and budget with due dates and costs. This is useful for ensuring a timely and undisrupted migration process that may take months or in some cases several years. During migration, you may need to interconnect existing Panasonic PBXs with the new systems that are installed at each stage, so be sure to confirm the necessary compatibility with your chosen vendor.

Consider DaaS for new endpoints
Many manufacturers, including Yealink, Grandstream, VTech/Snom and many others, offer their VoIP endpoints as part of a leasing program (device as a service or DaaS) where the costs are accounted for as operating expenses instead of capital expenditures, and you can pay for the equipment in monthly installments, rather than up front. For details on how to do this, see our article on the DaaS model.

Alternatives to Panasonic
This is not the first time that TeleDynamics has had to deal with a large company pulling out of the telephone and communications sector. In the past, similar circumstances were faced with Samsung and Toshiba, so this is nothing new.
In December 2020, we organized a webinar designed to equip professionals and decision-makers with the necessary knowledge to make the best choices regarding a migration strategy. If you currently have a Panasonic communications system, we suggest taking the time to watch a recording of the webinar. Various TeleDynamics manufacturers took part and presented their alternative solutions. You can watch the webinar on demand here. If you are not already a TeleDynamics dealer, sign up to become a dealer to be informed of future webinars.
Below are a few highlights of what each manufacturer discussed on the webinar.
Grandstream UCM Series Solutions
Asterisk based appliance for up to 3000 users, ensuring interoperability and scale
Thousands of customizable features
Integration with third-party platforms and business applications
Converges voice, mobility, presence, and collaboration onto a single platform
Delivers telephony and collaboration services to mobile and desktop devices
Compatibility with virtually all third-party IP SIP-based phones
NEC on-premise and cloud-based systems
Among the most widely deployed telephony vendor worldwide
Support for third-party IP phones
SV9100 on-premise PBX for 10-896 users (contact your TeleDynamics rep to order)
SL2100 on-premise system for 5-100+ users
Univerge Blue cloud communication solutions

Conclusion
The past year has reminded us that the world we live in is constantly changing. TeleDynamics has demonstrated again and again that it is able to quickly and flexibly deal with these changes, providing you with essential communications solutions when and how you need them.
---
You may also like:
How to sell an on-premise IP PBX against a cloud-based ITSP
On-premise vs. hosted IP PBX: Which is right for you?
Hosted vs. on-premise IP PBX: Which is the better choice?