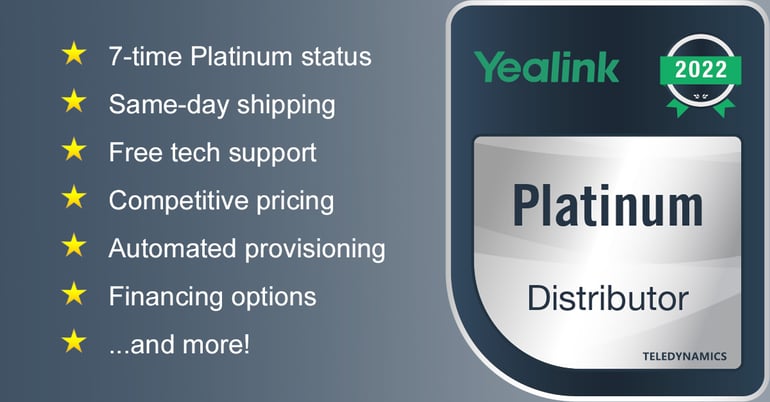 Yealink has once again awarded TeleDynamics its highest distributorship ranking for 2022. This marks the sixth year in a row that TeleDynamics has achieved this recognition, and the seventh time overall. We have been able to achieve and sustain this distinction because of the large volume of Yealink products we sell, our ability to keep plenty of stock on hand, and the premium service that we provide to customers.
In this article we provide a brief review of some of the innovative Yealink solutions we carry, as well as the value-added services we provide to our customers.
Yealink has grown to become the world's leading VoIP hardware manufacturer, thanks to its innovative, open-source, feature-rich devices offered at competitive prices. Below we highlight some of the solutions that have earned Yealink this leadership position.
Yealink voice solutions
Desktop phones
Yealink offers a full spectrum of IP phones, ranging from basic entry-level phones to feature-rich exective-level phones and everything in between. Yealink's T-series IP phones offer HD communications with different feature sets to meet all types of business communications needs.
The MP line of smart IP phones feature Android OS for even greater productivity through the use of productivity apps from Google Play right on the desktop phone.
Video: Yealink T30 IP phones
DECT devices
Yealink's DECT solutions include DECT IP base stations that use DECT technology while integrating with the rest of your IP telephony network, as well as a range of handsets, headphones and other accessories.
Conference phones
Yealink's CP series of conference phones offers a wide range of devices for IP networks or DECT technology, and some are based on Android OS. There are models for every size of conference room
Videoconferencing solutions
Yealink offers a range of state-of-the-art, easy-to-use videoconferencing kits with models to suit any-sized conference room. All room kits in the MVC series feature touch screens, 4K cameras and connectivity via Wi-Fi, Bluetooth, and USB port.
Yealink's A20 and A30 collaboration bars deliver a camera, microphone and speaker all in one device.
The UVC line offers a range of webcams and all-in-one video bars.
Video: Quick overview of Yealink video solutions
Devices compatible with Microsoft Teams and Zoom
Yealink makes collaboration even easier with its Teams- and Zoom-ready devices. These devices have been certified for full operability with Teams and Zoom, respectively, and deliver the experience of these leading collaboration platforms to your IP endpoint.
Video: Yealink ZVC conferencing kits for Zoom
Video: Yealink MP-series desktop phones for Microsoft Teams
Headsets
Yealink makes innovative, ergonomic headsets that optimize the UC (unified communications) experience by making it easy to connect with different devices and switch back and forth between endpoints. Browse the TeleDynamics website for Yealink headsets.
Video: Quick overview of Yealink's BH7 Bluetooth headsets
TeleDynamics' premium customer service
Telephone system resellers and installers prefer TeleDynamics because our unparalleled customer service ensures a gratifying experience. Some of our services include:
Auto-provisioning: For products that need provisioning like SIP phones, TeleDynamics can perform this in-house before the equipment is shipped, enabling the customer to simply plug and play. This also allows us to test the equipment to ensure that everything sent to your customer is functional. For more information on how auto-provisioning works, see our previous blog post on the subject.

Financing: Proposing a leasing option through one of our financing partners can allow your customers to pay for their purchase over time in monthly installments, rather than all at once. Leasing also converts the purchase from a capital investment to an operational expense. See our previous blog post on leasing for more information.

Technical support and troubleshooting: TeleDynamics supports many of the products it sells at no additional cost to the dealer. Additionally, some manufacturers sell maintenance contracts that your TeleDynamics rep can suggest and explain.

Secure, trackable shipping: If you use TeleDynamics for drop shipping, products are carefully packaged and shipped to the customer using a secure, trackable service like UPS. Same-day shipping is available on orders placed by 5:00 p.m. CST on workdays.

Ease of returns and exchanges: In the unlikely event the customer receives a defective product, TeleDynamics makes it easy to return or exchange it. Generally, if it is defective on arrival (DOA) or fails in the first 30 days, TeleDynamics will send an advanced replacement and Return Merchandise Authorization (RMA) for the defective product. The cost of the invoiced advanced replacement is credited by the return of the original defective item. Contact your TeleDynamics rep for more details.

Enforcement of the manufacturer's guarantee: After the first 30 days, TeleDynamics will help the dealer get in contact with the manufacturer and (if needed) provide any point-of-sale records to the manufacturer on the dealer's behalf to assist in getting the products repaired or replaced under the manufacturer's warranty.
Visit our website for more complete information about the Yealink solutions and special offers we provide.


---
You may also like:
Yealink future-of-work solutions
Yealink's bring-your-own-device (BYOD) solutions
Yealink's line of high-quality headsets
Yealink UC workstation and DECT wireless headset