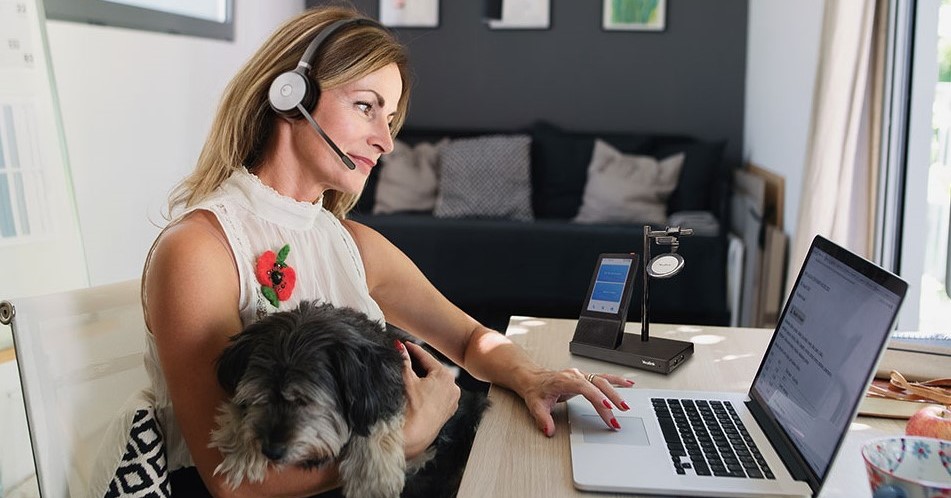 The way we work is changing faster than ever before, and communications tools are called upon to conform to this ever-changing approach to working. For this reason, Yealink is future-proofing its line of communications technology by forecasting future needs based on today's trends. In doing so, it will be able to continue to deliver innovative and meaningful products and services for many years to come.
Yealink's future of work initiative
Over the past few years, an unprecedented transformation has taken place in the workplace. Multisite corporations, the mobile workforce, and the hybrid office are just some of the trends that are changing the working landscape. These developments are an important part of Yealink's future of work initiative.
The future of work means something different to everyone, depending upon a multitude of factors. However, Yealink has identified some key worker trends and challenges, including:
Divided workspace - 65% of people now work both from home and from the office
Interruptions - 59% of people work within a work environment that presents undesireable background noise and interruptions
Collaboration - 81% of people leverage collaboration tools
Multiple devices - 78% of people utilize more than one communication device
Unified communications - 76% of people are engaged with UC platforms
Yealink uses these findings as foundational stepping stones on which it bases its strategy to deliver products and services that will serve this new workplace paradigm in the best possible way. Yealink's philosophy is, "What matters is how you work, not where you work."
Below is Yealink's response to each of these trends, based on its Future-Working report.
Space breaker
Office employees are more frequently working from multiple locations. Working from home, from the office, from a shared workspace, or even from a coffee shop is becoming more common. Having the flexibility of changing the workplace location and environment is becoming more and more important, not only to conform with health measures in the post-pandemic age, but also to improve employee efficiencies and effectiveness. Delivering communications and collaboration products and services that can easily be deployed anywhere is one of the fundamental principles guiding Yealink's product development.
Trouble breaker
These new flexible workplace environment trends also have some downsides, one of which is to work in a distracting environment. Working from home may entail dealing with children, pets, and other household distractions. Working in a coffee shop or other public place can also be disrupting. Developing acoustic equipment that can help to filter out noise and to indicate to others that you are on a call can be very helpful in such environments. Yealink's WH62 wireless headset, for example, blocks out environmental noise using its Acoustic Shield Technology. In addition, a highly visible busy light appears on the headset, indicating to others that you are indeed busy.
Call-load breaker
The increase in remote employees has also increased the communications load on each individual worker. This means that employees are spending more time on voice and video calls to maintain the same level of communication they would have had in an office environment. This increases employee screen time and can easily complicate communications. This increase in call load can also lead to communications fatigue. For this reason, Yealink emphasizes ease of use and an optimized communications experience in the design of their products.
Device breaker
The multiple device trend not only increases the call load, but also introduces additional complexity. Voice, video, and collaboration platforms leverage an assortment of devices, such as desktops, laptops, tablets, mobile smartphones, and a whole series of meeting room systems. Additional accessories such as microphones, cameras, speakers, and headsets add even more hardware. Yealink's product design goals are geared towards ensuring an orderly control of calls across multiple devices and platforms, simplifying call management, and alleviating communications complexity. This allows the simple transfer of calls from one device to another, as well as call merging using intuitive controls.
Platform breaker
When you plan a videoconference with colleagues, partners, or customers, one of the first questions that comes up is, "What platform are you using?" There are dozens of videoconferencing and collaboration platforms that are leveraged by countless businesses around the world. This can present an issue with compatibility and coordination. For this reason, Yealink is working hard to make sure its hardware is compatible with virtually all such platforms. And for some of the most popular platforms, it goes a step further by certifying their compatibility. This can be seen in Yealink's Teams-compatible video bars, MVC rooms systems for Teams, Zoom Room kits, and Zoom-certified MP series IP phones. Yealink's products are designed to optimize workflow between different platforms and tools.
Conclusion
The way we work has become more and more dynamic, and the way it will continue to develop in the future is still unknown. The field of telecommunications and its attempt to keep up with such changes is also developing and changing at unprecedented speeds. In such an environment, only future-facing vendors will be able to continue delivering their products and services to their customers. Through its future of work initiative, Yealink is not only surviving but thriving, ensuring that your investment in Yealink equipment and services brings about rich returns.
---
You may also like:
How video can enhance telephony
Yealink's bring-your-own-device (BYOD) solutions
Yealink work-from-home solutions