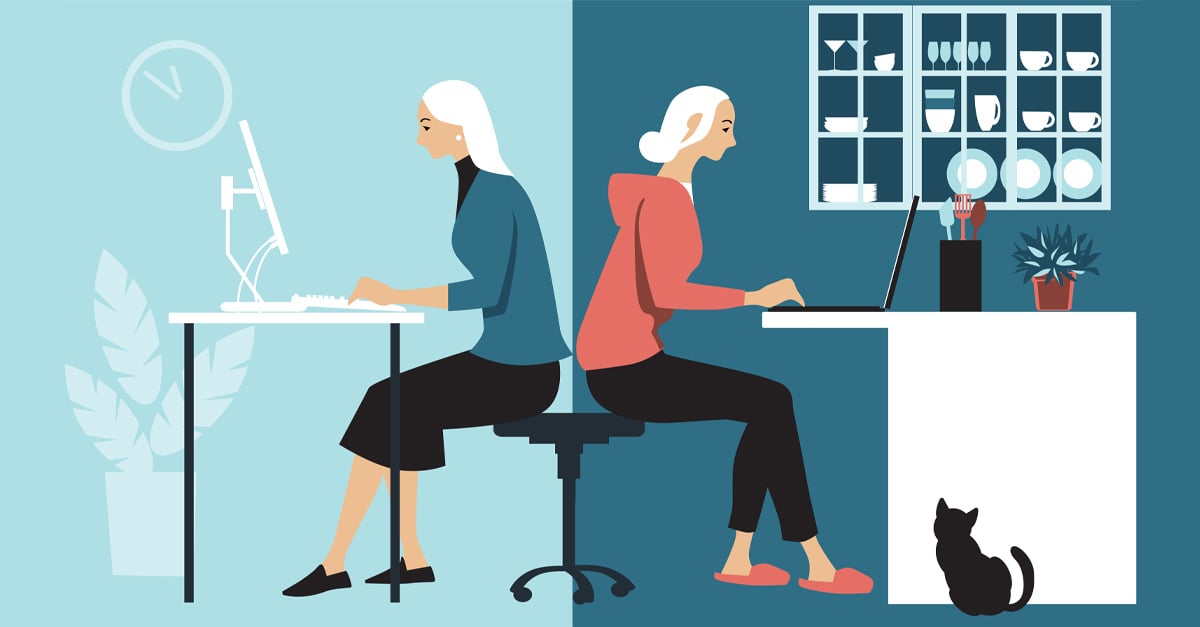 The pandemic and resulting lockdowns around the world have dramatically changed the ways that businesses operate. One of the most noticeable changes has to do with what has recently been coined as the hybrid office. In this article, we examine this new operational model and see how various communications services can aid in making it not only viable, but exceptionally advantageous.
Hybrid office basics
A hybrid office is a workplace where employees can either work within the physical brick-and-mortar locations of the business or work remotely. Some employees may work full time in-office, others may work full time remotely, and still others may spend some days in the office and others at home. The specific arrangement depends upon the function of each employee, as well as the sector and the philosophy of the business.
How the hybrid office came into the limelight
Remote work is something that has been on the rise for years. Technologies are continually being developed that streamline and facilitate remote work, making it a viable option for an ever-increasing scope of employees. This trend became commonplace when lockdown conditions forced a large number of businesses to adopt a remote-work business model almost overnight.
This had a couple of important outcomes:
First, it jumpstarted the development of software and hardware frameworks to enable effective remote work, making leaps and bounds forward. This resulted in advanced communications products and services that made remote work not only viable, but in many cases, preferable to physical-presence work.
Second, it highlighted employee functions, positions, and even general activities for which remote work is not suitable, even with the enhancements brought about by this burst in development.
In combination, these two outcomes underscored the need for a model of work that:
maximizes the advantages of working remotely
minimizes the obstacles that remote work may present for particular employees or roles
Thus, the hybrid office model was born to help fulfill these requirements.
Benefits of a hybrid office
The benefits of remote work have been lauded for years. These include things like increased productivity, higher job satisfaction, reduced costs, and fewer obstacles to talent acquisition, since remote workers can, indeed, work from anywhere.
However, the hybrid model introduces additional benefits to the remote-only approach. These include:
Some physical presence – The hybrid model allows for the physical presence of employees in the office for at least some of the time. No matter how good collaboration systems get, there is no substitute for physical presence when it comes to maintaining the quality of professional relationships. Spending some time in the office will allow employees to connect on a deeper level, ensuring that their subsequent remote collaboration will also improve.
Flexibility – The job description of a particular employee may require some tasks that are most appropriately completed in person, as well as other tasks that can be adequately performed remotely. Thus, responsibilities of specific employees need not be segregated based on achievability remotely or in person but can be assigned to the same individual.
Best of both worlds – The hybrid model gives more options to both employers and employees, ensuring that all tasks and responsibilities are performed in the best possible way while safeguarding the satisfaction of employees that tend to work better in one environment or another.
Challenges
While the benefits of the hybrid office are real, there are also some challenges that can cause problems if they are not managed appropriately. These include:
Complexity of coordination – By introducing parameters such as working in-office or remotely, coordination between individuals and departments can become more complicated. Internal meetings, customer collaboration, and other events must be synchronized appropriately. Knowing who is going to be working remotely and who will be in-office on any given day must be well-organized, typically using appropriate scheduling and coordination tools.
Some events and projects simply need physical presence – Some tasks and activities require physical presence. This means that businesses must ensure that hybrid workers are present for such events.
Technological aids to the hybrid office: The portable landline
In the past, communications technologies themselves were an obstacle to the realization of the hybrid office. Employees whose role required voice communication were literally tied to their desks at the company's premises. The advent of the portable landline has since freed employees to perform their duties anywhere there is an internet connection.
Portable landlines terminate on SIP-based software (also called a softphone) that runs on either a desktop, laptop, smartphone, or similar internet-connected device. Portable landlines can also be used on IP phones, which are physical telephony devices that support SIP and that can be plugged into a network.
These endpoints connect to the service provider over conventional internet connections, such as Wi-Fi, xDSL, cable, or even over the data network of a mobile network operator. Thus, an employee is no longer tied down to their wired telephone but can perform their function from any location that has an internet connection. This arrangement goes a long way in enabling the hybrid office because it allows an employee to have their landline with them whether they are physically located in the office, at home, or even on the road. Examples of extensive use of portable landlines over the past 18 months include the contact center agent and the online helpdesk agent.
Take a look at our article on how the SIP protocol enables workforce mobility for more examples.
Conclusion
The hybrid office business operational model is one of the positive outcomes of the recent lockdowns the world has experienced. The flexibility it provides for both employer and employee, as well as the benefits it can achieve, are poised to help businesses of today enter into the operational models of the future.
---
You may also like:
Yealink work-from-home solutions
Helpful VoIP solutions for managing remote teams
How (and why) to integrate your VoIP system with web and mobile apps