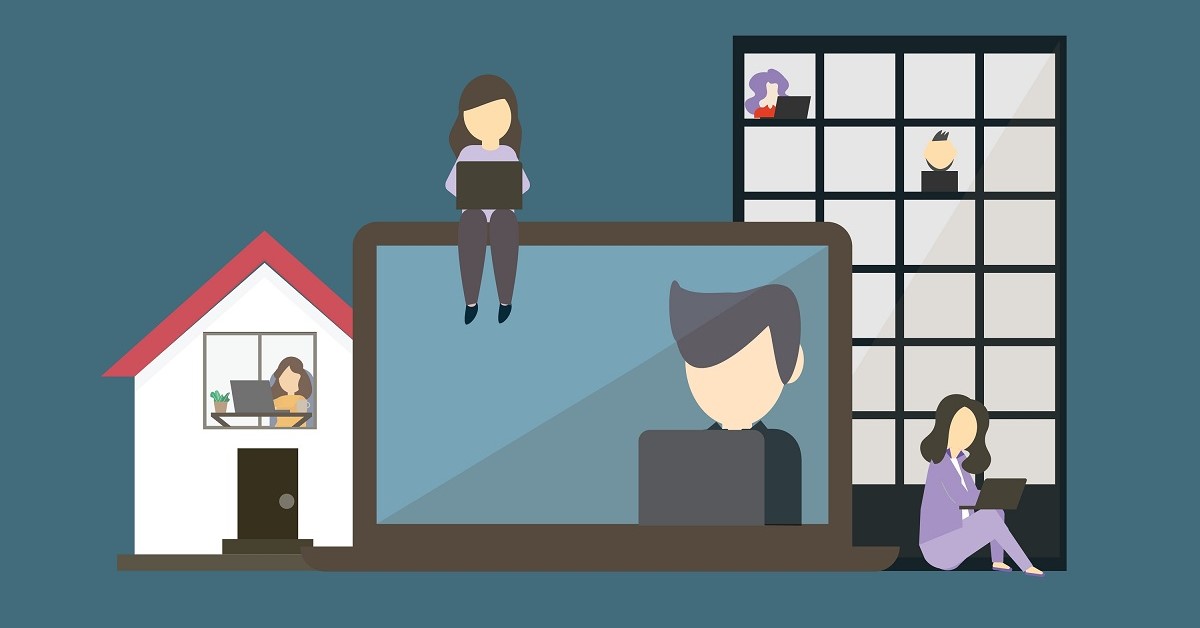 The adoption of a hybrid office model has been accelerated in the post-lockdown era. In a previous article, we examined some communications services and infrastructure that have been developed in recent years to enable and facilitate this hybrid office model.
In this article, we examine the hybrid office more deeply by looking at various approaches that businesses can take. We also touch upon some principles necessary for taking full advantage of the hybrid office and ensuring a smooth transition.
Various approaches
A hybrid office is a workplace where employees can either work within the physical brick-and-mortar location of the business or work remotely. Hybrid workers split their time between a conventional in-office work style and working remotely, typically (but not always) from home. Depending on what the company does, its industry sector, and the philosophy of the company itself, businesses may choose from various approaches to employ such a model. These include:
Remote-first
Office-first
Balanced
As their names suggest, each one is based on the type of work that is encouraged. Each has benefits and drawbacks, and each must be clearly understood in order to provide the most appropriate ICT (information and communications technology) support for the infrastructure that will serve it best. Let's take a closer look at these approaches.
Remote-first approach
The remote-first model emphasizes the remote operation of the modern office. Here, whenever possible, employees are encouraged to work remotely and to spend most of their working hours and days away from the office. In other words, a remote-first approach treats working remotely as the default way of working. In-office work takes place occasionally and on an as-needed basis. In a remote-first arrangement, you may find that:
A number of employees may work exclusively remotely
Most employees will spend well over 50% of their time working remotely
A few employees will spend most of their time in the office, acting as a skeleton crew. The job description of these employees typically involves responsibilities that require physical presence and cannot be achieved remotely. Some examples include:

Hosting meetings, presentations, and events for customers and partners
Tasks involving the manufacturing or repair of physical objects or devices
Technical support staff
Typically, successful remote-first enterprises:
Reduce costs by minimizing the physical office space needed to operate without sacrificing the required size of the workforce
Reap the benefits of a mobile workforce, including flexibility, as well as high levels of employee satisfaction
Approach the remote-first option not as a perk to appease employees or to appear progressive, but as a foundational philosophy of the company itself – an approach that is built into the DNA of the company
Office-first approach
The office-first model emphasizes the more conventional in-office work for employees while providing the option to work remotely. In other words, an office-first approach sees the more traditional in-office option as the default way of working. However, remote work is an option that is offered as an occasional alternative. In an office-first arrangement, you may find that:
Some employees may work exclusively in-office
Most employees will spend well over 50% of their time working from the office
Such a company resembles a more traditional office but gives the opportunity to its employees to work from home occasionally or several days each week
Typically, successful office-first enterprises:
Increase productivity and team-based operations by taking advantage of the time that employees work together in the same place
Employ remote work for at least some of the time, which allows them to enjoy the benefits that remote work delivers, such as flexibility and employee satisfaction
Balanced approach
As its names suggests, the balanced approach to the hybrid office involves an attempt to achieve an almost fifty-fifty split in the time spent in office and at home. The goal is not to achieve that split exactly, but to emphasize that both remote and in-office work by all employees is considered equal. Neither is privileged over the other, and the opportunity to work either way is given to everyone alike.
Such an approach allows employees to decide how to spend their time most appropriately between the office and home. Employees work on their own terms, set their own schedules, and shape their days however they see fit. Many of the same benefits can be enjoyed in the balanced approach as those in the other two. Nevertheless, it can be argued that a higher level of trust must be established with employees since much of their day-to-day operation is entirely up to them.
While the balanced approach is not for all types of businesses, it can be a truly effective and efficient model for companies that are able to adopt such a philosophy.
The essence of each option
One approach is not necessarily better than the other, nor are any of them etched in stone. On the contrary, there may be companies that tend to ebb and flow between the approaches depending upon the needs and requirements of a particular point in time. These needs could stem from the evolution of the company itself, or from external factors such as compulsory lockdowns and measures necessitated by the pandemic.
One thing is certain, however. The key technological enabler of the hybrid office, regardless of approach, is the telecommunications infrastructure that serves it. Without this infrastructure, the hybrid office would be nonexistent.
For this reason, it is important to ensure that the choice of communications services, as well as the method with which they are employed, will guarantee that all hybrid office approaches can be achieved.
ICT principles to aid in transitioning
Even as lockdown measures are easing worldwide, the future remains uncertain. There are rumors and indications of possible restrictions coming into force anew. This means that companies, regardless of which hybrid approach they choose, should be prepared for changes. Preparedness in this sense can be achieved by keeping the following principles in mind:
When choosing a telephony system, ensure that it supports multiple operational features, including:
When choosing a collaboration platform, verify that:

It supports a wide range of videoconferencing equipment

,

including webcams, speakerphones, headsets, and room teleconferencing kits
It includes multiple collaboration channels, including instant messaging, file sharing, scheduling, screen sharing, and other features that will enrich remote communication and collaboration
You are not locked into a single platform but have the option of changing, or even using multiple collaboration platforms depending on the business needs and the features of each

When designing the office space that will be used for the hybrid office, consider taking advantage of the following features and functionalities:

Hot desking – This is an organizational system used for workspaces where workstations or desks can be used by different people at different times. The number of desks can be vastly smaller than the number of employees, depending upon the proportion of employees that are working in-office at any one time. Each "hot desk" is equipped with telephone and internet jacks. They may also be equipped with a telephone device and/or a computer, or employees can simply bring their own and connect them.
Extension mobility – This is similar to hot desking but involves logging into a physical IP telephone at any desk so that you obtain your personal extension on that phone. This includes all your settings, such as speed dials, ringtones, number of rings before going to voicemail, and even the brightness of the display.
Hoteling – This service can be confusing due to its name since there are no hotels involved. Hoteling allows employees and teams to reserve hot desks, workstations, conference rooms, and other shared physical company resources for the specific times they are working in-office. For smaller organizations, a first-come-first-served model may be enough, but as businesses grow, some organizational reservation system is necessary. Hoteling software not only allows you to reserve a space for work but enables you to find out where a particular employee or team will be over the coming days based on each person's reservation. This can facilitate team-based activities and can help both employees and employers plan their days to maximize efficiency.
Conclusion
Never in history have business operational models progressed so much in so little time. The hybrid office is an excellent indicator of the extent of change that has taken place over the past few years. By adhering to best-practice ICT principles, communications technologies can be successfully employed to optimize the operation of the hybrid office.


---
You may also like:
13 remote collaboration solutions for a dispersed workforce
Yealink's video bar systems for Zoom
Konftel's 800 SIP conference phone is now Zoom Phone certified
Equipping employees to use their enterprise IP phones at home