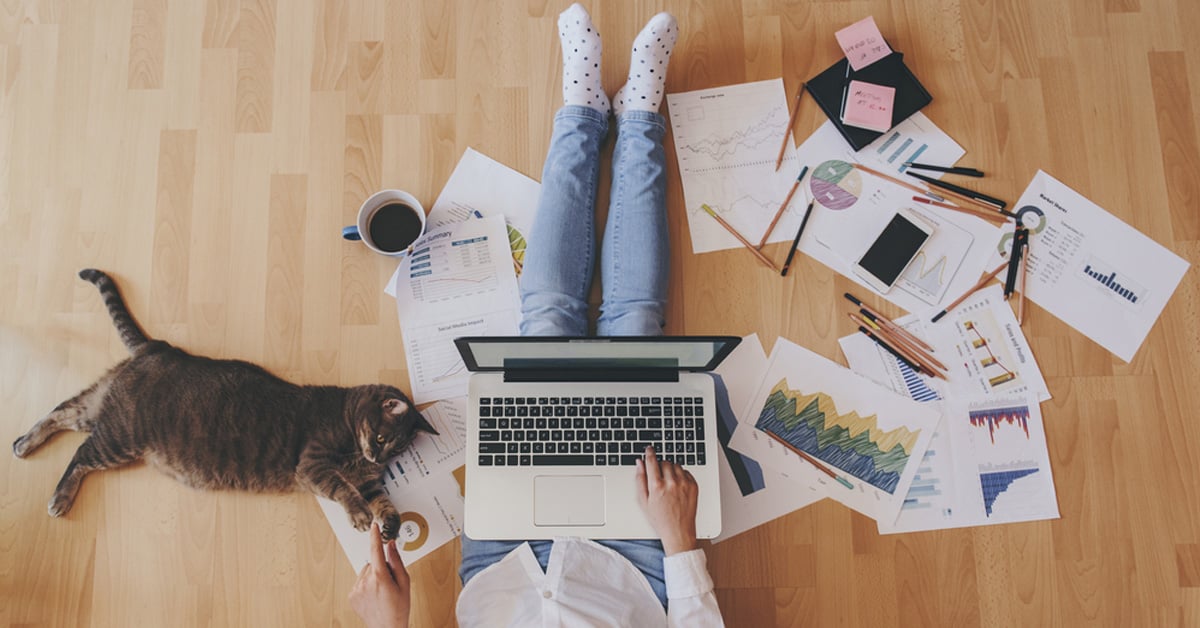 Amidst government-imposed social distancing, many companies are beefing up their remote collaboration capabilities. With this in mind, here we review some of the recent solutions that we have featured on our Think Tank to help you choose the best-suited conferencing solutions for your customers. Specifically, we look at softphones, videoconferencing solutions and conference phones.
Thanks to the versatility and cost-effectiveness of VoIP, remote collaboration has never been more robust or easier to use than it is today. Even micro- and small businesses can afford technology that allows their workers to meet and engage with each other without having to be in the same place.


Softphones
A softphone is simply a piece of software that allows you to make phone calls over the internet. This software can be installed on a PC or smartphone, so workers can enjoy all the functionality and security of their enterprise network phone (including their office extension number), from anywhere they have an internet connection. This is ideal for people who work from home. Since the softphone can be installed on workers' personal devices, the enterprise can connect them to the company VoIP network without having to purchase special hardware. Several of the manufacturers we work with offer softphones, including the ones listed below.
Yeastar Linkus Desktop Softphone – Compatible with Yeastar Cloud PBX, S-Series VoIP PBX and K2 IP-PBX. Runs on Windows or MacOS.
Grandstream Wave softphone app for mobile devices – Runs on Android OS. Compatible with any open-source IP PBX, and deeply integrates with Grandstream's UCM IP PBXs.
Allworx Reach and Reach Link – Works in conjunction with Allworx Connect servers. Runs on both iOS and Android devices.
NEC Mobile Client – NEC offers a variety of softphone options, either for mobile devices (Android or iOS) and PCs/laptops (Windows). It also has a handset that plugs into the USB port of a computer so users can use their softphone like a regular IP desktop phone. Compatible with NEC's Univerge SV series and SL series systems.
Panasonic softphone – Available for both Android and iOS. Compatible with the KX-NSX2000, KX-NS1000, and KX-NS700 IP PBXs. We reviewed this softphone in a previous article.


Videoconferencing solutions
Yealink software-based conferencing systems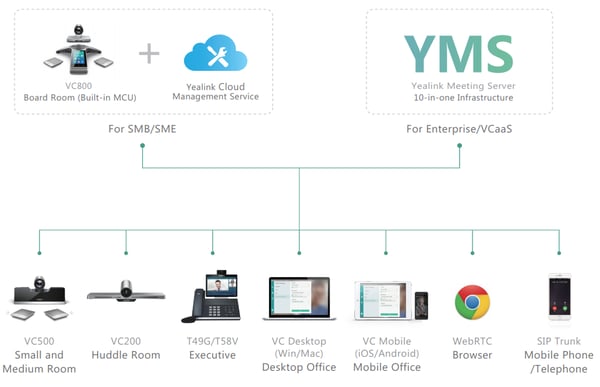 Yealink has created a number of advanced videoconferencing solutions for serving a dispersed workforce. VC Desktop and VC Mobile are videoconferencing apps that can be installed on a desktop or laptop computer, or on a mobile phone, and can be used on the go. There is also a WebRTC option, which implements videoconferencing over a web browser without the need to download software. Yealink's VC Cloud Management Service (VCMS) cloud-based videoconferencing infrastructure is especially convenient for remote employees, as it streamlines much of the task of getting remote users to connect easily, quickly and with little hassle.
Join our webinar next Monday, March 23, 2020 to learn more about Yealink's VCMS. Save your spot here. If you can't join live, register anyway to get the recording afterwards.


Grandstream IPVideoTalk platform
IPVideoTalk is Grandstream's video, audio and web conferencing platform that enables users to meet with anyone, anytime, using almost any device. IPVideoTalk meetings can be attended from PCs, Macs and any Android or iOS device using the free IPVideoTalk app. This platform can also be used to host room-based videoconferences using Grandstream's GVC series of videoconferencing systems.


Yealink certified devices for Zoom conferences
With Yealink's Zoom Room kits, you can easily connect remote participants to a videoconference using the Zoom cloud platform. All the remote participants need is a computer and webcam, as well as the Zoom software, which can be downloaded for free (the company does need a Zoom Rooms subscription to set up the videoconference).


Konftel video conferencing kits
Konftel brings the concept of BYOD (bring your own device) to videoconferencing with its C50xx plug-and play kits. These kits are based on the BYOM (bring your own meeting model) where users can initiate a video conference almost anywhere. The Konftel OCC Hub is the heart of this solution. It supports Konftel One Cable Connection, so a single USB cable is all you need to connect the camera, the speakerphone and the room's screen to the collaboration app on a user's laptop.


Yealink certified devices for Microsoft Teams
Yealink's Microsoft Teams and Skype for Business-certified devices let workers connect remotely using Microsoft's cloud-based collaboration platforms. Devices that offer Teams and SFB-certified versions include some IP phones from the T4 series, all of the T5 series IP phones, the CP960 conference phone, and the MVC room videoconferencing kits.


Conference phones
Avaya's take-anywhere B109 conference phone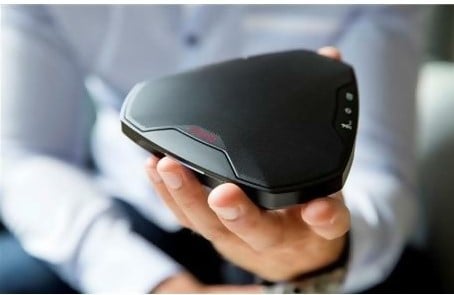 Avaya's portable, pocket-sized B109 conference phone is perfect for people that work from home, since it can be used to initiate a conference call from almost anywhere. It's completely cordless, thanks to its built-in battery that can be charged via a standard USB cable, and its support of Bluetooth technology. It can be wirelessly paired with a mobile phone or tablet using NFC technology, which means you just have to bring your mobile device within a couple of inches from the speakerphone, and presto, they're paired!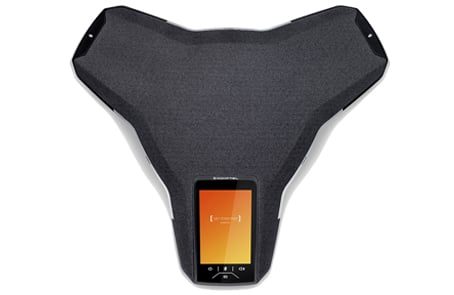 Konftel's 800 SIP conference phone can also be used either on-premise or remotely. It can be used with any number of modern communication and collaboration services, whether in the cloud, on-premise or in hybrid environments. It connects via SIP, USB and Bluetooth LE. The platform enables BYOD (bring your own device) for web and video meetings, where you can also invite participants via regular phone calls. Konftel refers to this as hybrid conferences. Konftel's Unite app can be installed on a worker's smartphone and used to control and manage communication via Bluetooth.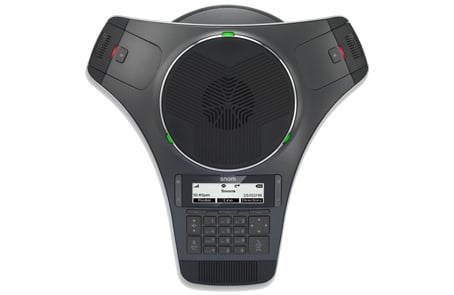 The Snom C620 cordless conference phone uses DECT 6.0 technology for a completely wireless conferencing experience. Even the detachable microphones are cordless, allowing for more effective collaboration without the frustration factor. Its n-way conferencing feature allows multiple remote parties to be added to the call without the need for a conference bridge or access code. To use this phone to initiate a conference off-premise, it must have a secure way to connect to the enterprise network so it can register to the company's SIP server and route all its calls.


Conclusion
Whether you work with small companies, large enterprises, or anything in between, there are robust, easy-to-use conferencing solutions for any-sized budget available to help workers collaborate remotely. You can help your customers beef up their infrastructure for remote workers using one of the solutions listed here, or browse our website for more ideas.


---
You may also like:
Are you ready for a mobile workforce?
How SIP enables workforce mobility
Hybrid conference phones for every kind of personality