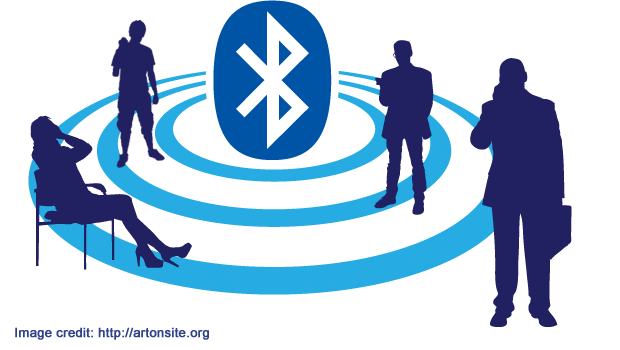 Integrating Bluetooth technologies into IP desk phones transforms the phone into a Swiss Army knife-like device that allows a lot of useful functions, well beyond connecting a wireless headset. Here we look at innovative IP phones from Panasonic, Grandstream, Yealink, Snom, Sangoma, Allworx and Gigaset that have integrated Bluetooth and other productivity-enhancing features.

What is Bluetooth?
When we think of Bluetooth, the most common image that comes to mind is an earpiece wirelessly connected to a mobile phone. While this is a common implementation, it just scratches the surface when it comes to unleashing the true potential of the technology.
Bluetooth is a Personal Area Network (PAN) protocol that wirelessly connects enabled devices within a range of several tens of feet. It is named after the tenth-century Scandinavian king, Harald Bluetooth, who united dissonant Danish tribes into a single kingdom, a feat that was considered near impossible at the time. Like its namesake, Bluetooth's original purpose was to unite PAN communications protocols into one universal standard, allowing simple and intuitive wireless interoperability between personal devices.


What can it do?
Bluetooth-enabled devices communicate. This is the most fundamental functionality of the technology. What they say to each other depends on the way each device is configured and on the features that are built into each one. For IP desk phones, beyond the obvious advantage of connecting a wireless headset, you can perform more advanced operations by connecting a smart phone to your Bluetooth-enabled desk phone. These operations include:
Controlling the phone – You can choose a contact from your smartphone and instruct the IP desk phone to initiate a call to that number without having to dial it into the IP phone's keypad
Syncing contacts – For IP desk phones that maintain a contact list, contacts from your smartphone can be synced with those of your desk phone, and vice versa
Call transferring – You can transfer a call on your IP desk phone to another extension from your smartphone
Calendar syncing – Some IP desk phones include other apps such as calendars, which can be synced with those of your smartphone
Some phone models allow for a deeper integration of the communicating devices via Bluetooth, while others just enable the convenience of a wireless headset.


Bluetooth functionality
In this article, we will be looking at corded IP desk phones that natively support Bluetooth. For additional models that support Bluetooth either with the addition of a USB dongle or as an optional add-on feature, we invite you to perform a search for Bluetooth IP phones on the TeleDynamics website.


Grandstream
Grandstream offers an impressive lineup of Bluetooth-enabled IP desk phones. Specifically, the GXP2170, GXV3275 and the GXP2135 all feature integrated Bluetooth. Besides connecting to a wireless headset, all three models can sync their local phonebooks, which have a capacity of up to 2,000 contacts, with the contact list on a mobile device via Bluetooth.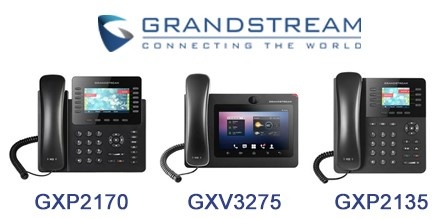 The GXV3275, which runs a version of Android OS, is further able to sync elements such as calendars and agendas with a smartphone. This, combined with its built-in camera and high resolution touchscreen, makes it ideal for video telephony.
The GXP2170 can connect up to four cascaded GXP2200EXT extension modules with LCD displays to access up to 160 speed-dial and busy-lamp field (BLF) contacts. This is especially useful for high-volume telephony operators at medium to large corporations.
Grandstream phones are based on open architecture and are able to be integrated into any SIP-based IP telephony system.


Yealink
Yealink's series of IP phones also have impressive Bluetooth capabilities. All of the phones in the T5 series provide Bluetooth connectivity for wireless headsets, mobile device pairing, call control and contact syncing.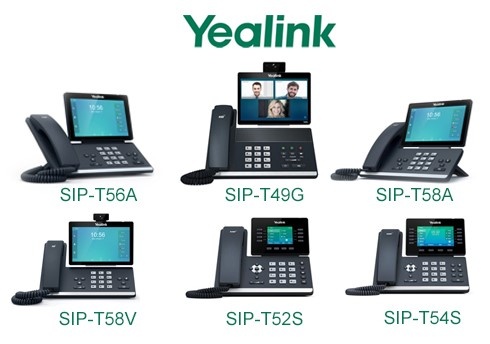 The T49G video phone also has integrated Bluetooth, along with full HD capability, an 8" touchscreen and an HDMI output to connect a larger screen, as well as video and audio recording of calls.
Similarly, the T5 series phones all provide comparable functionalities. The T56A, T58A, and T58V models run a tried and tested operating system for telephony: Android 5.1.1. The Android OS allows you to use powerful apps from the Google Play Store directly from the desktop phone.
For entry- to mid-level needs, the T52S and the T54S both come with attractive color backlit LCD screens at 2.8" and 4.3", respectively.


Snom
The D375, D765 and D785 Snom corded IP telephones all support Bluetooth for the use of wireless headsets. But the value found in these phones goes beyond just Bluetooth compatibility. All three possess large color displays for enhanced ease of use. They support up to 12 SIP accounts, can handle up to four simultaneous calls and are able to initiate a 3-way conference.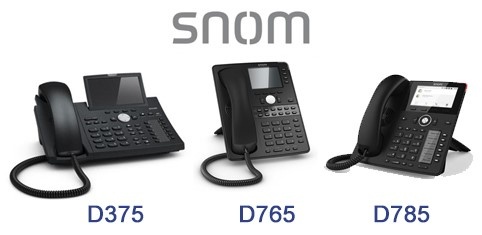 With multiple programmable function keys, a rich telephony feature set, and compatibility with open SIP platforms, these phones leave nothing to be desired.


VTech
The ErisTerminal ET685 SIP Color Deskset features Bluetooth connectivity for headsets, has a bright 4.3-inch color LCD screen for simple navigation, and it boasts Snom's legendary audio quality, generated by cutting-edge VoIP signaling and DSP (digital signal processing) algorithms.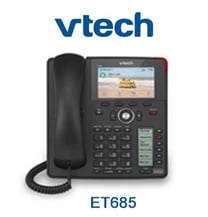 Not only does this Snom-powered VTech phone support a Bluetooth headset, but it can also support a wired headset. It provides advanced call handling with up to 12 SIP accounts, secure communication using TLS and military-grade AES, and PoE (power over Ethernet).


Sangoma
In addition to integrated Bluetooth for connecting headsets, the Sangoma s705, much like the other phones in the S series, was specifically designed for use with both the Sangoma PBXact IP PBXs as well as with FreePBX, a popular management system for the Asterisk IP telephony platform.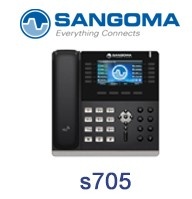 Sangoma phones feature Zero-Touch provisioning for both FreePBX and PBXact systems, an Endpoint Manager system so users can administer their own devices via a specialized web interface, and come pre-provisioned with a VPN client to automatically connect to the corporate PBXact phone system using an encrypted tunnel.


Allworx
Allworx has designed an IP phone that uses Bluetooth to the max. Besides the use of a headset, the Verge 9312 IP telephone can perform real-time sharing of contacts, can instantly handoff an active call to and from a mobile phone, and can be remotely controlled via Bluetooth to answer, place, and transfer calls, all from a paired smartphone.
But Allworx has taken the use of Bluetooth even further by allowing the 9312 phone to also act as a hands-free accessory for placing and receiving calls on your mobile telephony device.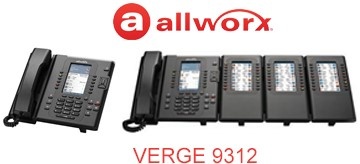 Additional functionalities include 12 self-labeling programmable function buttons, a smartphone-shaped color display, HD audio and built-in four-way conferencing. The addition of up to three 9318Ex expander modules with 18 programmable function buttons makes this phone ideal for high-volume telephony switchboard operators.


Gigaset
The Gigaset DX800A all-in-one hybrid phone is a Bluetooth-enabled phone and called "hybrid" because it incorporates VoIP, PSTN and ISDN connectivity, a web interface with online features, synchronization of contacts with Outlook and smartphones, and three answering machines, in addition to supporting email notifications and other information services such as RSS feeds and weather forecasts. But that's not all.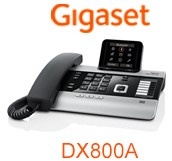 The DX800A can be expanded to function as a cordless PBX and a cordless telephony base station, providing connectivity to up to six DECT handsets.
Bluetooth connectivity can be achieved with two devices simultaneously: one headset and one smartphone or tablet. Via this connection, contact synchronization with mobile devices can be performed as well as integrated telephony with the mobile device using Gigaset's Link2Mobile functionality. Link2Mobile integrates the mobile phone into the telephone system via Bluetooth, so incoming calls can be received from the mobile phone on the landline phones and, conversely, calls can be made via the mobile telephony network.


Panasonic
Panasonic's KX-NT560, KX-HDV430B and KX-UTG300B IP phones all feature integrated Bluetooth for connecting a wireless headset. With wireless ranges that surpass ten feet, and compatibility with most Bluetooth 2.0 headsets, these phones are a perfect choice for employees with medium to high call volumes.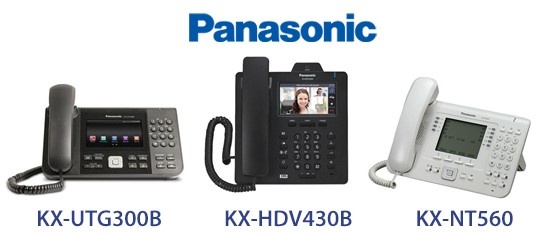 Other noteworthy features include dual Gigabit Ethernet ports on all three models for high-speed connectivity of desktop computers on the same port, as well as large screens. The KX-HDV430B supports video telephony with up to three participants without the use of additional hardware, taking advantage of the larger 4.3" color LCD touch screen. The KX-UTG300B also sports a large LCD touch screen of 5", which is useful for the up to 1,000-contact phone book and the up to 6 SIP accounts that it can support.
Panasonic phones are proprietary, meaning they can only be incorporated into a Panasonic IP PBX system.

CONCLUSION
Integrating Bluetooth with IP phones allows you to connect the endpoint with a Bluetooth headset, and often even more robust functionality like coupling your smart phone with the desktop phone. As you can see from this list, the choice is vast enough to satisfy the needs of any sized business. Speak with your TeleDynamics rep about which ones may be the best fit for your customers.
---
You may also like:
Should you get headsets for your office phones?
How Android converts IP phones to productivity centers
Grow your business and boost customer satisfaction with VoIP phone system integrations