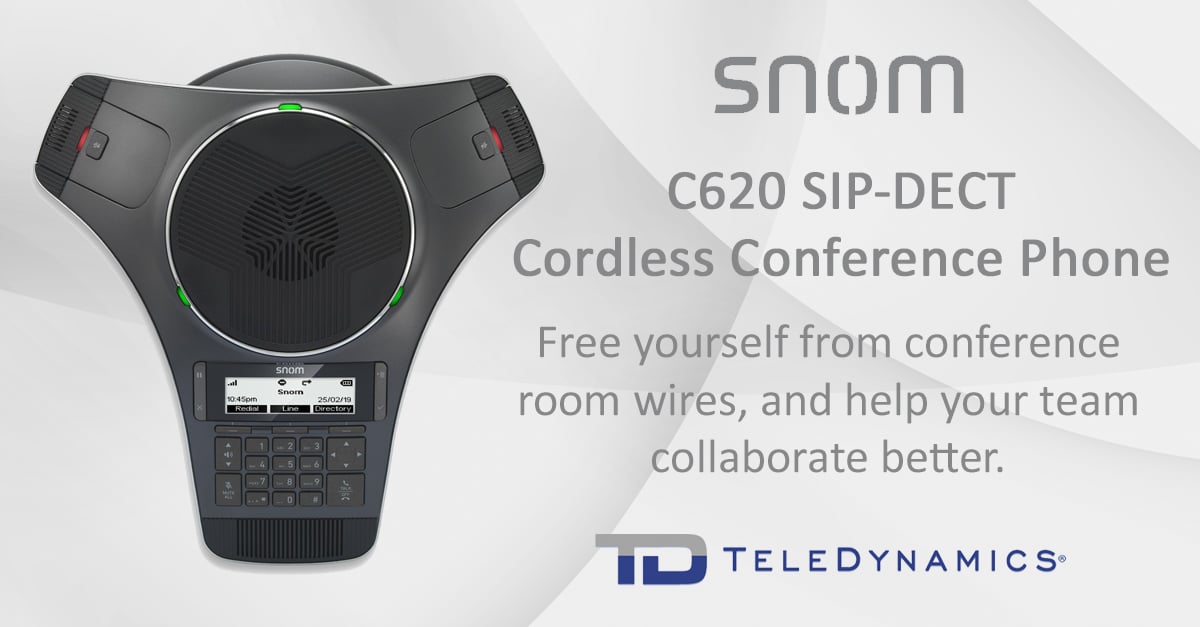 Dealing with pesky cords is a common frustration of conference phones. If you want to place the phone in the middle of a conference room, you either need an electrical outlet located in the middle of the floor, or you need to bring in an extension cord. And then you need to be careful not to trip over it!
That's why we love the Snom C620 conference phone. It uses DECT 6.0 technology for a completely wireless conferencing experience. Even the detachable microphones are cordless, allowing for more effective collaboration without the frustration factor. In this article, we take a look at this robust and flexible conferencing device.


Freedom and flexibility
If we had to describe the Snom C620 conference phone in two words, it would be "freedom" and "flexibility." Freedom, because you can move the phone and its detachable microphones around the room as needed, without dealing with annoying cords and wires. Thanks to DECT technology, you can also move the phone around to different rooms to accommodate the size of each meeting.
And flexibility, because of its robust feature set that allows you to set up and manage conferences of varying sizes and characteristics. For example, you can expand your meeting to up to 21 local participants by adding up to three C52-SP DECT expansion speakerphones to the C620. You can also manage multiple calls with advanced call-handling features, thanks to the support for up to three SIP accounts.


High-quality audio
Equipped with a full-duplex speakerphone and G.722 wideband codec support for HD audio, conferences using the Snom C620 are the next best thing to everyone's being in the same room. Its echo cancellation technology and automatic gain control deliver an optimal audio experience for all participants.


Hassle-free autonomy
Other features that make the Snom C620 so practical and hassle-free include its long autonomy and built-in charging stations, so you don't have to constantly remember to charge the phone and mics. The base has an autonomy of up to 12 hours of talk time for wideband calls and 24 hours for narrowband, so you don't need to worry about charging the large battery in the middle of a meeting, or fret about losing the charge mid-call.
The two cordless mics each deliver up to 12 hours to talk time and up to 70 hours of standby time. In between calls, the magnetic charging bays in the base keep the microphones together and ready for the next call.


Other noteworthy features
Advanced call features including 3-way local conference and n-way network conference; phone book; call history; 10 ring tones, call timer and more
10/100 Mb Ethernet port
Layer 3 QoS support (ToS, DiffServ)
Multiple provisioning options (HTTP, HTTPS, FTP, TFTP; DHCP; WebGui; PnP)
Compatibility with Broadsoft Broadworks® and Asterisk-based platforms


View or download the full spec sheet here. Or, order the Snom C620 through our website.


Conclusion
With its HD full-duplex audio, long battery autonomy, advanced call features and frustration-free cordless DECT technology, the Snom C620 SIP-DECT conference phone delivers a high-quality, hassle-free meeting experience.


---
You may also like:
Review of the Snom C520 conference phone
The sky's the limit with Snom's M700 DECT base station
VoIP products and services for micro-enterprises