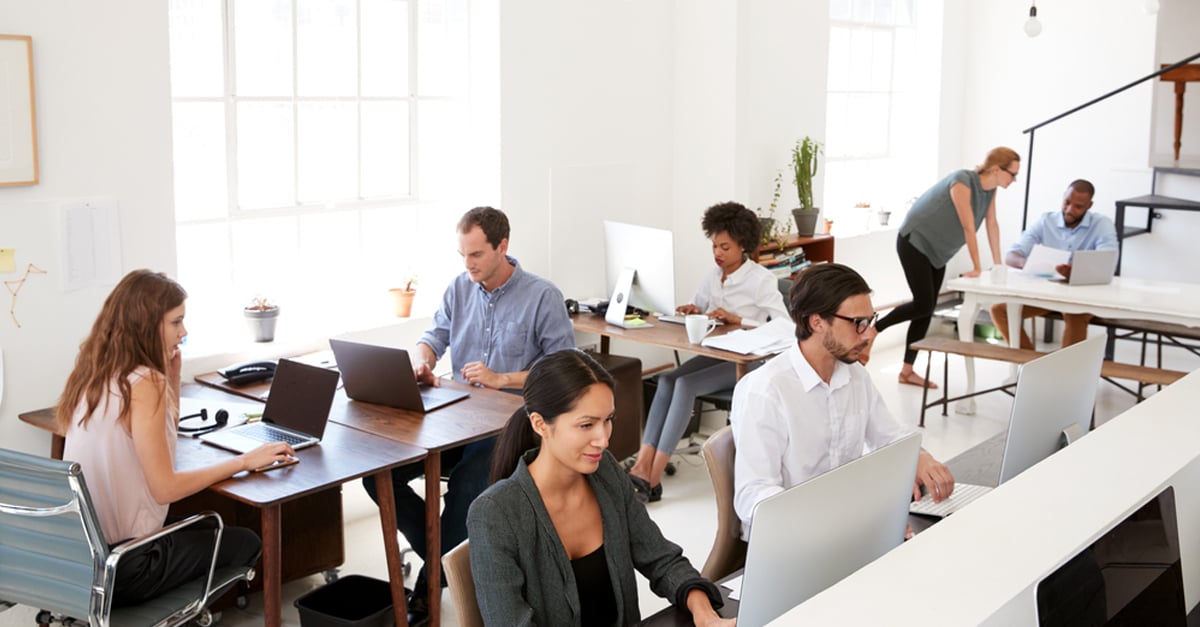 If you're looking to grow your business, consider serving micro-enterprises with 1-20 employees. According to the Census Bureau's Annual Survey of Entrepreneurs, firms with between 1-20 employees made up 89% of all U.S. firms in 2016. While this has traditionally been an underserved market when it comes to VoIP telecommunications, more and more equipment manufacturers are offering products tailored to their needs. In this article, we review some cutting-edge devices that are ideal for micro-enterprises.


Financing plans and service contracts
With leasing and DaaS (device as a service or equipment rental) programs, customers can acquire IP PBXs, telephones, and other equipment without any up-front capital outlay, and they can account for their equipment lease or rental payments as operating expenses. Click here for more information about our leasing programs, and here for more information about our DaaS program. Check with your TeleDynamics rep regarding which equipment is eligible for these programs.
Installing an on-premise system for your customers also allows you to offer your own service contract that guarantees product firmware upgrades. The idea is to get a contract that allows some sort of yearly renewal to keep you actively involved in upgrading and working with the system after installation. This keeps you in the loop as the customer's needs evolve and they need to add new phones, purchase new licenses, change a voicemail prompt, etc. As more software is introduced into business telephone systems, firmware upgrades allow your customers to keep up with any new releases and emerging technology.


ITSPs
Of course, small businesses can also procure VoIP telephony service from an Internet Telephony Service Provider (ITSP). In this case, the ITSP (rather than your company) takes care of all the equipment maintenance and upgrades. If your customer would like to sign up with an ITSP, TeleDynamics has a number of partners we can recommend.


IP PBXs for micro-enterprises
On-premise IP PBXs are a growing trend among small and micro-enterprises. IP PBXs are becoming increasingly intuitive to manage and economical to acquire.

Grandstream's UCM6202 IP PBX has a robust feature set that can scale with growing businesses. It can handle up to 500 users, 50 SIP trunks and up to 50 concurrent calls, all at a price point that is quite accessible for businesses with fewer than 20 employees. It also allows you to connect Grandstream endpoints with zero configuration (plug and play). The UCM6202 comes with 2 FXO and 2 FXS ports for connecting the VoIP phone system with the PSTN, as well as for connecting analog devices like fax machines.

Yeastar's S20 IP PBX supports 20 SIP trunks, 50 users and up to 10 concurrent calls. With the Yeastar S-Series, all the telephony interfaces are modular and customizable, whether it's FXS, FXO, ISDN BRI, GSM/3G, or E1/T1/PRI. The S20 has 2 onboard module slots, which support up to 4 FXS/FXO/BRI ports and up to 1 GSM/3G/4G channel, depending on the modules used.



For even more customization, Yeastar's S412 IP PBX is another robust device for small offices. It supports 8 SIP trunks, 8 users and 4 concurrent calls. The S412 is pre-configured with 8 FXS ports and is customizable with 4 module slots, which offers a flexible combination of FXS, FXO and BRI interfaces. In addition to the 8 fixed RJ11 FXS ports, it allows 4 customizable FXS RJ11 ports, up to 4 customizable FXO/BRI RJ11 ports, and up to 2 customizable GSM/3G/4G channels.



The QX20 and QX50 from Epygi were created with the the micro-enterprise in mind. Both are hyper-scalable with up to 100 and 200 user accounts, respectively. The QX20 delivers 6 concurrent calls (up to 10 with license keys) and supports 12 IP phones (up to 32 with additional license keys). The QX50 delivers 16 concurrent calls on up to 50 IP phones. Epygi IP PBXs are open source, and they auto-configure more than 120 models of IP phones from all manufacturers. They also have an embedded firewall/router on their devices, making it attractive for micro-enterprises to use their equipment for both telephony and network needs. For more details, see our separate article about how Epygi meets the needs of micro-businesses.


SIP phones

Grandstream's GXP1610 and GXP1615 with PoE entry-level IP phones are perfect for small offices that don't have high call volume requirements. For a very economical price point, each of these models offers 1 SIP account with 2 line appearances, 3-way audio conferencing, full-duplex speakerphone and HD audio, electronic hook switch (EHS) support for Plantronics headsets, dual 10/100 Ethernet ports, and zero provisioning with Grandstream's UCM IP PBXs (automated provisioning options with other brands). Grandstream's GXP series of IP phones go all the way up to the GXP1630 with 3 SIP accounts, 3 line keys, 4-way conferencing and dual-switched Gigabit ports. Browse the whole family of Grandstream GXP IP phones.

Yealink offers some very affordable entry-level IP phones with the T19P E2 and T21P E2 models. The T19P E2 supports 1 VoIP account, 3-way audio conference, headset use, PoE, simple and secure installation options, dual 10/100 Ethernet ports, and is IPv6 compatible. The T21P E2 delivers all of the above plus a 2nd VoIP account, HD audio, compatibility with wide-band and narrow-band codecs, and support for Open VPN and a redundancy server. Yealink's T2 series goes all the way up to the T29G executive-level phone with 16 SIP accounts, a 4.3" color LCD screen, and dual-port Gigabit Ethernet. Browse the whole family of Yealink T2 IP phones.

Audio and video conferencing
Robust audio and video conferencing equipment is now accessible for companies with small budgets.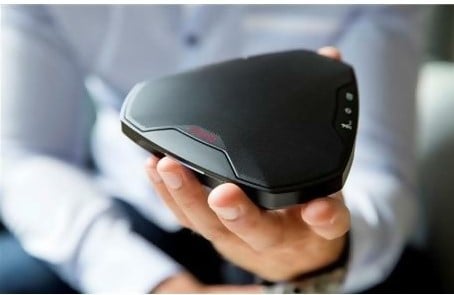 The Avaya B109 take-anywhere conference phone is small enough to fit in your purse, briefcase or pocket. It connects easily to a PC via a USB port or to a tablet or smartphone via Bluetooth. Despite its small size, the B109 Conference Phone delivers crystal-clear sound to up to 6 participants thanks to Avaya's OmniSound® audio technology. It is completely cordless thanks to its built-in battery and Bluetooth (the battery is charged via the USB port and has up to 12 hours of operating time). It supports headset connectivity and allows easy switching between the headset and speaker functions. Even with its high performance, this is one of the most affordable conference phones on the market.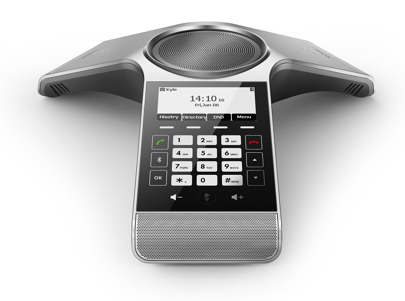 For small conference or huddle rooms, Yealink's CP920 conference phone has a noiseless sensitive touch keypad and facilitates the conference experience by putting all of the key conferencing functions at your fingertips. It sports 3 integrated mics for 360º pickup of up to 20 feet (6 meters). It allows 5-way audio conferencing and features Yealink's proprietary Noise Proof technology, HD audio and full-duplex speaker phone. It has built-in Wi-Fi (2.4GHz, 802.11 b/g/n) and built-in Bluetooth 4.0.

Video conferencing used to be cost-prohibitive for tiny businesses, but not anymore. Yealink's VC200 video conferencing endpoint is a great option for small teams that need face time with remote associates but want to cut down on travel time and costs. Based on the Android operating system, it can connect to a phone, tablet or computer and bring the full spectrum of business productivity apps from the Google Play Store to a video conferencing session. It has an ultra HD 4K camera that supports 4x digital zoom and e-PTZ, offers a super-wide 103° horizontal field of view, and supports H.265/HEVC video codecs, so with just the minimum 512kbps, the VC200 can deliver 1080p HD video calls.


Headsets
A good headset is essential for today's mobility demands, both inside and outside of the office. The BlueParrot C300 XT Bluetooth headset is a great choice for mobile workers. It can pair with up to 8 different devices and stay simultaneously connected to 2 at a time. It also responds to voice commands, making it easy to make or answer calls while your hands are busy.
At a lower price point, Plantronics offers its Voyager Legend Bluetooth headset. It can connect to two phones simultaneously, offering seamless switching between them. This model can also respond to voice commands.


Conclusion
The vast majority of businesses in the United States have between 1-20 employees, and yet this is one of the most underserved markets in the VoIP telephony channel. Targeting this market with the right service and product offerings could be a great way to grow your business. To learn more about the products featured here or to find out what other products could best meet your customers' needs, contact your TeleDynamics rep.


---
You may also like:
Channel Partners round up: Top take-aways from Channel Partners 2019
Hosted versus on-premise IP PBX: Which is the better choice?
On-premise vs. hosted IP PBX: Which is right for you?