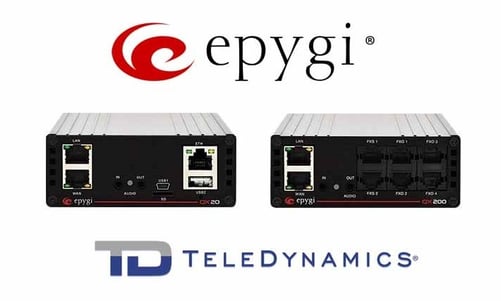 Almost 90% of businesses in the United States have fewer than 20 employees, according to the United States Census Bureau. To get VoIP service, companies of this size typically use a hosted VoIP service rather than having an on-premise IP PBX. With Epygi Technologies, however, the on-premise solution becomes cost-effective, even for a micro-business with a single employee. How does Epygi do it? We had a chance to ask Mario Cuello, CEO of Epygi Technologies, about what makes them unique in their ability to deliver robust, feature-rich systems at such accessible prices.
TeleDynamics ("TD"): Why would a micro-enterprise want an on-premise VoIP system like Epygi rather than a hosted service?
Mario Cuello ("MC"): We have several devices at different price points from SMB to enterprise. Our QX20 and QX50 products are targeted to the micro SMB and are very cost effective, robust and compact on-premise solutions that offer a cost advantage over hosted services.
We auto configure over 120 models of SIP phones from all manufacturers.

Our devices consume very little power and we have excellent support for the channel.

The customer has no dependency on the hosted platform vendor.

With on-premise, you can choose your trunk provider easily and you can even keep one FXO line handy and use it just in case.

We have an embedded firewall/router on our devices, making it attractive for small business to use our devices for both telephony and network needs.
TD: How is Epygi able to make such cost-effective solutions for small businesses?
MC: We do not depend on others' hardware and software for our products. We have designed it all ourselves with cost effectiveness in mind. We have been around since the year 2000 and we have a lot of experience in this business. We are also a very nimble company.
TD: For mid-sized businesses up to 2,000 employees, what are some of the benefits of Epygi solutions compared with those of other manufacturers?
MC: Epygi systems are reliable, redundant, and cost effective. Not only do we have the feature sets they need on the base product, but we also offer advanced functions such as call center, recording, audio/video conference and multi-site capability that are available for those customers that need it. Our solutions are very economical compared with other vendors.
TD: What are some Epygi innovations and features that set you apart from competitors?
MC: Our Epygi Automatic Call Distribution Console (EAC) call center software is web-based and provides all the needed functions for the inbound call center. We also have a line of complementary gateways to the IP PBX devices that allow customers to create tailored solutions by combining these devices and using our rack kit, which mounts everything neatly in a 1U (1.75-inch) rack. For the small systems, our devices include an integrated firewall and router. As mentioned previously, we offer auto configuration of many SIP phone models and brands. Also, we have interoperability testing with many ISTPs offering SIP trunks, as well as other SIP devices such as cameras, door openers and paging devices. We also have SIP IDS (intrusion detection) that helps block and alarm users of unauthorized activity on the IP PBX.
Key features of Epygi systems
Below are some of the main features offered by all of Epygi's IP PBX models. Click here to access the complete Epygi specifications comparison matrix.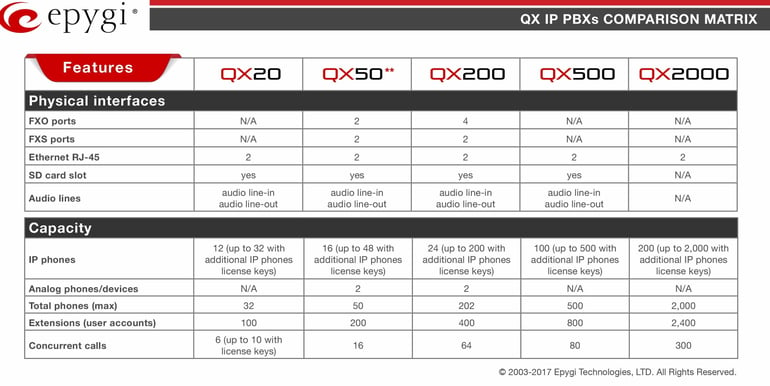 Telephony features
Support for G.711, G.726, G.729 and iLBC voice codecs

Support for T.38 and pass-through for fax machines

263, H.263+ and H264 pass-through video encoding

A plethora of standard and advanced PBX features
Network and security features
Dual network connections for redundancy

Stateful inspection firewall

Policy and service filtering

Integrated NAT

QoS and TOS

VPN

TLS

SIP IDS
With very few exceptions, all of these features are available on the full range of IP PBXs from the QX20 all the way up to the QX2000 (view or download the complete spec tables here). This means that a business doesn't need to have hundreds or thousands of employees to enjoy some of the most advanced IP PBX features available – even a business of five employees can benefit from the same level of functionality as one of 1,500.
Furthermore, two of the mid-range IP PBX models – the QX50 and the QX200 – offer two FXS ports each and two and four FXO ports respectively. This can be useful for businesses that have analog equipment such as fax machines, a wireless DECT phone or an analog PA system, as they can avoid the additional cost of a media gateway to use such devices. It also provides for an emergency PSTN backup connection in case the ISTP SIP trunk provider fails.
For even more features, a cost-effective licensing scheme is made available to provide for the activation of features as needed. These include audio and video conferencing, automatic call distribution (ACD), call recording and a desktop communication console (DCC), among others.

CONCLUSION
Egygi Technologies has made robust on-premise IP telephony systems accessible for companies of one employee up to 2,000 employees by specializing in IP PBXs that are developed and manufactured in-house from start to finish, and by offering feature-rich devices for a fraction of the expected cost.

Click here to browse TeleDynamics' website for Epygi Technologies communications appliances (IP PBXs).
---
You may also like:
How to sell an on-premise IP PBX against a cloud-based ITSP
How micro-enterprises can benefit from VoIP
Thought video conferencing was not for SMBs? Think again.