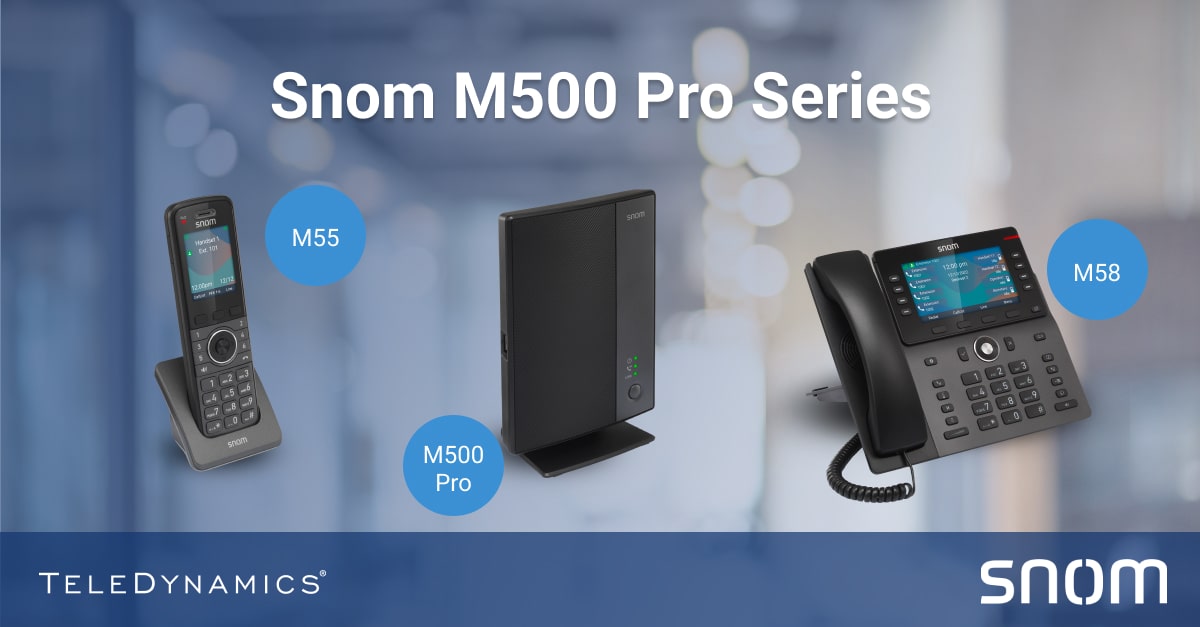 The Snom M500 Pro series of DECT-based wireless telephony devices is an ideal solution for small to medium-sized businesses with employees who require high mobility. Easy to deploy and simple to implement, the M500 Pro can be up and running in literally a matter of minutes.
In this article, we examine this telephony solution and the use cases that it is best suited to fulfill.
M500 family overview
The Snom M500 Pro family consists of a DECT base station and two telephony devices: a desk phone and a cordless handset. The M500 base station can be deployed almost anywhere, can be powered over its Ethernet connection using power over Ethernet (PoE), and delivers an indoor range of up to 160 feet. It can connect with up to 10 registered phones and supports either eight narrowband or four wideband simultaneous conversations. A multicell setup with up to two base stations further extends coverage, supporting up to 16 registered phones, doubling the number of simultaneous calls, and enabling seamless roaming between base stations.
The M55 cordless handset enables extreme mobility for workers while delivering a rich set of telephony features. The handset delivers up to 19 hours of talk time and sports a 2.4" color display, six programmable keys, and built-in Bluetooth capabilities for use with a compatible earphone for easy hands-free operation.
The M58 wireless desk phone allows you to set up an ad hoc workstation anywhere within range of an M500 base station without the hassle of phone cables. This phone can act as an excellent central communications hub for the whole business thanks to its extensive feature set, including a large 5" screen, line usage indicators, and a paging feature to broadcast messages to all devices.
The whole system is based on the Session Initiation Protocol (SIP), so it can be leveraged by any telephony service provider to take care of the setup and registration process, making it all the more easily deployable.
Use cases
Ideal businesses for the M500 Pro phones include those with workers who need to be mobile within the confines of the business premises while maintaining reachability on the telephone. Enterprises with anywhere from two to over a dozen mobile staff members and one or more relatively stationary managers fit the profile for the M500.
A single base station with a range of 160 feet can cover facilities with several tens of thousands of square feet of floor space. That's roughly equivalent to a large grocery store, a medium-sized department store, a large fitness center, or a small elementary school.
Employees in many businesses are highly mobile and need to bring their handsets with them without being bound by cords. They need to be reachable but also must be able to easily pass calls back and forth between them.
Workplace arrangements often must change to respond to business needs, and many companies now have no dedicated office space or permanent desks and chairs. Workstations are often temporary, making running telecom cabling cumbersome and inefficient. This makes the cordless desk phone an ideal and flexible solution for such an ever-changing work environment.
Here are some specific examples of businesses that can make good use of the M500 telephony system:
Small to medium-sized hotels:

Hotels have constantly moving personnel, such as housekeeping staff, maintenance workers, concierges, porters, room service attendants, and security staff. DECT-based cordless telephony systems can ensure that these individuals remain reachable, offering seamless service while promoting efficiency.

Food service establishments:

This category includes restaurants, bakeries, and similar establishments. Immediate communication is essential for waitstaff, cooks, and delivery and inventory personnel, making the M500 system beneficial.

Small-scale manufacturing facilities:

Quick and reliable communications can greatly enhance the efficiency and safety of factories. The M500 Pro cordless telephone system can facilitate inter-departmental coordination, helping streamline the manufacturing process.

Small to medium-sized medical facilities:

In healthcare settings, the ability to quickly reach nurses, doctors, and other healthcare professionals can be critical.

Warehouses and factories:

Logistics managers, stock clerks, delivery personnel, and floor supervisors can all benefit from the instant communications provided by the M500 Pro to ensure smooth operations and inventory management.

Retail stores:

The M500 Pro DECT-based telephony system facilitates efficient interaction among floor staff, cashiers, stock personnel, and managers, which can significantly enhance customer service and day-to-day operations.
Conclusion
The M500 Pro solution is an excellent choice for small-scale operations and also offers scalability that can let it effortlessly grow with your business, making it an equally good fit for medium-sized enterprises. Its use of the universal SIP protocol provides the versatility to select and switch your provider at your convenience, while the use of highly secure and robust DECT technology ensures reliability and confidentiality.
---
You may also like:
Snom M900 multicell base station