Product Review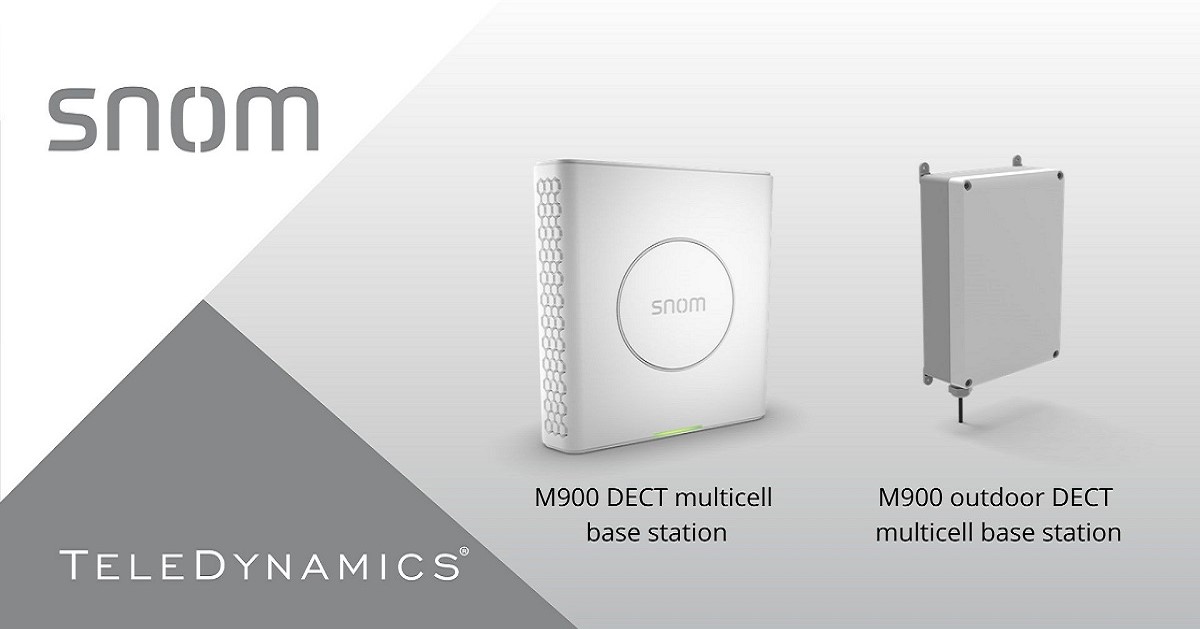 There are many businesses that require wireless telephony on their premises. Hospitals, hotels, warehouses, universities, and a multitude of manufacturing environments require employees to maintain a high level of mobility within an enterprise's facilities while simultaneously maintaining their reachability via the internal phone system.
For such environments, a DECT-based system is arguably the simplest turn-key solution. Snom has made such a solution even simpler and highly scalable with its M900 DECT base station.
Ease of deployment
The M900 DECT base station is very easy to deploy. It connects directly to the enterprise LAN, draws power using power over ethernet standards, and can be either wall- or ceiling-mounted. It's small in size, with a height and width of 7 inches and a thickness of 2 inches, and is sleekly designed, making it inconspicuous, no matter where it is installed.
The M900 integrates the mature, robust, and secure characteristics of the DECT 6.0 cordless phone system with the flexibility and feature-rich characteristics of VoIP systems. Through its LAN connectivity, the base station can be configured remotely via its comprehensive web interface.
The M900 can be deployed as a standalone base station that can serve up to 30 connected handsets within a radius of up to 50 meters in an indoor environment. In this single base-station setup, the M900 can deliver up to five simultaneous calls using wideband codecs or up to ten simultaneous calls using narrow band codecs. Nevertheless, the advantages of the M900 become even more apparent within a multicell deployment.
Multicell deployment
What is unique to Snom's solution for an enterprise-wide cordless telephony system is the fact that there is no need for a centralized DECT controller. The initial base station is deployed as the primary base station. All subsequently installed base stations are configured as secondary base stations. These register to the primary and obtain their configuration automatically from there.
The key area in which the M900 outperforms its predecessor, the M700, is in the scalability of a multicell deployment. Whereas the M700 supports up to 254 base stations and up to 1000 handsets, the M900 allows for a deployment of up to 1000 base stations that can serve up to 4000 handsets. This can deliver service to an indoor area of almost eight square kilometers, or almost 2000 acres! To get a better idea of what this means practically, that's enough area coverage to serve the Empire State Building thirty times over! This coverage can be further supplemented as needed using up to 100 DECT repeaters, such as the Snom M5, which is suitable for both the M700 and the M900.
The M900 also comes as an outdoor model, which is ruggedized to withstand the elements.
VoIP backbone is the key
These base stations are designed to register to any SIP-based telephony service, either on premises or on the cloud. The SIP protocol is an IP-based protocol and runs over virtually all enterprise data networks, as well as the internet. The fact that an IP network is used as the backbone of this voice network means that these base stations can be distributed throughout the network infrastructure of any enterprise, including a multisite enterprise. This means that multiple base stations can be situated in various facilities of a company that may be spread out across the country or even around the world, and all base stations, as long as they have IP connectivity, can still be part of the same integrated cordless DECT telephony system.
Use of cutting-edge network protocols
Both DECT and VoIP contain mature telecom standards that deliver security, flexibility, and high quality. The M900 supports the most popular voice codecs, including narrowband (G.711, G726, G.729) and wideband (G.722, Opus) codecs. HTTPS, LLDP, 802.1Q, and TLS 1.2 are just some of the network protocols that are also supported by the device. Wireless authentication and encryption are also part of the employed DECT 6.0 standard that is used by the M900.
Supported handsets
The M900 base station supports virtually all of Snom's most popular DECT cordless telephones. These include:
Key features of the base station:
Some of the key features of the M900 include:
DECT 6.0
Frequency bands of 1880 - 1900 MHz (EU) and 1920 - 1930 MHz (U.S.)
Output power: EU <250 mW, U.S. <140 mW
Seamless handover and roaming from base station to base station
Handover achieved using DECT/LAN synchronization IEEE1588
Indoor range of 50 meters
Outdoor range of 300 meters
Up to 4,000 registered handsets in the same network in multicell setup
Up to 1,000 registered base stations in a multicell setup
Up to 100 repeaters in a multicell setup
Up to 10 narrowband or 5 wideband calls per base station in single-cell setup
Up to 8 narrowband or 4 wideband calls per base station in multicell setup
Common phonebook with up to 3,000 entries
Compatible with M700 on the same multicell network running the same software version
Supported audio codecs include G.722, G.711 A-law and μ-law, G.726, G.729, BV32, Opus
Network features include:

Remote software updates via HTTP / HTTPS / TFTP
Automatic loading of settings via HTTP / HTTPS / TFTP
Completely configurable through web interface
Static IP, DHCP support
NTP (Network Time Protocol)
Secure provisioning and authentication with Mutual TLS through individual certificate issued by Snom CA
Compatible handset features RSSI tool, no additional measurement equipment needed
Power: Power over Ethernet (PoE) IEEE802.3af or the use of a power injector is also an option
Conclusion
The M900 is a step up from the capabilities of the M700 that have been showcased in a previous article. For large enterprises that are expected to grow, merge, or expand, this extremely scalable cordless telephony solution is ideal: simple to deploy, easy to administer, and a snap to scale up.
---
You may also like:
Using wireless bridging to obtain internet connectivity
SIP trunks vs SIP extensions: Which to choose?