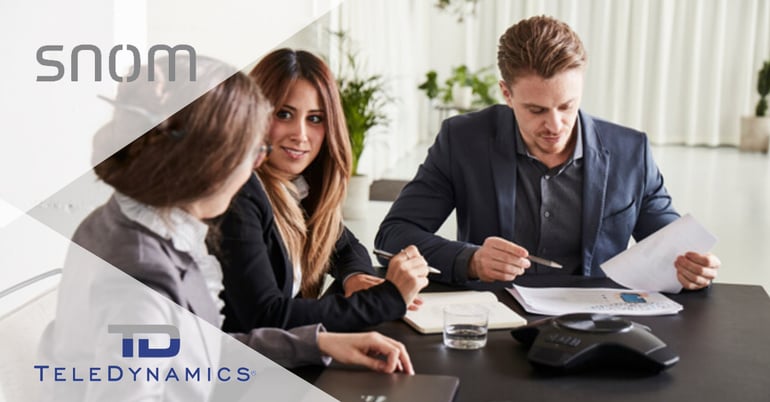 TeleDynamics is proud to distribute Snom products in the United States. Headquartered in Berlin, Germany, it has subsidiaries in the U.S. and other countries and serves customers worldwide. In this article, we highlight the innovation and inventiveness that are instilled within Snom's products and services today.
History of Snom
Snom was founded in 1996 by two computer scientists from the Technical University of Berlin. In 1999, it began producing some of the world's first VoIP telephones based on the then recently standardized Session Initiation Protocol (SIP). Unlike other manufacturers of the time, Snom's vision was to manufacture components for enterprise communications systems that were interoperable across multiple manufacturers. Instead of developing a complete telephony system, it focused on selling stand-alone VoIP phones based on the SIP protocol that allowed them compatibility across many standards-based platforms from different vendors.
This initial vision, coupled with the technical expertise of its founders, led the company to achieve success early on, becoming one of the pioneers of VoIP even before the technology became more mainstream. In 2006, Snom entered the North American market, opening its first U.S. office in Massachusetts. The company continued to expand into other continents, adding Europe, the Middle East, Africa, much of Asia, and Australia to its area of influence.
In 2016, Snom was acquired by VTech, a global supplier of electronics and telecommunications equipment. This extended Snom's global reach and also pushed for continued innovation in its products and services, a trend which is expected to continue well into the 2020s.
Snom's focus
As a company, Snom's products are geared more toward small and medium-sized businesses that make medium to heavy use of voice services to conduct their business. Products that we have previously featured on our Think Tank include:
Snom's C620 and C520 conference phones – Two completely wireless devices that connect to a high- quality DECT telephony system. Based on tried and tested cordless telephony technology, these conference phones are battery powered and rechargeable, so they are truly wireless. They also sport two detachable wireless microphones to extend audio pickup.
Snom's M700 DECT base station – For businesses that require high mobility for their employees in environments such as warehouses, airports, medical facilities, and hotels, to name a few, Snom's DECT base station delivers extensive coverage for all of Snom's cordless phone products. Extensible to more than 250 base stations per installation and up to 1,000 connected handsets, this wireless telephony solution can serve organizations of all sizes. Its powerful DECT signal can traverse floors and walls, so the sky is literally the limit on how much such a system can be expanded.
Snom's next-generation M900 multicell DECT base station is now available for even greater scalability. The new M900 DECT base station adapts to any installation size, from a small office with only one base station up to a large facility with several thousand devices. The integrated DECT manager housing state-of-the-art technology can enable individual installations comprising up to 1,000 base stations and up to 4,000 handsets. The M900 also allows easy and efficient maintenence, since each base station can wirelessly send software updates to the connected handsets, greatly reducing the workload for the IT department. Stay tuned for a more detailed review on our Think Tank, and in the meantime, take a look at the product page on our website.
A wide range of products
However, Snom's focus does not end there. Snom specializes in multiple types of DECT devices, enabling wireless communication using some of the world's most secure and robust protocols, including DECT 6.0. Among Snom's innovative products, we find:
Various desk phones that have incorporated DECT technology, delivering a whole new level of portability
Specialized cordless handsets, including the M90 with antibacterial housing that is perfect for use in hospitals and other medical institutions, and the splash water and dust-resistant M80 ruggedized DECT handset
The PA1 public address system, which, when incorporated into a Snom telephony network, allows users to make public announcements — a useful feature in large offices, waiting rooms, and places like train and bus stations
A large number of options when it comes to creating a high-quality wireless telephony network, including Ethernet-based base stations and repeaters.
A wide range of peripherals, such as headsets, Wi-Fi and DECT dongles, desk phone expansion modules, and cable management devices.

Browse Snom products on TeleDynamics' website.
Conclusion
Snom's beginnings allowed the company to gain a head start in the VoIP telephony business from its onset. Its innovative line of products have helped it to stay viable and competitive. For those that require reliable and flexible wireless telephony, Snom is a perfect choice now and in the years to come.
---
You may also like:
Break free from cords with the Snom C620 conference phone
Review of the Snom C520 conference phone
The sky's the limit with Snom's M700 DECT base station
Exclusive interview: What to expect from VTech and Snom post-merger