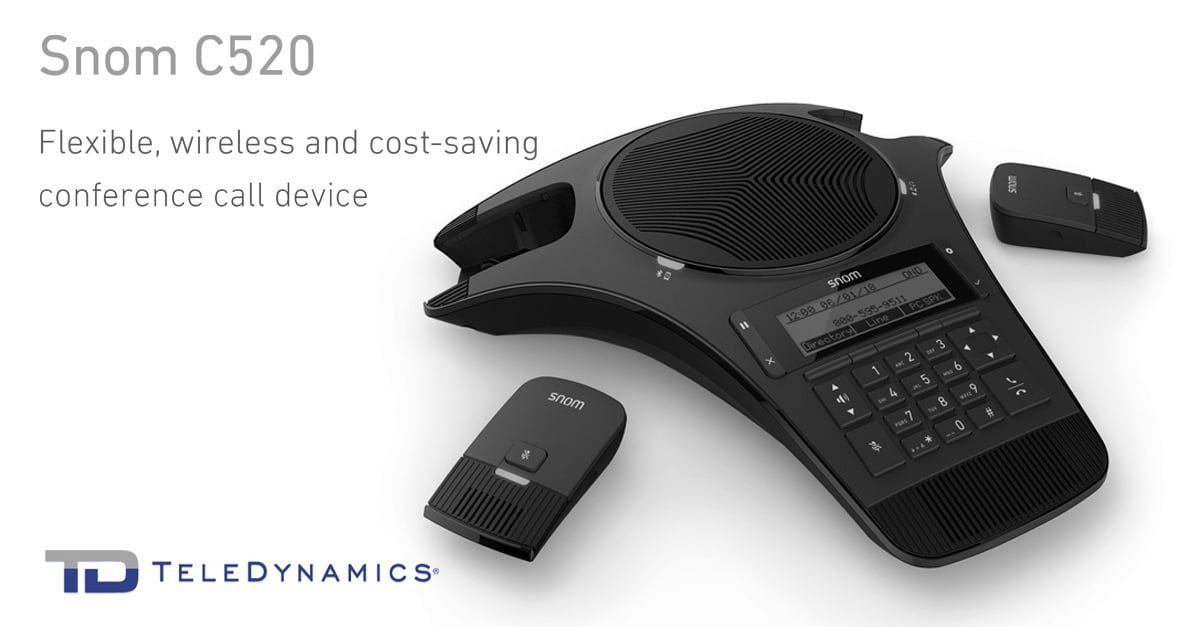 With advanced audio features, the Snom C520 conference phone is one of the most versatile conference phones on the market. Its expandability enables high-quality conferencing for close to 100 participants! In this article, we take a look at this remarkable conference phone.


Sound quality is paramount
This conference phone sports advanced and expandable audio features. Specifically, the Snom C520 has three microphones, one of which is integrated into the main device and incorporates a high-performance full-duplex loudspeaker. The other two microphones are detachable from built-in charging cradles on the device itself, and use DECT technology to connect to the main conference phone.
All of the C520's microphones support dynamic noise cancellation, adaptive feedback control and take advantage of high-definition wideband audio quality, which is ensured even in large spaces and with numerous participants. The microphones are capable of real-time synchronization based on their current position. They dynamically adjust their sensitivity depending upon the relative location of the person speaking, so there is a uniformity in the way the audio is captured and transmitted. This results in users being able to move around freely in the room without having to worry about raising their voices in order to be heard, even in large conference rooms.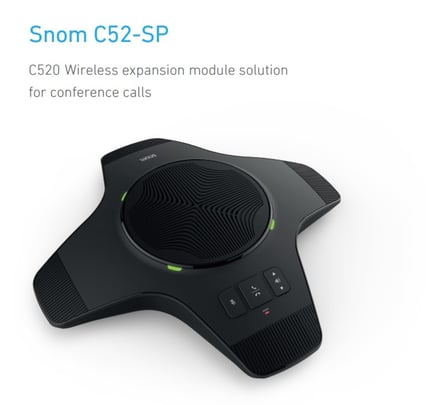 Up to three C52-SP DECT expansion speakerphones can be added to the system, each of which has a range of up to 50 meters (150 feet) from the conference phone. These cordless battery-powered expansion devices have both mics and speakers, and connect wirelessly to the main C520 conference phone via DECT technology, with a coverage area that will easily allow close to one hundred people to participate in a teleconference!


Other features of note
Beyond its exceptional audio features and flexibility, the Snom C520 offers Bluetooth connectivity to wireless headsets, as well as to smartphones for fast dialing. It is SIP-enabled and supports many of the most popular VoIP codecs, so it can connect to any SIP server for integration within a corporate telephone network. Network features including Power over Ethernet (PoE), Port Security, and TLS are just some of the things that make the device simple to install and manage, and safe and secure to use.


Specifications
Two detachable DECT wireless microphones with a range of up to 50 meters (150 feet)
Up to three C52-SP expansion devices can be connected for bigger conferences
Up to three SIP accounts
Incoming, outgoing, and missed call list with up to 200 entries
Local directory with up to 200 entries
Multi-language support
Interoperable with all major IP PBX platforms
Bluetooth connectivity for two devices
Call features include

Speed dialing
Call waiting
Call blocking
Call hold
Call transfer
Call forwarding
Do not disturb
Caller ID
Conference calling with 3 participants

Protocols and security

SIP
DHCP
HTTP/HTTPS/TFTP for configuration
STUN for NAT compatibility
LDAP for user directories
802.1X port security
TLS, SRTP, SIPS, RTCP
Supports VLANs and LLDP-MED

Codec and VoIP support

G.711, G.722, G.726, G.729, echo suppression
Comfort noise generator, automatic gain control

Interface

Graphical backlit display (158 x 57 pixels)
Microphone mute function
Volume keys

Conclusion
The scalability and quality of the audio features provided by the Snom C520 make this an ideal conferencing device, whether you have a small meeting room with a handful of people or a large conference room with dozens of participants.


---
You may also like:
The sky's the limit with Snom's M700 DECT base station
VTech's complete cordless telephony solution for a mobile workspace
Exclusive interview: What to expect from VTech and Snom post-merger