If you weren't able to attend Channel Partners Evolution last week in Austin, fear not: here are our top takeways from the event.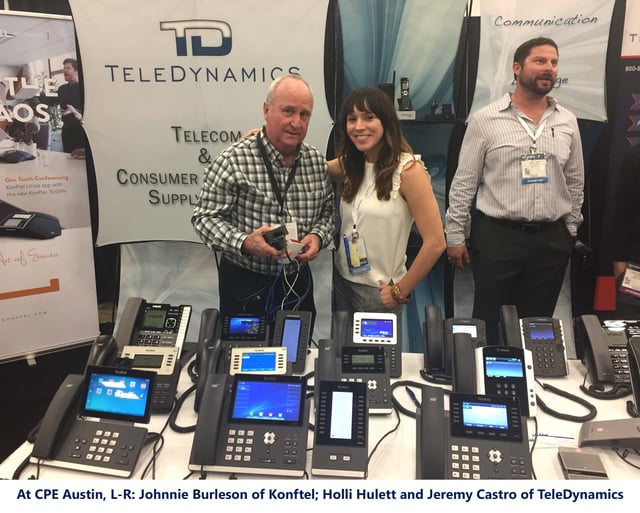 The TeleDynamics team was out in force at Channel Partners Evolution last week, with Daniel Noworatzky, Adam Oliver, Keith Walker, Holli Hulett, Trey Smith, Jeremy Castro, Todd Baca, Brad Gonzalez and Linda Rosenhauch all at the show talking to customers and partners about the latest developments in VoIP and UC.
The theme was Accelerating Digital Business, and this idea permeated many of the discussions on the floor as well as the speeches and break-out sessions. As Todd put it, "Cloud and virtualization seem to be what everyone is talking about."
This is the essence of UC (unified communications), which, to quote Daniel, gives companies and their workers "the ability to have access to all your voice, video, SMS, chat, email, etc. from any device…anywhere."


Hardware taking a back seat to software
One of the most noticeable trends featured at CPE Austin was the emphasis on software. Most of the changes in UC are being driven by software, rather than hardware. In fact, Channel Partners Evolution shared their space this year with an enterprise-focused launch event that was all about software-driven reality, called SDxE (Software Defined Enterprise Conference).
Among the most flourishing technologies right now revolve around SD-WAN and network security. Daniel noted, "SD-WAN has been a buzzword in the IP industry over the last six months, and it was evident that all ITSPs are starting to see this as a value-add to their MPLS and WAN connections. Even manufacturers are adding SD-WAN to their hardware devices like routers and SBCs."


For more information about how software-defined WAN (SD-WAN) can make network management more efficient and affordable, refer to our recent article on the benefits of SD-WAN.


We discuss software-defined networking (SDN), which involves software management of SBCs, in our article, Implementing VoIP safely and efficiently on the network edge.


For those interested in reading more about cloud computing and UC as they relate to business telephony, check out our two-part series that includes Cloud and UC: Is Your Telephone System on Board? and How much would your business benefit from cloud-based UC?


We have also covered the topic of network security on several occasions. Here are a few articles that may be of interest: For a safe new year, you need more than a firewall, Is your SIP phone system safe? and Wi-Fi network security.
Upcoming shows
This week (3-5 October) we are at Astricon in Orlando. Stop by booth 24 and say hi to Todd and Mark if you will be there!
Other upcoming shows we'll be at include:
WISPAPALOOZA in Las Vegas, 9-13 October - stop by and see us at booth 244.
Broadsoft (22-25 October) in Phoenix - we look forward to seeing you at booth 19.
---
You may also like:
The five trends that will define the evolution of VoIP
The benefits of integrating the IoT with your VoIP phone system
Don't miss TeleDynamics' 2017-2018 catalog