Part 1 of 2: The cloud-based UC trend and its business advantages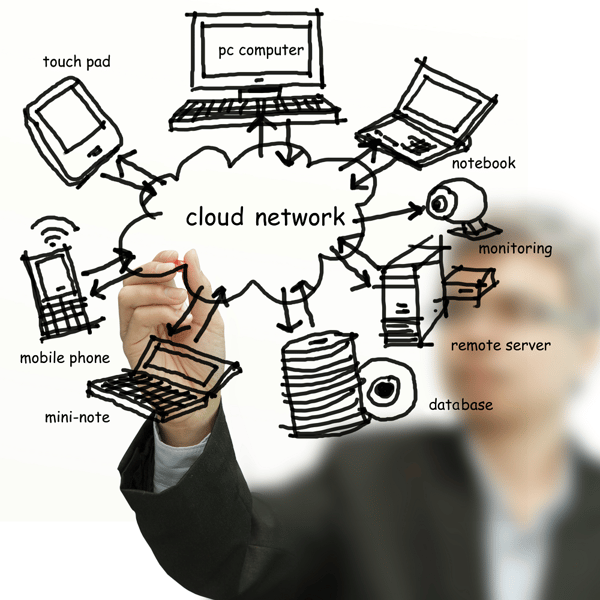 As you may have noticed, a lot of applications in the ICT (information and communication technology) world have been moving from the customer's premises to "the cloud." Far from just a sexy buzzword, the cloud, or more accurately, cloud computing, involves a set of technologies that are being broadly adopted by businesses of all sizes and are causing a significant paradigm shift in the way in which computing, networking, and telecommunications are being designed and delivered. Voice services are no exception. Here we offer a general overview of what cloud computing and unified communications (UC) mean for your customers' businesses.


What is the cloud?
In its most basic form, cloud computing provides shared processing and storage resources to network devices. It enables on-demand access via a network to a shared pool of these configurable computing resources. The network over which these resources are provided can, and almost always does, include the internet, making them almost universally available.
Using the traditional client-server model as an example, the server would be removed from the customer's premises and replaced with a set of computer resources that exist in a data center somewhere on the internet.
The term "cloud" has traditionally been used to refer to a portion of a network whose infrastructure and other details you are not necessarily privy to because they're off-premise. In the same way, cloud computing refers to the fact that the elements providing the computing resources are invisible to the user, as if obscured by a cloud.


How UC fits in
At first glance, the cloud may seem to be more suited to data services rather than to voice. However, it is important to approach voice services as a subset of what is known as unified communications (UC). UC is a term that refers to the integration of real-time and non-real-time enterprise communications services, including, but not limited to, instant messaging, presence, voice, mobility, video, collaboration, contact center, call control, voicemail, email, SMS and fax. These services are not necessarily included in any one product, but may be provided by a suite of products that can be scaled and integrated to interact and function either independently or in combination with each other.
All of these services, from the most basic to the most advanced, require some sort of server (IP PBX, voicemail server, multipoint control unit (MCU), or others) to function. This makes these services ideal candidates for adopting a cloud-based architecture.


Benefits of cloud-based UC
Cloud-based unified communicaions systems offer many benefits, including:
Subscription-based service accounted for as an operating expense rather than a capital expense

On-premise installation only involves endpoint devices such as IP telephones and video conferencing systems, as well as client software

Updates to server software and hardware are performed as needed by the provider, usually at no additional cost

No manufacturer EOS (end-of-support) or EOL (end-of-life) hardware or software issues

No on-site staff necessary for equipment maintenance

Easy to provide for multiple branch offices and remote users

Scalable: additional services and features can be purchased as needed

No on-on site data center facilities are necessary

Each business is unique
While this article has focused on the benefits of cloud-based communications, hosting UC services off-premise may not be the best option for certain types of businesses. We will delve more into which types of businesses stand the most to gain – as well as which benefit less – in part 2 of this series.

CONCLUSION
The ICT industry is transitioning towards a more cloud-based future, where voice is one subset of data services collectively known as UC. Helping your customers understand and take advantage of this trend will help them future-proof their businesses.
---

You may also like:
Hosted versus on-premise IP PBX: Which is the better choice?
Don't fear the shifting industry trends, embrace them!
How micro-enterprises can benefit from VoIP