Almost 3,000 products featured! Get it in print or online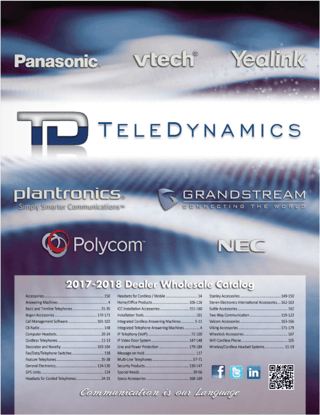 The information and communications technology (ICT) industry is being turned upside down as traditional analog and digital phone systems are rapidly transitioning to IP-based systems. Whether premise-based or cloud-based, this catalog supports both scenarios.

This year's catalog is organized to help dealers on the go, and has been updated with brand-new products from Yealink, Grandstream, Panasonic and many other leading manufacturers.

With premise-based IP systems, there is an upfront cost of buying the equipment, but lease-to-own companies have helped by allowing systems to be purchased over time. For those dealers wanting to create a recurring revenue stream in addition to an annual service fee, you can install the IP PBX and do the hosting yourselves. This allows you to retain ownership of the IP PBX and bill the monthly hosting fee.

With the cloud-based arrangement, the internet telephony service provider (ITSP) provides the hardware and hosted IP PBX. This saves the up-front cost of purchasing and installing your own system, but the monthly bill is higher in order for the ITSP to recoup the cost of the hardware and software.

Because of this huge shift in the IP world, in our catalog you will find products to support all aspects of this technology including switches, routers, IP PBXs, IP paging, IP conferencing, connectivity, and much more.

Please log onto www.teledynamics.com or use the TeleDynamics app for the most current product offerings, information and pricing. Our mobile app can be downloaded for free from Google Play Store or iTunes.

TeleDynamics dealers: you can click here to access our online catalog while you are logged into our website (you must be logged in to view it). If you are not yet a dealer, you can request a catalog here.
---

You may also like:
Join TeleDynamics at Channel Partners Evolution!
Hosted versus on-premise IP PBX: Which is the better choice?
To lease or not to lease? That is the question