Product Review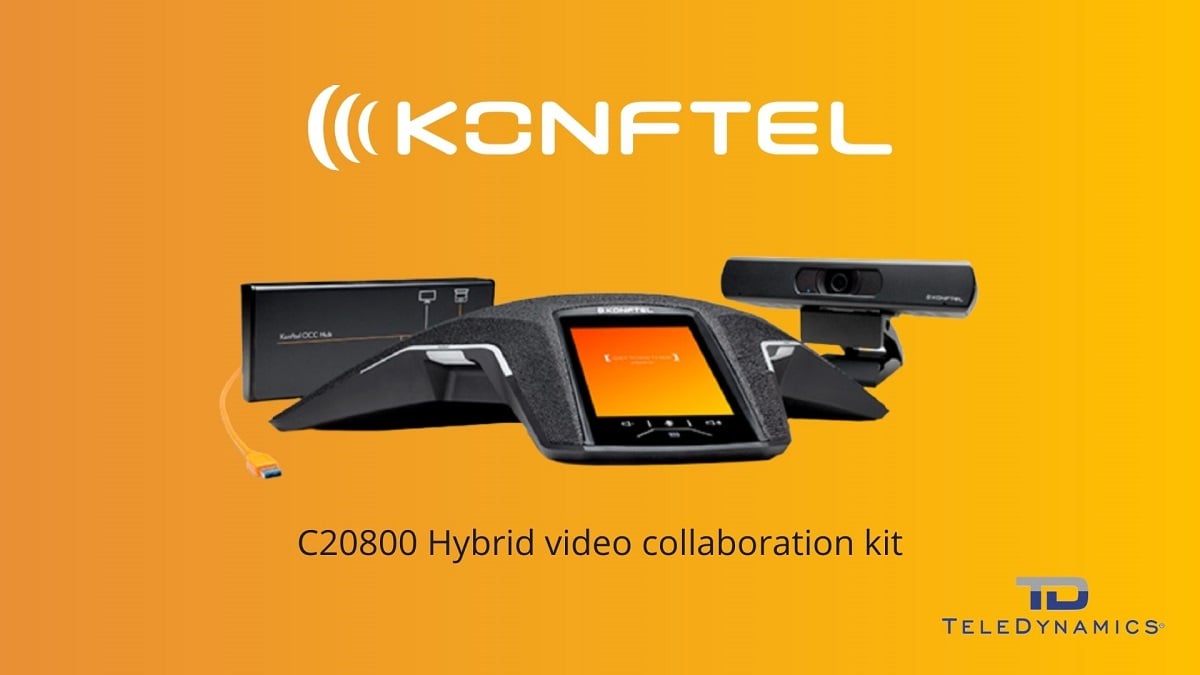 In this article we review Konftel's C20800 Hybrid video collaboration kit, which is comprised of various components in an easy-to-use, simple-to-set-up room videoconference system.
Current communications challenges
Today's business environment requires a highly flexible work methodology that allows for multiple ways to collaborate. Some team members work from home, others in the office, others on the road, and still others dispersed in branch offices and remote workspaces across the city, across the country, or even around the world.
Communications systems must be able to bring together these widely varying circumstances, so that each employee, regardless of their workspace setup, will be able to participate in videoconferences.
Advantages of a hybrid system
The C20800 is unique in that it encompasses multiple workplace scenarios and seamlessly brings them all into the same videoconference. First, it is a room system, so it converts a meeting room, where multiple people gather anyway, into a videoconferencing room. This allows numerous participants to be physically present at one end of the communication stream. Therefore, it is ideal for an office workspace, a huddle room, or a small to large-sized conference room.
Second, it is compatible with virtually all major videoconferencing platforms, such as Microsoft Teams, Zoom, Webex, Slack, GoogleMeet, and others, allowing for the participation of remote endpoints of all types, including single users on their mobile devices or other conference rooms using similar room kits.
Finally, the kit encompasses a VoIP speakerphone that supports SIP. Thus, it can also be used as a telephony endpoint. This means that anyone can be added into the conference as a voice-only participant simply by calling them or having them call into the conference. This is useful when you want to quickly add a contributor to the meeting in an ad hoc manner, or if you include someone who has no other options for connectivity.
C20800 Hybrid video collaboration kit components
The C20800 is composed of three primary components that can be quickly and easily set up to get a video conference up and running in a few minutes. These components can be purchased separately from TeleDynamics and include:
The Konftel 800 conference phone – This conference phone has both speakers and microphones to allow for the audio portion of the conference to take place. It supports the SIP protocol, so it can be connected to an IP PBX and can incorporate telephony participants to the conference, as well. Its innovative audio platform, OmniSound®, reproduces crystal-clear sound, while its beamforming microphones precisely pick up voices, ensuring participants are being heard. Bluetooth, PoE, and NFC-enabled pairing and USB connectivity make this phone feature-rich yet simple to use. It also supports audio expansion, allowing additional microphones for larger pickup ranges, or daisy chaining, where two or more speakerphones can be used within the same conference room.
The Konftel Cam 20 – This is a camera that is suitable for rooms with conference tables that seat over a dozen participants. It is optimized for situations where the conference camera must be positioned close to the table. The 123° field of view means that all the participants can sit in a comfortable position and still fit into the video image. It is quick and easy to mount on top of a large-screen TV or can be used with a stand to be placed wherever it is convenient. Its 4K resolution delivers sharp images, making sure that all body language is caught and conveyed.
Konftel's OCC Hub – This device is an ingenious piece of equipment that is used to interconnect all components of the videoconferencing kit. It connects the camera, speakerphone, and meeting manager's laptop via regular USB cables. It then connects to the video display using an HDMI cable, all of which are conventional and widely available (see connection diagram below).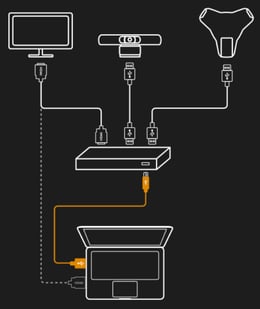 Key features of the kit
Key features of the kit include:
Konftel 800 conference phone

Supports SIP, USB, and Bluetooth connectivity
OmniSound® technology with high-fidelity audio
Audio expansion ports for additional microphones
NFC for easy pairing with mobile phones for remote control and auto dialing
Built-in bridge for 5-way audio conference calls
Power over Ethernet
Can be daisy chained to increase coverage

Konftel Cam 20

4K Ultra HD
123° field of view
Simple installation
EPTZ
8x digital zoom
USB 3.0
HDMI
Simultaneous output signal via HDMI and USB

Konftel OCC Hub

One HDMI port to connect the display
One USB Type A port to connect the camera
One USB Type A port to connect the speakerphone
One USB Type B port to connect the PC/laptop
Expansion options and accessories
To further enhance the videoconferencing experience, Konftel has made several accessories available for use with this kit, sold separately. These include:
Konftel smart microphone – One or two smart microphones can be connected to the 800 speakerphone to extend the audio pickup area, especially in larger conference rooms. Each microphone sports built-in echo and noise cancellation through OmniSound® and three digital MEMS microphones with beamforming. The microphone comes with a 10-foot cable and has a 13-foot pickup range.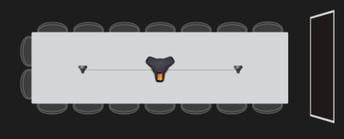 Konftel daisy-chain cables – Daisy-chain cables are used to connect a series of up to three Konftel 800 devices via the ports for audio expansion. This extends both the sound distribution and pick-up range for maximum coverage. It is ideal for the largest conference rooms and even for small auditoriums.
Conclusion
Whether you have a huddle room suitable for two or three people, or a small auditorium that requires audio and video coverage for all participants in the room, the Konftel C20800 Hybrid system is flexible enough to conform to your needs.


---
You may also like:
Konftel's solutions for distance learning
Konftel Cam10 webcam: Compact design, big performance
Konftel's solutions for telehealth